Taylor, Drew lead Nats vs. Banuelos, Braves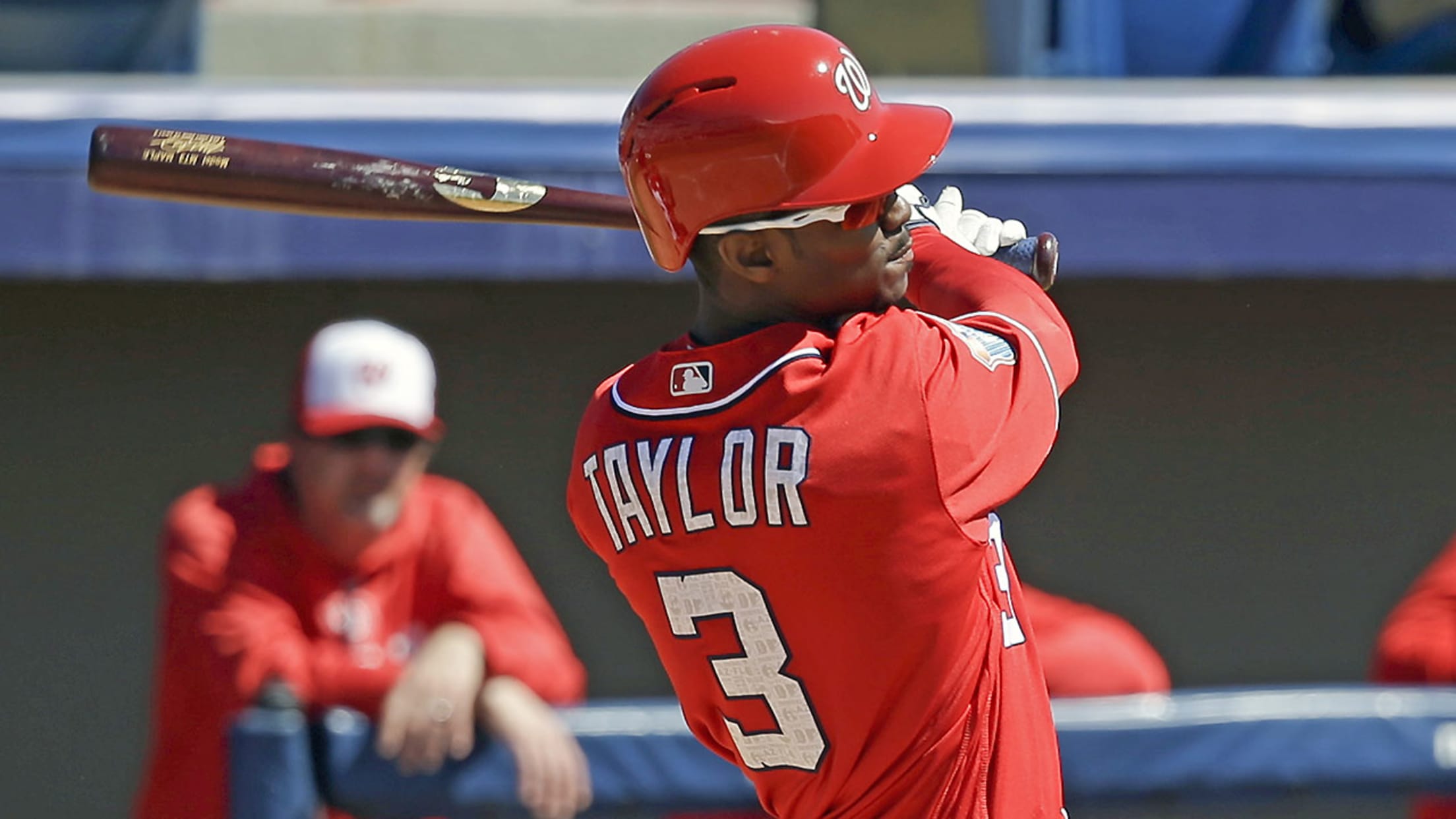 Michael Taylor's three hits were part of a big night by the top of the Nationals' batting order. (AP) (John Raoux/AP)
LAKE BUENA VISTA, Fla. -- Michael Taylor had three hits and scored a pair of runs and Clint Robinson crushed a two-run homer as the Nationals defeated the Braves, 11-1, Saturday night at Champion Stadium.Braves left-hander Manny Banuelos, Atlanta's No. 9 prospect, made his Grapefruit League debut and first start
LAKE BUENA VISTA, Fla. -- Michael Taylor had three hits and scored a pair of runs and Clint Robinson crushed a two-run homer as the Nationals defeated the Braves, 11-1, Saturday night at Champion Stadium.
Braves left-hander Manny Banuelos, Atlanta's No. 9 prospect, made his Grapefruit League debut and first start since four bone chips were removed from his elbow in September.
Banuelos admitted to feeling an adrenaline spike, which may have contributed to not being as sharp as he would have liked. Banuelos allowed the first three batters to reach in the first inning, including a two-run double by Stephen Drew, who drove in another run in in the second. Taylor, who finished the day 3-for-3, scored two runs and drove in another, tagged Banuelos with another run in the second after a ground-rule double to center.
Banuelos was charged with four runs on six hits, but said his arm felt good after throwing 47 pitches.
"It was pretty fun to be out there again," he said. "Arm feels healthy, arm feels great. It was a little weird using my pitches first time out, especially when you come from surgery, but other than that, it feels good."
In the fourth, Robinson smashed a two-run home run off Aaron Blair over the right-center field wall and out of the stadium to increase the Nationals' lead to 6-1.
Right-hander Tanner Roark became the first Nationals pitcher to throw four innings this spring. He allowed one run on three hits and struck out three.
Up next for Braves: Matt Wisler will make his second Grapefruit League start when the Braves face the Astros at 1:05 p.m. ET Sunday at Osceola County Stadium. Wisler needed just 17 pitches to get through two scoreless innings in his first start. Freddie Freeman also is expected to play after an early exit during Friday's game against the Phillies.
Listen the action live on Gameday Audio.
Up next for Nationals: The Nationals return to Space Coast Stadium on Sunday afternoon to play the Cardinals for the second time in a week. Right-hander Max Scherzer will make the start for the Nationals in Viera. He is expected to pitch four innings and throw 65 pitches.
Watch the action live on MLB.TV.