Tribe excited for 'good matchup' with Red Sox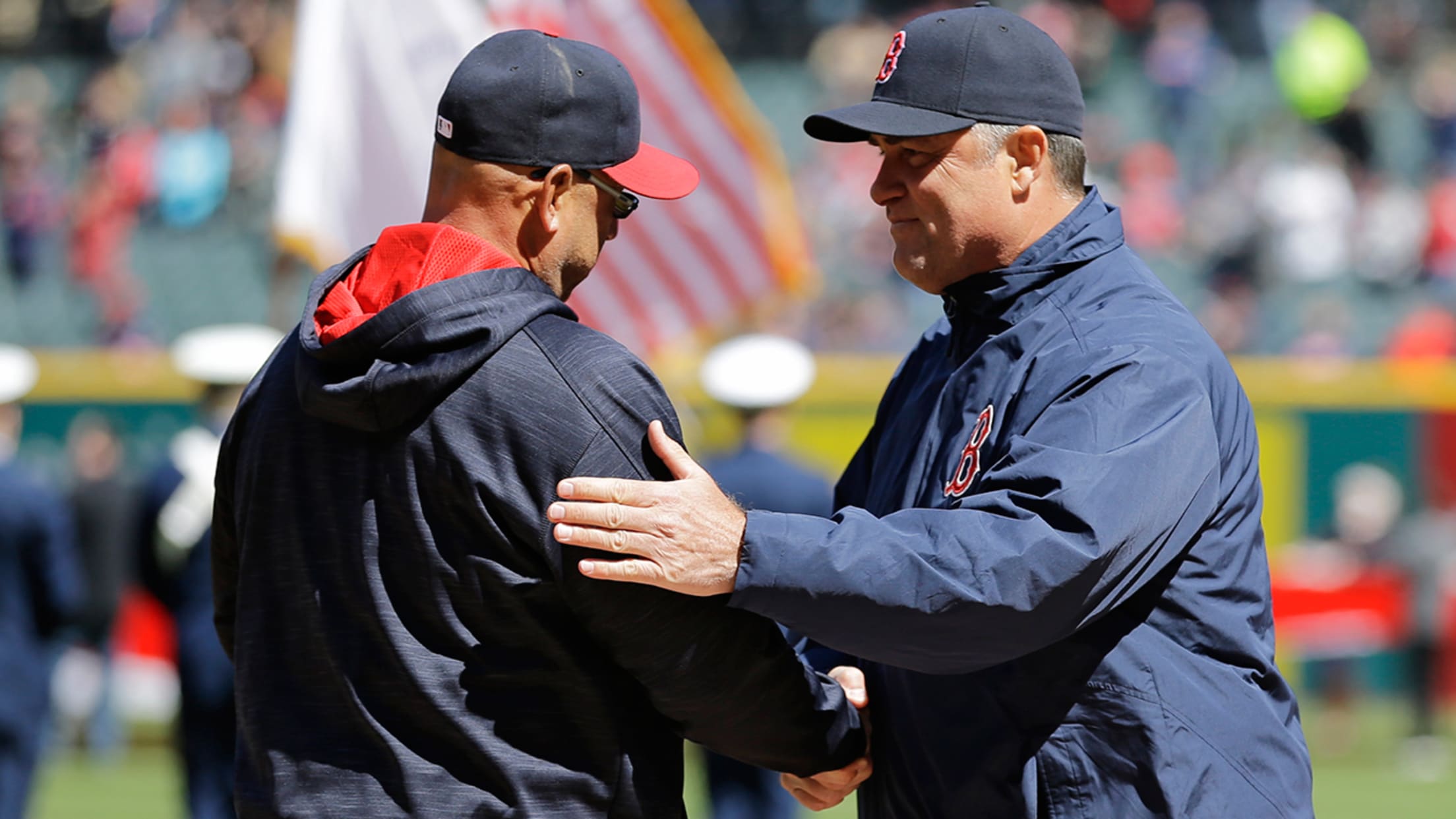 Indians manager Terry Francona says of playing against Red Sox manager John Farrell, "I ... consider it an honor to actually compete against him." (AP)
KANSAS CITY -- Indians manager Terry Francona preaches staying in the moment, focusing on the task at hand and not looking too far ahead. Veteran Mike Napoli has embraced that approach, as evidenced by his response when asked about facing the Red Sox in the American League Division Series, starting
KANSAS CITY -- Indians manager Terry Francona preaches staying in the moment, focusing on the task at hand and not looking too far ahead. Veteran Mike Napoli has embraced that approach, as evidenced by his response when asked about facing the Red Sox in the American League Division Series, starting on Thursday.
"That's who we're facing?" Napoli said on Saturday morning before Cleveland's game against the Royals.
The only thing that remains undetermined is whether the Tribe will head to Fenway Park or open the series at home at Progressive Field. Texas clinched the AL's No. 1 seed, so it will await the winner of the AL Wild Card Game.
• Buy AL Central champs gear
Entering Sunday, the Red Sox trailed the Indians by a half-game. If Cleveland finishes a half-game ahead of Boston, it will need to play a makeup game with the Tigers on Monday. If the Indians are behind the Red Sox after Sunday, the makeup game will not matter for Cleveland, as Boston owns the tiebreaker.
Including Napoli, who suited up for Boston for parts of three years and won a World Series with the club in 2013, there are plenty of connections between the Indians and Red Sox. Francona will manage against one of his best friends, Red Sox manager John Farrell, and try to beat the team that Tito guided to World Series triumphs in '04 and '07.
Francona said he does not want the upcoming ALDS to be about him, though.
"The one thing I think I need to be cognizant of," Francona said, "is the players have worked so hard -- both sides -- to get to this. I can't let my personal feelings ever get in the way or take away from what they've done. So, whatever my feelings are need to remain my feelings, and let the players [have the spotlight]. They've worked so hard for this. It needs to be about them."
Napoli said he is looking forward to the pairing.
The Red Sox lead the AL in runs scored, while the Indians have the league's second-best team ERA. Boston has a Cy Young contender in Rick Porcello, and Cleveland has another in ace Corey Kluber. The series will feature young stars like Tribe shortstop Francisco Lindor, Red Sox shortstop Xander Bogaerts and outfielder Mookie Betts. It will also include star veterans David Ortiz, Dustin Pedroia and Napoli.
"They're a great team," Napoli said. "It's going to be a good matchup. They've got a great lineup. They've got some guys who have been pitching better and probably a guy that's going to be a Cy Young winner. It's going to be good. It's going to be nice to see our starters going against their potent offense. We're going to continue to try to do what we do, grind out at-bats and try to score enough runs for our pitchers."
The Indians went 2-4 this season against the Red Sox, who opened the year in Cleveland. The teams split the first two games of the season, but they had Opening Day postponed due to inclement weather and pushed back to Aug. 15 (Boston won). During the Tribe's May trip to Fenway, Boston took two of three. The Red Sox outscored the Indians, 31-18, in the season series.
Francona said facing Farrell will come with mixed emotions.
"It's tough when you're going to compete against one of your best friends," Francona said. "That's actually kind of hard, but I am so proud of him and happy for him, what he's accomplished. I kind of consider it an honor to actually compete against him."