Pelfrey laments 'terrible' start against Royals
Right-hander logs just 1 2/3 innings as Tigers drop middle game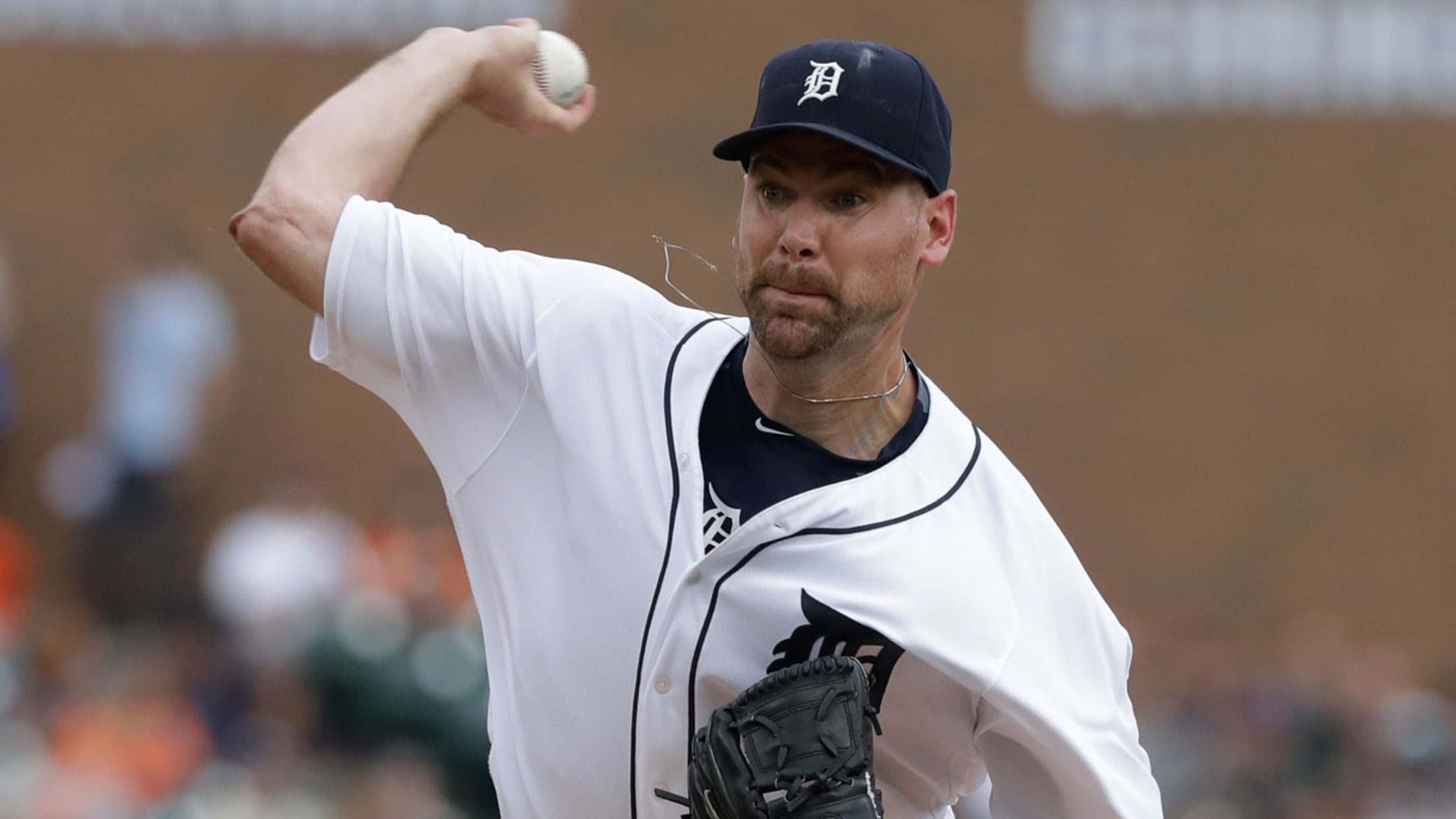 Mike Pelfrey gave up five runs on four hits and four walks over 1 2/3 innings as he lost his second straight start. (AP)
DETROIT -- Terrible.Right-hander Mike Pelfrey used that word eight times to describe his performance in the Tigers' 8-4 loss to the Royals on Saturday night at Comerica Park. Pelfrey gave up five runs on four hits and four walks over 1 2/3 innings as he lost his second straight start."I
DETROIT -- Terrible.
Right-hander Mike Pelfrey used that word eight times to describe his performance in the Tigers' 8-4 loss to the Royals on Saturday night at Comerica Park. Pelfrey gave up five runs on four hits and four walks over 1 2/3 innings as he lost his second straight start.
"I was terrible," Pelfrey said. "I expected to be a little out of sync because I had a couple extra days off, but I didn't expect to be that bad. I was terrible."
In his shortest outing of the season, Pelfrey threw 57 pitches and only 28 were strikes. Of those strikes, 17 were either put into play or fouled off.
Pelfrey's stumble out of the gates in the second half comes on the heels of two solid performances leading into the All-Star break. He yielded one earned run and went at least six innings in each of his two starts before the break, which manager Brad Ausmus called Pelfrey's best two starts of the season.
"He had a rough night," Ausmus said. "You feel like we had a little bit of momentum after last night and coming out of the break, but like they say, momentum is only as strong as the next day's starter, and Pelf had an off day."
Pelfrey's rough outing puts the fifth spot in the rotation back into question, something the Tigers could not afford with Jordan Zimmermann and Daniel Norris on the disabled list.
Pelfrey had a good rhythm in the two starts before the break, but he expected to be a little rusty on Saturday. He did not, however, expect to have no command. Despite feeling fine health-wise, Pelfrey said it felt like he had never thrown a ball before.
"I kept trying to tell myself to fall forward, and then my arm would be late, and the ball would be running instead of sinking," Pelfrey said. "I just couldn't get into it. Usually I'm able to find something, and I wasn't able to find anything."
This was the eighth time Pelfrey gave up four or more earned runs this season -- and the fifth time yielding five or more.
"That's embarrassing," Pelfrey said. "Not what I wanted, not what the team wanted, or what the team needed. Pretty bad."
Kyle Beery is a reporter for MLB.com based in Detroit.