MLB vets determined to make Elite Development Invitational succeed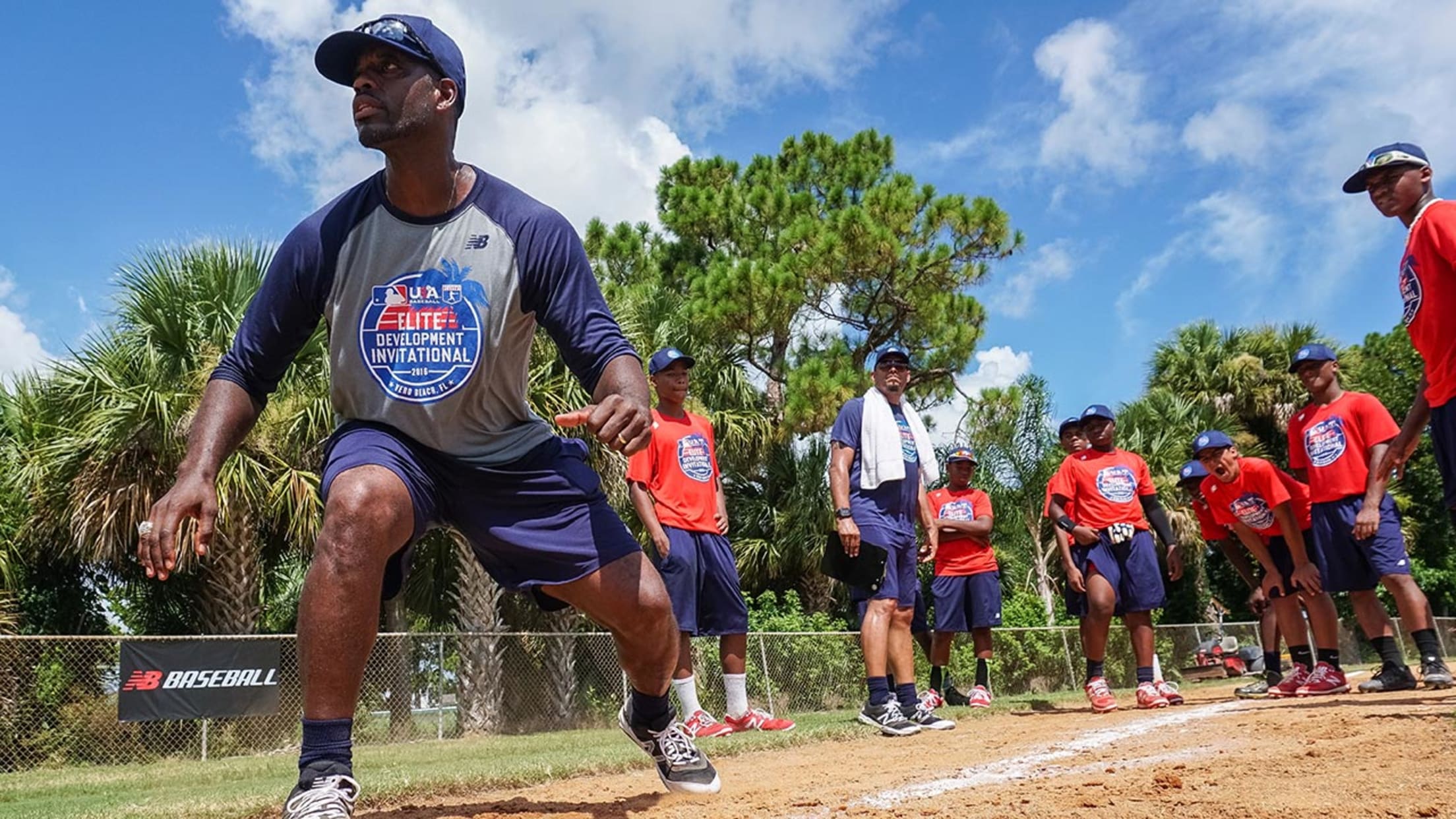 MLB veterans are lending a helping hand to the Elite Development Invitational in Dodgertown.
VERO BEACH, Fla. -- For the second straight summer, the past and future of baseball in minority and undeserved communities has converged at Historic Dodgertown for the Elite Development Invitational.In collaboration with the MLB, MLBPA and USA Baseball, retired MLB players such as David Justice, Marquis Grissom, Marvin Freeman and
VERO BEACH, Fla. -- For the second straight summer, the past and future of baseball in minority and undeserved communities has converged at Historic Dodgertown for the Elite Development Invitational.
In collaboration with the MLB, MLBPA and USA Baseball, retired MLB players such as David Justice, Marquis Grissom, Marvin Freeman and Tye Waller, are spending two weeks coaching 200 standout middle- and high-school boys from metropolitan areas across the U.S. The first week, which runs through Monday, is for 12- to 14-year-olds. The second week, which runs from Tuesday through Aug. 1, is for 15- to 17-year-olds.
"A lot of the kids have played in our RBI [Reviving Baseball in Inner Cities] programs and have played in our Urban Youth Academies, so they're recommended by the director there," MLB senior director of baseball development Del Matthews said. "There's a certain talent level, and that's why we call it our Elite Development Invitational -- it's for some of the kids that are a little bit more advanced. We expose them to player development in a Spring Training-type atmosphere."

The participants are kept busy all day long -- from drills and presentations, to intersquad games and meals all in the same quarters of Dodgers greats, most notably Jackie Robinson. The staff has encouraged participants to research Dodgertown and connect its part in Robinson breaking the color barrier, and it hopes it helps them see their potential on and off the diamond.
"Jackie and his legacy, along with the opportunities we're trying to provide for young people of color, that's part of why we do this here," MLB senior vice president of youth programs Tony Reagins said. "It means a lot to the kids once they figure out they are playing on the same fields that Jackie Robinson played on and sleeping in the same rooms that those guys slept in."
Also, like the RBI program and Urban Youth Academy, reaching all talent pools and diversifying baseball at all levels is a paramount goal.
"We're going after the declining number of African-Americans in the Major Leagues that are in Division I colleges," Grissom said. "I grew up in an area where there was a lot of baseball players and coaches. We had real coaches who really cared and loved the game, and it was important that we became successful -- and not [in] the Major Leagues, but successful as individuals."
That meant learning fundamental life skills alongside baseball techniques, such as respect, cooperation and hard work, as well as an emphasis on education and developing careers.

Tervell Johnson, a 13-year-old from the Marquis Grissom Baseball Association that Grissom started 10 years ago to develop youth baseball in Atlanta, has employed those principles in his mentality being at the EDI.
"Just work harder than the next guy, show them that I'm more dedicated and I want to be there," Johnson said.
Freeman has helped EDI pitchers with simple tweaks, like optimizing a four-seam fastball grip for proper spin. Since his retirement in 1997, Freeman has aimed to provide top-notch coaching for his son and the Chicago White Sox Charities' Amateur City Elite (ACE), which has 10 players at the EDI.
"They're all like my sons," Freeman said. "I feel like if every coach coached every player like he was their son, then … everybody would get the same benefit."
One player representing ACE at the EDI is 14-year-old Tre' Hondras.
"It really brings you back down to reality to see all these talented players here," Hondras said. "You just realize that you got to work harder, because there's more people playing in other states. And all these MLB coaches and players and managers and GMs, they're just trying to come here and help us and make the best for us so one day we can be like them and make it in the league."
Results from ACE encourage Freeman that the EDI and other national initiatives will prevail.
"The vision has really come full-circle with a first-round pick this year, Corey Ray out of Louisville -- the fifth pick taken in the Draft," Freeman said. "He came up through our program. It really shows you can have a vision, make things happen and get these kids an opportunity to succeed. I was all-in from the beginning."
In Justice's case, this EDI opportunity arose spontaneously when he arrived early with his son, an invitee.
"They asked me to talk to the kids, [and] after talking to the kids, they asked me if I'd be a part of it," Justice said. "I would be a part of it, anyway -- even if I'm a parent, I'd be over there trying to help somebody."
Since joining in an official capacity, Justice has offered specific hitting tips, like how to hit a curveball, as well as broader lessons, such as letting go and moving forward after a strikeout or adversity.
This kind of instruction has opened the eyes of New Orleans Urban Youth Academy player Joel Taylor, 14, who said EDI has helped him realize the hard work he needs to put forth in all of areas of his life.
"I'm trusting them," Taylor said. "I know that what they're telling us is correct, so I got to train my mind to do what they say, because they've been there."

That especially applies to Waller. When he retired as a player in 1987, he wanted to start a similar organization in his hometown, San Diego, but the means were not available then.
"I was an inner-city kid growing up -- we didn't have the best stuff to go out and play," Waller said. "I know how hard it is to play this game. Through my journey here, I'd run across some guys in the inner city that want some instruction, and I tried to help them. But then I'd go out and play, and then they'd fall backward, because they don't have that constant instruction."
But like EDI leadership, Waller is eager to form a traveling team to enable that constant instruction. He thinks EDI has the potential to awe the world, and he hopes to pass along tips on how to properly play the game.
"We're trying to teach them how to be good players, be good men, be good teammates working with each other so you become a good person that's rounded and balanced," Waller said. "You can go out in society to make a difference in your world, wherever that takes you. I think that's very important, and I've been doing this a lifetime. I just retired [as a coach with the Oakland A's] at the end of the season last year, so all that stuff I learned was more like a training ground for this opportunity. I just want to pour it out, so when I'm done living my life and they throw dirt on me, I want to die empty -- giving it all away."
Zak Kerr is a contributor for MLB.com.