Knucksies edge Wizards in Hall of Fame Classic
Mora wins MVP honors, while Hairston takes Home Run Derby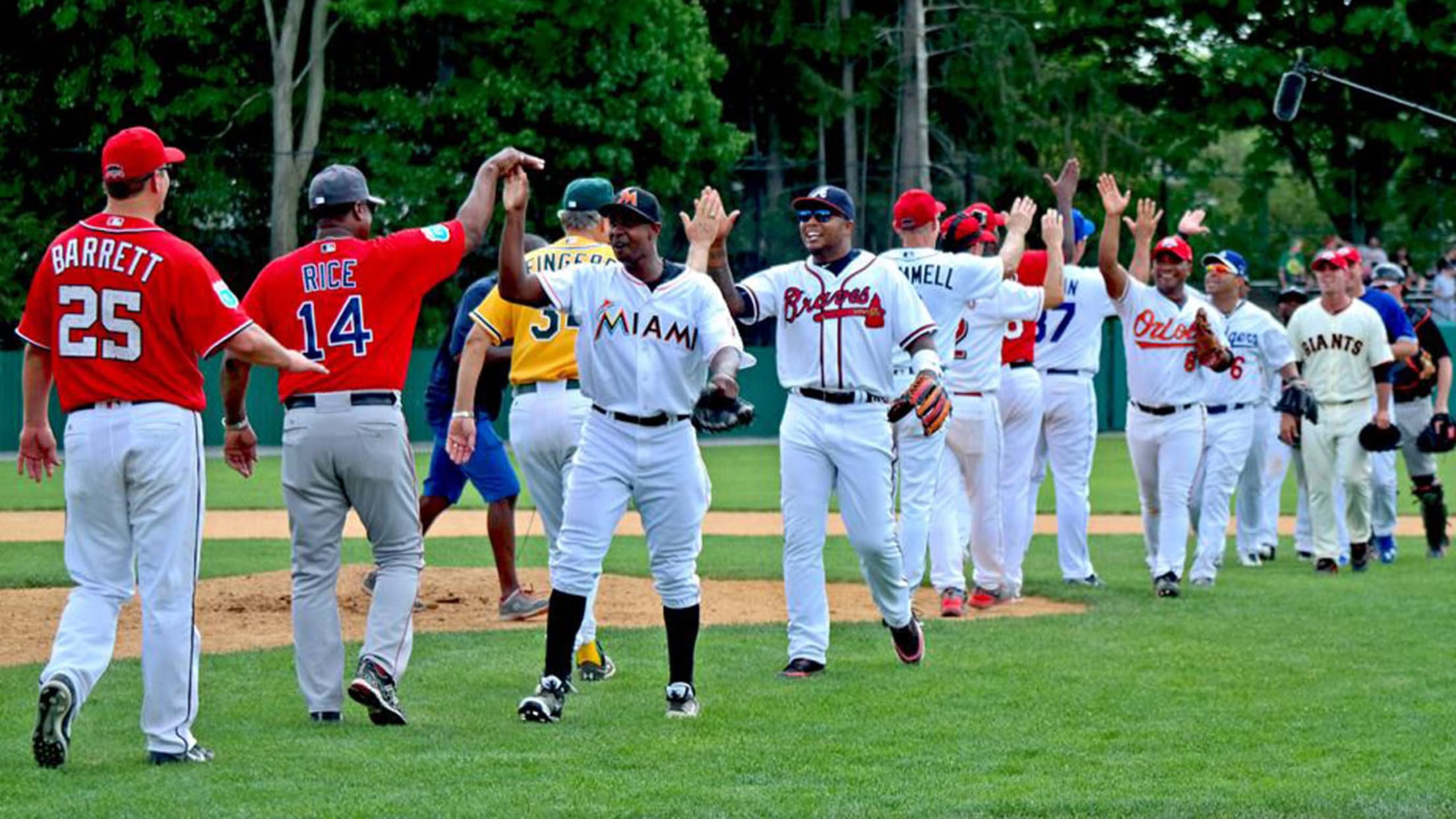 Baseball legends took the field on Saturday in Cooperstown for the sixth annual Hall of Fame Classic. (Hall of Fame)
COOPERSTOWN, N.Y. -- On a crystal clear Saturday afternoon, the legends came to play and the Hall of Famers came to coach in the sixth annual Hall of Fame Classic at intimate Doubleday Field.Melvin Mora and Jerry Hairston Jr., a pair of unassuming middle infielders, supplied all the power in
COOPERSTOWN, N.Y. -- On a crystal clear Saturday afternoon, the legends came to play and the Hall of Famers came to coach in the sixth annual Hall of Fame Classic at intimate Doubleday Field.
Melvin Mora and Jerry Hairston Jr., a pair of unassuming middle infielders, supplied all the power in both the Home Run Derby and the Knucksies' come-from-behind, 5-4, victory over the Wizards.
• Complete highlights of Hall of Fame Classic
Mora, who is now 44 and last played for the D-backs in 2011, hit a pair of two-run homers in the game, the first off Andy Sonnanstine and the second off LaTroy Hawkins to earn Bob Feller Player of the Game honors.
Hairston, who hit 70 homers in his 16-year big league career, won the Derby and hit the homer off Hawkins in the sixth that was the difference in the game for the Knucksies, three batters after Mora tied it up.
"When Jerry hit that home run, I knew I had a chance," said Mora about the possibility of being named game MVP. "We just wanted to give a good show to the fans and [hope] that nobody would get hurt. That was the most important thing -- and that we all had a good game."
Nobody got hurt and it was a terrific show. Save for Todd Pratt and Alan Trammell, both rosters were filled with recent big leaguers who could still play -- and they played hard.
The seven-player first round of the Home Run Derby was survived by Travis Hafner, who hit five out in 10 swings, plus Hairston and Andruw Jones, who smacked out three each. Mora hit two homers, but didn't make it out of the initial round.
In the championship round, when each hitter was limited to just five swings, Hairston again dominated -- hitting four more out, mostly into the woods beyond the left-field fence. Hafner answered with three and Jones hit two.
Hairston, who will turn 40 on Sunday and last played for the Dodgers in 2013, said this was the first time he's ever competed in a Home Run Derby.
"And it will be my last," said Hairston, now a baseball analyst on Dodger cable television broadcasts. "I'm 1-for-1. It's like the [Michael] Jordan perfect 6-for-6 in the finals. I'm going to retire like that."
As far as wearing his newfound power title when he gets back to the Dodgers' announcing booth, Hairston said: "You guys have no idea what I'm going to do back at the network now. Nomar Garciaparra and Orel Hershiser were getting on me. When they heard I was competing in the Home Run Derby, they were trash-talking me. And I beat Andruw Jones. I've got a big feather in my cap, and I'm going to be a mess on TV the rest of the way."
The namesakes of the teams -- Phil Niekro and Ozzie Smith -- had to bow out of the festivities this year for personal reasons. Smith has a herniated disc in his lower back, while Niekro cancelled on Thursday without giving a reason.
In their stead, Hall of Famers Jim Rice skippered the Knucksies and Andre Dawson the Wizards. Rollie Fingers acted as a coach under Rice, and Fergie Jenkins and Ryne Sandberg had ceremonial roles under Dawson.
Sandberg, the former Cubs second baseman who was inducted in 2005, is now an ambassador for his old club. He enjoyed being here after missing four years while managing and coaching with the Phillies in both the big leagues and their Minor League organization.
"I get to do some fun things now," said Sandberg. "Being a Hall of Famer is part of that and representing the Cubs. That allows me to come to this Classic and come back for the inductions in July."
Ken Griffey Jr. and Mike Piazza will both be inducted into the Hall on the stage behind the nearby Clark Sports Center on July 24.