NHSI championship an all-California affair
Hagen Danner leads Huntington Beach against Blake Rutherford's Chaminade squad in the finals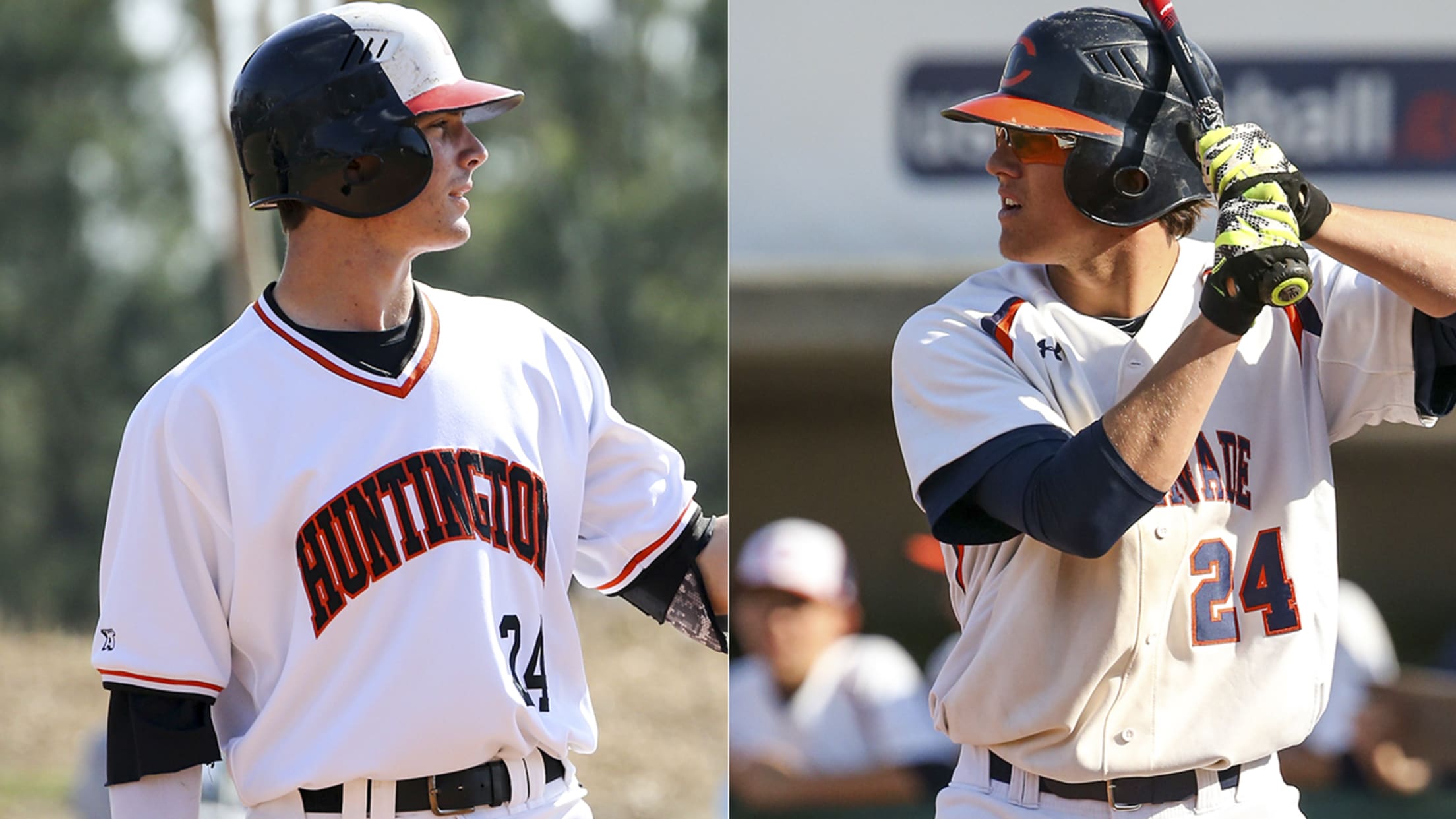 Huntington Beach's Hagen Danner and Caminade Prep's Blake Rutherford will meet in the NHSI finals. (Courtesy USA Baseball)
CARY, N.C. -- The National High School Baseball Invitational is an all-Southern California final as some of the nation's top prep prospects will meet at 11:30 a.m. ET Saturday at the USA Baseball National Training Complex.Chaminade Prep defeated Florence (Ala.) High, 8-2, in the early Friday afternoon semifinal. Centerfielder Blake
CARY, N.C. -- The National High School Baseball Invitational is an all-Southern California final as some of the nation's top prep prospects will meet at 11:30 a.m. ET Saturday at the USA Baseball National Training Complex.
Chaminade Prep defeated Florence (Ala.) High, 8-2, in the early Friday afternoon semifinal. Centerfielder Blake Rutherford, who is ranked the No. 7 Draft prospect by MLBPipeline.com, was 2-for-4 with a triple, single and two runs scored.
Huntington Beach High defeated Allatoona, 3-1, in the late afternoon semifinal matchup. Junior third baseman Hagen Denner, a UCLA commit expected to be a top draft prospect in 2017, started Huntington's three-run third with his only hit in three at-bats -- a solo home run to lead off the frame.
Chaminade and Huntington Beach play in different high school divisions back home, but Oilers coach Benji Medure and Chaminade coach Frank Mutz know each other well.
"We're proud to represent Southerner California and the state," Medure said. "Frank and I talked before we left about playing in the finals."
In February, the teams met in a game in a winter ball tournament at the University of San Diego, which Huntington Beach won 4-3. But Medure downplayed that result compared to a regular-season contest for a prestigious tournament title.
The Oilers will face a heavy-hitting lineup led by Rutherford, who is committed to UCLA and has put on a show through three days of the NSHI. Batting leadoff, he's hitting .727 (8-for-11) with six singles, a double and a triple in three games. He's scored five runs (two on Wednesday, one Thursday and two Friday), too.
"I just try and hit the ball and put it in play," Rutherford said. "I feel I can put the ball in play every at-bat and good things are going to happen. I try and limit my strikeouts. Obviously I can't hit a hit every time, but I expect myself to put a good swing on the ball every time."
Rutherford is among the highest profile players in the tournament, but Medure points out he has two seniors who are expected to hear their names called in the Draft in June. Center fielder Donnie Abbadessa, Huntington Beach's leadoff hitter who is committed to Long Beach State, and designated-hitter Landon Silver, who bats fifth and is committed to UC Santa Barbara.
"Rutherford is a great player -- don't get me wrong," Medure said. "We've got to locate and keep the ball out of the middle of the plate. We've got to make our pitches and he's got to hit our pitches. If he does, good for him. We have to focus on what we can control."
In the semifinals, Chaminade struck early with four runs in the first inning despite Rutherford whiffing to open the game. Catcher Nick Kahle followed with a walk and first baseman Tommy Costello singled. Kahle and Costello are both committed to Washington.
Costello and Blake Hanson, who ran for Kahle, both scored on senior third baseman Anthony Acosta's two-run single. Junior right fielder Keith Stafford singled to score junior second baseman Blake Mann, who walked, and freshman shortstop Tyler Olivas singled to score Acosta.
The Eagles banged out 13 hits. Kahle finished 2-for-3 with two RBIs, Acosta 1-for-3 with a run scored and two RBIs, Mann 2-for-3 with a run scored and an RBI and Stafford 2-for-3 with an RBI.
In the Oilers' win, junior pitcher Cory Moore gave up five hits over six innings and senior lefty Kobie Anton pitched a scoreless seventh.
Tom Shanahan is a contributor to MLB.com.