Thor campaigns for deGrom extension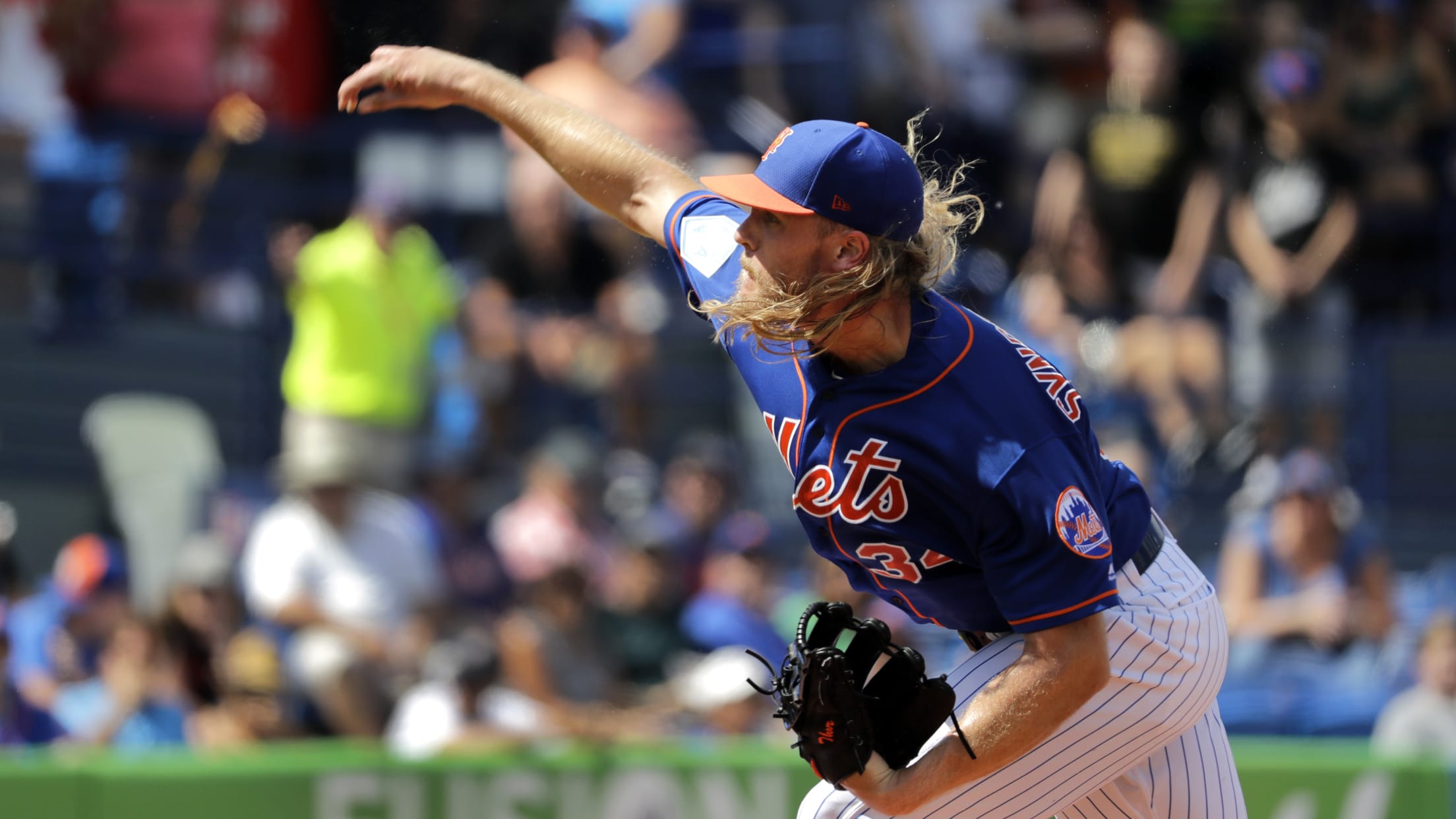 PORT ST. LUCIE, Fla. -- Count Noah Syndergaard among those struggling to comprehend why Jacob deGrom, the reigning National League Cy Young Award winner, has yet to score a contract extension. "I think Jake's the best pitcher in baseball right now," Syndergaard said after making his final spring tuneup Sunday
PORT ST. LUCIE, Fla. -- Count Noah Syndergaard among those struggling to comprehend why Jacob deGrom, the reigning National League Cy Young Award winner, has yet to score a contract extension.
"I think Jake's the best pitcher in baseball right now," Syndergaard said after making his final spring tuneup Sunday in a Minor League game. "I think he deserves whatever amount he's worth. I want them to keep him happy so when it does come time for him to reach free agency, he stays on our side pitching for the Mets. I just think they should quit all this fuss and pay the man already."
deGrom, who has two years remaining under team control, has set an Opening Day deadline to negotiate an extension with the Mets. He said Saturday that he is growing less optimistic the two sides will reach common ground, though general manager Brodie Van Wagenen indicated discussions are ongoing.
It was Van Wagenen who, as deGrom's agent last summer, implored the Mets either to sign him or trade him. Since that time, many of baseball's brightest stars have inked extensions, including more than a dozen this spring: Mike Trout, Alex Bregman, Justin Verlander, Chris Sale, Nolan Arenado and more. deGrom is further from free agency than Sale and Verlander were at the time of their deals and falls between them in age, meaning his potential deal would look different than Sale's five-year, $145-million extension or Verlander's two-year, $66-million pact.
Still, Syndergaard wants the Mets to lock up deGrom at any price.
"If there wasn't a trend of other guys getting contract extensions, then I don't know what the circumstance would be," Syndergaard said. "But you see Chris Sale, Verlander getting extensions. I think it's time Jacob gets one too."
Syndergaard was also openly critical of the Mets' travel schedule leading up to Opening Day. Following their final spring home game on Sunday afternoon, the Mets were scheduled to bus three-plus hours to Sarasota, Fla., for their Grapefruit League finale against the Orioles. After that game, the Mets will fly to Syracuse, N.Y., for a workout, which the organization hopes will spur interest in its new Triple-A affiliate. Then the Mets will fly to Washington, without stopping in New York, for Opening Day on Thursday afternoon.
Off-site exhibitions are not unusual for Major League teams leading up to Opening Day. This year, the Cardinals and Rockies are among the other clubs playing games at the home of their affiliates, while the Mets have done so in the past in Las Vegas. Still, Syndergaard argued that the trip runs counter to the Mets' spring wellness efforts, including an emphasis on sleep.
"I don't know whose idea that was, but it's not a smart one," Syndergaard said. "I don't think that's conducive for winning ballgames. That much travel? I'm sure the amenities in Syracuse aren't the best for a Major League Baseball team to go out there and have one last workout before the regular season starts, but those kinds of decisions are above my pay grade."
Informed of Syndergaard's comments, Mets manager Mickey Callaway said: "I think everybody's entitled to how they feel and what they think. I think that going up to Syracuse is good for the fans. It's a new affiliate. It's something that doesn't happen often. But I think we [owe it] to the fans to go up there and show them a little love."
Injury scare
The Mets held their collective breath early in Sunday's 8-4 win over the Nationals, when a wild pitch caught catcher Wilson Ramos in the right hand. Ramos immediately exited the game to undergo X-rays, which were negative. He departed camp wearing only a light wrap on his pinkie, and should be "totally fine" for Opening Day, according to Callaway.
New life
Two days after optioning reliever Tim Peterson to Minor League camp, the Mets brought him back to start Sunday's game against the Nationals. The right-hander delivered two scoreless innings with two hits and a walk, lowering his Grapefruit League ERA to 4.35. After the game, Peterson boarded one of two buses to Sarasota, despite the fact that he won't pitch in Monday's exhibition.
It appears Peterson has leapfrogged Rule 5 Draft pick Kyle Dowdy -- the only healthy bullpen candidate in big league camp -- on the Mets' depth chart, just in time for Opening Day. Both players remain on the 40-man roster, but all indications are the Mets will offer Dowdy back to the Indians at some point this week. That means Peterson is again a favorite to make the team.
Peterson, for his part, did not envision his luck would change so quickly when the Mets sent him to Minor League camp, particularly with a tweaked ribcage muscle clouding his future.
"I was working hard this spring to try and earn a spot on this team, and it was a little disappointing," Peterson said of his demotion. "But in this game, you never know. I'm back here right now, I guess fighting for another spot. So we'll see."
Staying back
Among those who did not make the trip to Sarasota was catcher Travis d'Arnaud, who planned to catch Steven Matz and Jason Vargas this week in Minor League games. While the Mets have not committed to putting d'Arnaud on the injured list to start the season, it appears almost certain they will do so to get him more at-bats and defensive reps as he returns from Tommy John surgery.
d'Arnaud would be eligible to return to the Mets in time for their April 4 home opener.
"I've got to keep my head down and keep progressing," d'Arnaud said, "and see what happens."
Up next
Following their bus ride across the state, the Mets will play their Grapefruit League finale Monday against the Orioles. Zack Wheeler is scheduled to start the 1:05 p.m. ET game opposite right-hander Dylan Bundy.