A's Melvin on board with rule change
Intentional walks will be issued by dugout sign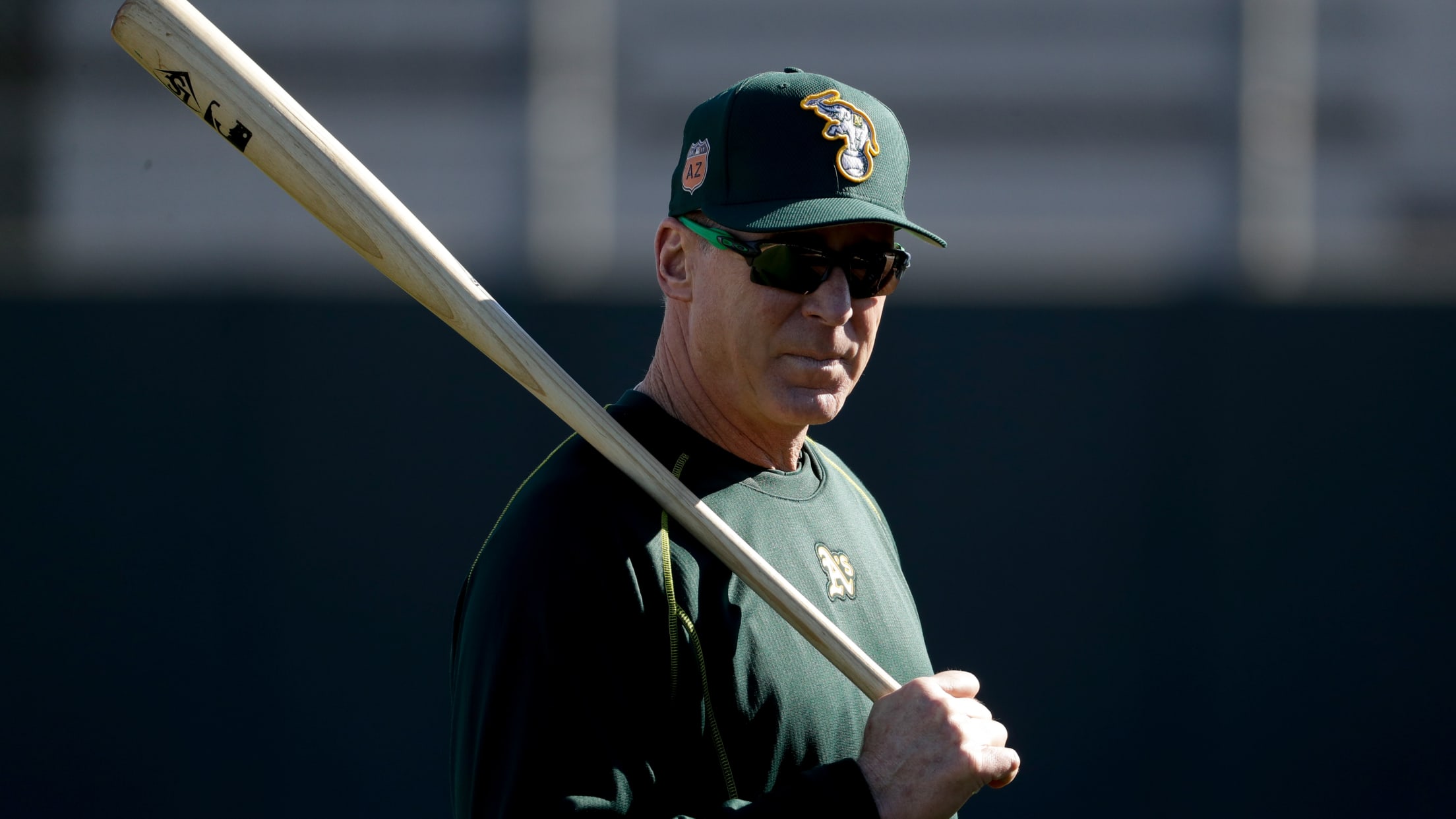 Oakland manager Bob Melvin is OK with a rule change that literally takes the bat out of a hitter's hands with a dugout sign for an intentional walk. (AP)
MESA, Ariz. -- No longer will pitchers lob four balls to home plate. Major League Baseball is eliminating the old-fashioned intentional walk, instead electing for a dugout signal as part of ongoing efforts to improve the pace of play.A's manager Bob Melvin, at least when considering alternative options being mulled
MESA, Ariz. -- No longer will pitchers lob four balls to home plate. Major League Baseball is eliminating the old-fashioned intentional walk, instead electing for a dugout signal as part of ongoing efforts to improve the pace of play.
A's manager Bob Melvin, at least when considering alternative options being mulled to speed up games, is on board with the decision.
"I think, based on hearing what the potential was, and that's what we settled on, I'm just glad it wasn't a lot of what they were talking about," Melvin said. "I guess it's fine. Guys do have issues with it, and sometimes there's a certain guy you have to put on base, you're a little worried about it."
• Spring Training:Info | Tickets | Schedule | Gear
Melvin and the A's were bit by an intentional walk in Texas last August, which he referenced Wednesday morning: Melvin brought in lefty Marc Rzepczynski to intentionally walk Adrian Beltre and load the bases with one out, taking his chances with Rougned Odor. Except Rzepczynski hit Odor with the first pitch, bringing in the game-winning run.
Melvin not only took criticism for issuing the intentional walk with one out, but for having a new reliever do it, rather than the one already in the game, since Rzepczynski could have been thrown off ahead of Odor's at-bat. But both manager and pitcher acknowledged at the time it shouldn't have been an issue.
"Some pitchers have a tougher time throwing an intentional walk pitch than throwing the ball over the plate, just like when you see pitchers throwing to bases but they can dot a pitch anywhere," Melvin said.
But just how much time will be saved by automatically putting a player on first base? Just one intentional walk was recorded every 2.6 games last year.
"I was just worried about any number of new rules coming in," Melvin said. "If this was just one they're looking to speed up with, I'm OK with that."
The prospect of limiting mound visits particularly irked Melvin, who said, "It sounds like there's a school that thinks that that's not that important, and it really is. Unless you've been out on the mound and know how quickly the game can go at times, especially in big situations, it's our job to try to slow it down for the pitcher, so that would have been a tough one for me."
Then there was the idea of starting a runner at second base in extra innings, to which Melvin responded, "I was hoping that never got traction. ... It's just not baseball, for me. It's like a simulated game, at the most important part of the game."
Jane Lee has covered the A's for MLB.com since 2010. Follow her on Twitter @JaneMLB.