Peralta, Rodgers among top prospect performers Friday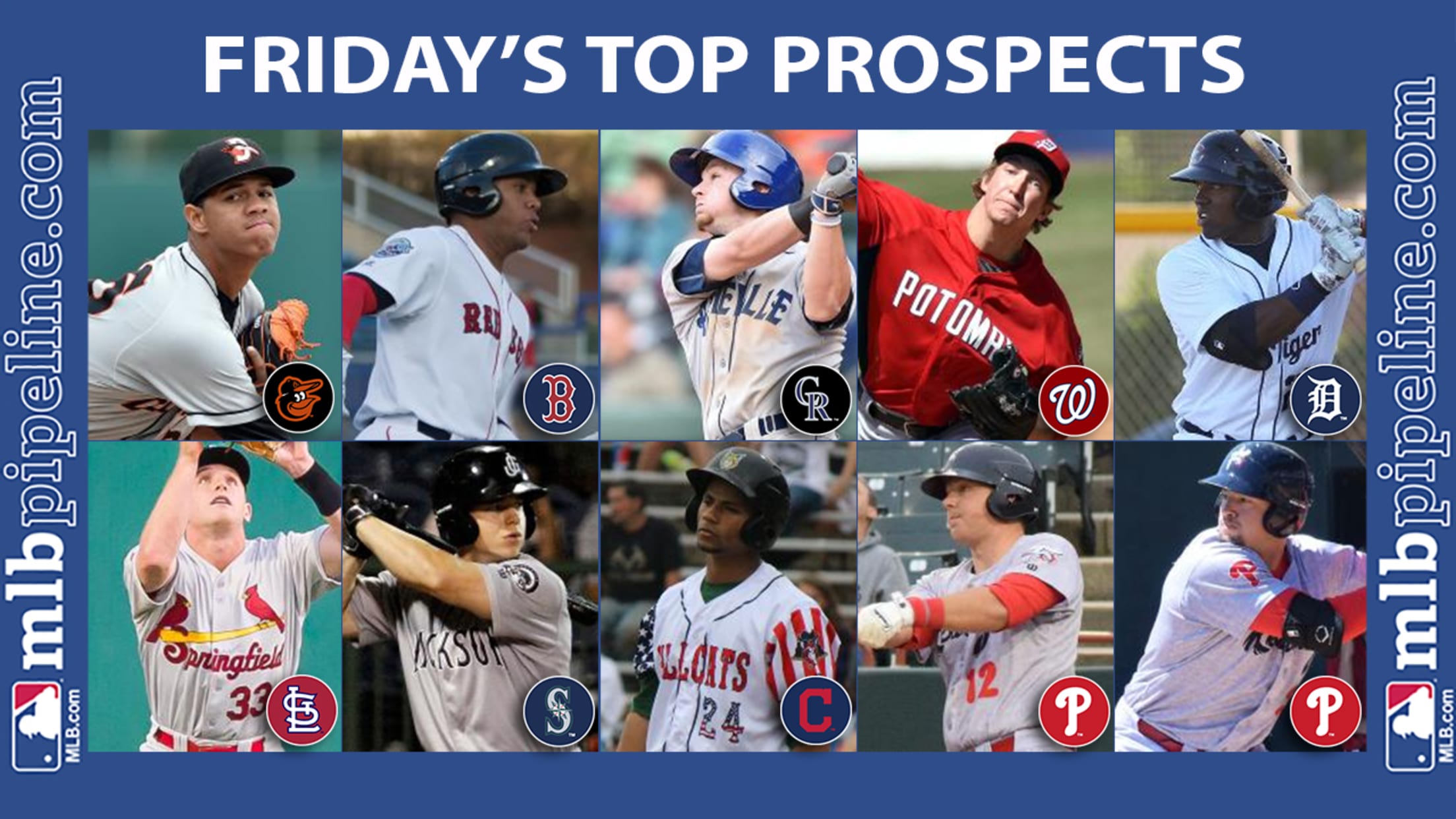 Only the rain could stop Ofelky Peralta on Friday night.The Orioles' No. 14 prospect fired a rain-shortened, five-inning no-hitter as Class A Delmarva defeated Hagerstown, 5-0. It was the third no-hitter in Shorebirds history and the first since John Means fired a seven-inning no-no on July 31, 2015.Peralta fanned eight
Only the rain could stop Ofelky Peralta on Friday night.
The Orioles' No. 14 prospect fired a rain-shortened, five-inning no-hitter as Class A Delmarva defeated Hagerstown, 5-0. It was the third no-hitter in Shorebirds history and the first since John Means fired a seven-inning no-no on July 31, 2015.
Peralta fanned eight of the 17 hitters he faced in the outing, throwing 42 of his 64 pitches for strikes. More importantly, the 19-year-old right-hander, who entered the day having allowed 41 walks in 70 2/3 innings, issued just one walk for a second straight start. The only other Hagerstown hitter to reach base against Peralta did so on an error in the first inning.
"He's starting to pitch more with his fastball early in games and establish it a bit more and then going to his changeup late the second or third time going through the lineup to give himself a chance to keep guys off his fastball," Delmarva manager Ryan Minor told MiLB.com. "But fastball command has been a key for him. When he's been able to locate his fastball early in games, he's had a lot more success.
"What he's been able to do in his last couple games is maintain his delivery and fastball command, get ahead of hitters and use his changeup, which is a plus pitch for him."
Though his starts have been inconsistent this season, Peralta has flashed plenty of promise by posting a 3.45 ERA with two home runs allowed and 75 strikeouts in 75 2/3 innings.
The rest of the best performances from top prospects Friday
• No. 5 overall prospect Yoan Moncada (Red Sox's No. 1) homered for a second straight game in Double-A Portland's loss to Hartford. The 21-year-old second baseman has now hit five home runs in 16 games since being promoted from Class A Advanced Salem, where he went deep four times over 61 contests.
• No. 10 overall prospect Brendan Rodgers connected on a home run in both games of a doubleheader for Class A Asheville against Charleston. The Rockies' No. 1 prospect has homered 13 times 68 games for the Tourists this season.
• No. 68 overall prospect Erick Fedde fired six innings of one-run ball for Class A Advanced Potomac in a win over Carolina. The Nationals' No. 4 prospect allowed three hits and one walk while striking out eight in the game, throwing 49 of his 82 pitches for strikes. Fedde has been outstanding over his last six starts for the P-Nats, posting a 1.00 ERA with 26 strikeouts in 27 innings.
• Tigers Nos. 3 and 4 prospects Christin Stewart and Mike Gerber both hit home runs to pace Class A Advanced Lakeland's offense in a 10-5 win over Palm Beach. Stewart blasted his Florida State League-leading 20th home run and scored three runs as part of a 2-for-3 showing at the plate, while Gerber went deep for the 11th time this season en route to finishing 3-for-4 with a double and three RBIs.
• Mariners No. 4 prospect Tyler O'Neill hit a home run and drove in three runs for a second straight game as Double-A Jackson outslugged Tennessee, 12-9. The home run was the 21-year-old outfielder's 16th of the season, good for second place in the Southern League, while his trio of RBIs pushed him into sole possession of first in that category. Overall, he owns an impressive .308/.375/.545 batting line through 80 games for the Generals.
• Indians No. 8 prospect Francisco Mejia extended his hitting streak to 33 games as he went 1-for-5 in Class A Advanced Lynchburg's win over Salem. The 20-year-old backstop failed to collect a hit in his first three at-bats before he singled to right field leading off the bottom of the seventh. He's hit a robust .342 through 69 games this season between Lynchburg and Class A Lake County.
• Cardinals No. 10 prospect Harrison Bader hit his first Triple-A home run -- his 14th of the season -- and drove in all three runs for Memphis in a 3-2 win against Round Rock. The 2015 third-rounder was promoted to the Minors' highest level after he batted .286/.350/.491 with 81 hits, including 28 extra-base knocks, over 73 games for Double-A Springfield.
MILB Video - Title: More information - Url: http://www.milb.com/r/video?content_id=911729183
• Rockies No. 12 prospectGerman Marquez matched his career highs with nine strikeouts and eight innings pitched as he led Double-A Hartford in a win over Portland. The 21-year-old righty surrendered two runs (one earned) on seven hits -- one of which was a solo homer by Yoan Moncada -- and did not issue a walk, with 80 of his 102 pitches going for strikes in the outing. He's allowed exactly one earned run in five of his last six starts for the Yard Goats.
• Rockies No. 16 prospect Ryan Castellani set a career high and matched another one as he fanned 11 hitters over eight innings in Class A Advanced Modesto's 11-inning loss versus Lake Elsinore. The 2014 second-rounder allowed two runs (one earned) on four hits to lower his season ERA to 3.86.
• Double-A Reading's bash brothers were at it again as Phillies Nos. 19 and 22 prospects Rhys Hoskins and Dylan Cozens both went deep in a 21-4 rout of Bowie. Hoskins tagged his Minor League-best 25th homer in the contest, finishing 2-for-4 with four RBIs, while Cozens went 3-for-4 with his 24th bomb as well as a two-run triple. On the season, the two sluggers have combined for 49 homers and 154 RBIs in 168 games.
MILB Video - Title: More information - Url: http://www.milb.com/r/video?content_id=910836783
"I haven't been a part or seen anything like this," Reading manager Dusty Wathan told MiLB.com. "Both of them are real confident right now, and that's a big part of the game. They feel like if one of them doesn't get the job done, the other one will. We have a pretty deep lineup, so it takes a little bit of pressure off of everybody."