One outing doesn't change Mitchell's status
Notes on the bullpen, Franmil Reyes, Freddy Galvis, Austin Hedges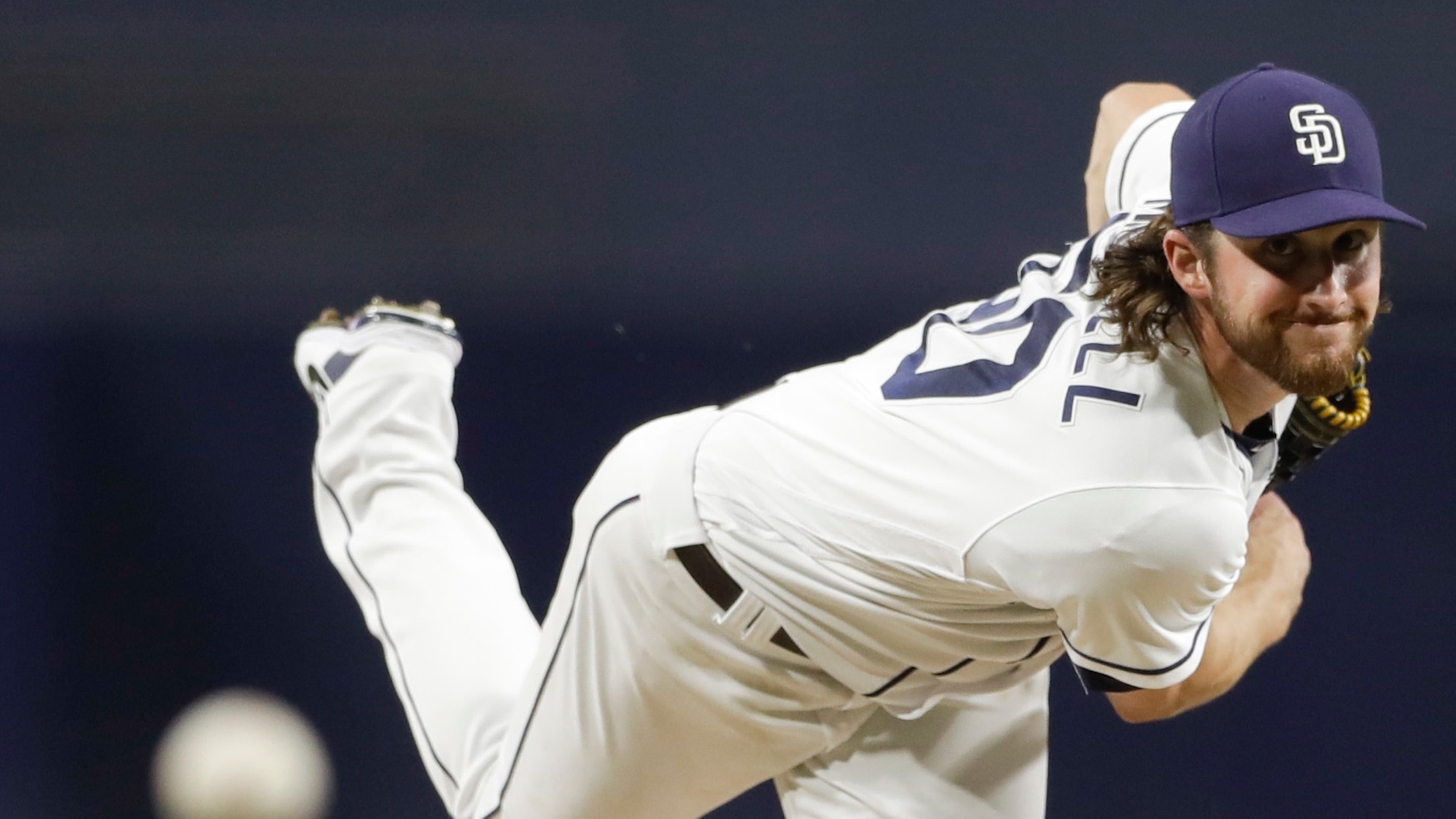 Bill Center, longtime sportswriter for U-T San Diego, is an employee of the Padres.Everyone knows that Bryan Mitchell is fighting to regain that spot in the Padres rotation that he lost earlier this season. And Monday night's start against the Giants at Petco Park was not a step
Bill Center, longtime sportswriter for U-T San Diego, is an employee of the Padres.
Everyone knows that Bryan Mitchell is fighting to regain that spot in the Padres rotation that he lost earlier this season.

And Monday night's start against the Giants at Petco Park was not a step in the right direction.

He lasted just five innings and gave up four runs on nine hits - including homers to Brandon Crawford and Evan Longoria - with four strikeouts.

But one outing doesn't determine a pitcher's value. If he was on too long a leash early in the season when he remained in the rotation until his earned run average reached 6.47 after seven starts, his future probably won't be determined by one bad start now.

Even with Monday night's outing, Mitchell's ERA remains at 3.38 for his three starts since returning from the disabled list on Sept. 3. He has given up six runs on 15 hits and five walks with eight strikeouts in 16 innings. The Padres had won his first two starts since his return as Mitchell held Arizona and Seattle in check.

NOTEBOOK:

--RF Franmil Reyes was 1-for-3 Monday night to extend his current hitting streak to nine straight games. He is 12-for-31 (.387) in this streak. He has hit safely in 19 of his last 20 games around a 0-for-3 on Sept. 6 and is batting a Major League-leading .383 (28-for-73) in 24 games since Aug. 21 with a .458 on-base percentage and a .658 slugging percentage (two doubles and six homers) for a 1.116 OPS.

--Freddy Galvis is 4-for-11 (.364) with two doubles, a RBI and two runs scored in the three games he has started at second base. He was hitting .230 after 148 straight starts at shortstop.

--Austin Hedges' 14th homer of the season Monday night was also his third in the last six games. Padres catchers have now hit 21 homers on the season, the second-highest total in the National League to the Dodgers' 25 homers from their catchers.

--Padres relievers worked four scoreless innings Monday night against the Giants, giving up three hits with seven strikeouts. Since the All-Star break, the Padres bullpen has a National League-leading 3.26 ERA (73 earned runs in 207 1/3 innings). And, since the All-Star break, the Padres bullpen has a National League-leading .222 opponents' batting average.