Inbox: Who will O's nab to plug roster holes?
Beat reporter Joe Trezza answers fans' questions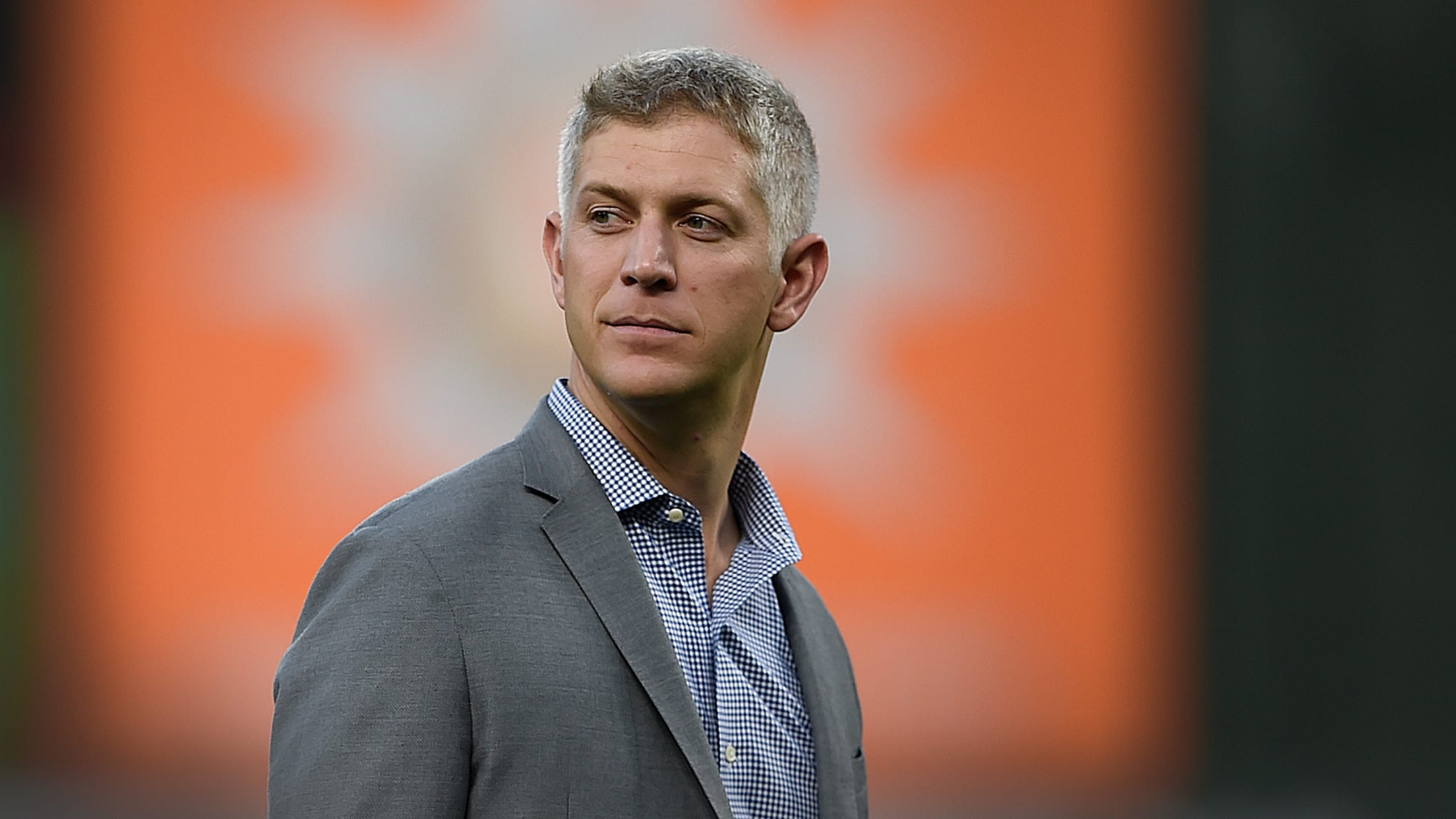 They're probably going to go out and grab at least one, right? That's my feeling, anyway. It might not be one of the bigger names -- Where is the fit with Greg Bird? Where is the upside with Wei-Yin Chen or Jacoby Ellsbury? -- but there were definitely players let
Who do you think if any would the O's take from recent 40 man casualties this week? Id like to see Cotton get innings.

— Gabriel Garcia (@txtgab9) November 22, 2019
They're probably going to go out and grab at least one, right? That's my feeling, anyway. It might not be one of the bigger names -- Where is the fit with Greg Bird? Where is the upside with Wei-Yin Chen or Jacoby Ellsbury? -- but there were definitely players let go that fit the Orioles' needs.
At this point, those are threefold: pitching, middle-infield and corner-outfield help. Now maybe they swing big for reclamation project Jharel Cotton, who burst onto the scene in 2016 but missed most of the past two seasons due to injury. But more likely they dip into the pool of experienced relief help -- perhaps Nick Goody, Dominic Leone, Tim Mayza, Drew Gagnon and others -- suddenly available.
If they want to go another direction, Nick Martini fits their need for corner-outfield depth, and oft-injured former Ray Matt Duffy would provide much-needed infield insurance.
Potential rule 5 picks available? And would the Orioles take more than one player?

— Dustin (@YeahIts_Dustin) November 21, 2019
They'll have to do some roster reconfiguring to do so, with only one spot currently open on the 40-man. But when has that ever been an issue?
I think the expectation is the Orioles will make at least one Rule 5 Draft selection, as they've done each year since 2006 -- especially with MLB rosters expanding to 26 this season. Who will that be? That's hard to handicap, and honestly the Orioles probably won't begin crunching names until after Thanksgiving. But that doesn't mean we can't have some fun and speculate.
Luckily, our crack MLB Pipeline team is way ahead of the curve, as usual. They put together this comprehensive list of unprotected prospects -- one for each team -- that could entice other teams come Dec. 12. For those who played at and performed reasonably well at Triple-A last year, keep an eye on: Blue Jays righty Jackson McClelland, Yankees righty Domingo Acevedo, Brewers righty Zack Brown, Cubs righty Oscar De La Cruz, Tigers outfielder Jacob Robson, Astros outfielder Ronnie Dawson and Rangers utilityman Eli White.
Could we hear more about Elias' ties to new hire Eve Rosenbaum and what she will bring that's new to the O's?

— Daniel Rotter (@drot_6) November 22, 2019
Sure. The Orioles still have not confirmed or announced this hiring, but it's happening. When Rosenbaum arrives in Baltimore, she'll immediately become the highest-ranking female member of the Orioles' front office. She will reportedly be involved in scouting and analytics as part of her wide-ranging role as director of baseball development.
O's executive vice president and general manager Mike Elias was Rosenbaum's direct supervisor when he left the Astros a year ago, under the title of manager of international scouting. Rosenbaum ran the Astros' international signing day on July 2, and she had been with the organization since 2015. A Bethesda, Maryland, native and Harvard alum, Rosenbaum also worked for the NFL for two years before getting into baseball.
And like many who have come to work for him in Baltimore, Rosenbaum's ties to Elias run deep. Sig Mejdal, Rosebaum, Matt Blood, Koby Perez, Chris Holt -- every person Elias has brought in for a director-level position had worked with him previously, either with the Astros or Cardinals.
What else is going on?
-- Joe, from Baltimore
Okay, I'll admit it: I made this question up. That's me; I'm Joe from Baltimore. But I did it so we could tie up some odds and ends:
Will Bleier be back in 2020?
Speaking on 105.7 The Fan's Orioles Hot Stove Show on Thursday, left-hander Richard Bleier was admittedly uncertain whether he'll be tendered a contract by the Dec. 2 deadline.
"Obviously I didn't do myself any favors this year," said Bleier, who pitched to a career-worst 5.37 ERA in 2019. "I still think I provide value to the team, but I guess we'll see. I don't know. You guys know anything?"
The Orioles aren't tipping their hand publicly either, and the fact is, these are typically decisions that come down to the wire. What's certain is the Orioles have decisions to make on seven players, with roughly $17 million estimated coming in raises if the club opts to retain the entire class. Bleier, 32, is first-year arbitration-eligible and in line to make $1.1 million in 2020 per MLBTradeRumors. That would be about double his '19 salary.
"I had a down year, and I just hope my workload speaks for itself over the past few years," Bleier said. "But I just think I'd love to stay with the Orioles, obviously. I'd love to be back. I enjoy Baltimore and the fans. But it's a business decision, and it's up to them, whatever they want to do."
Another arm goes east
Former Orioles righty Mike Wright signed with the NC Dinos of the Korean Baseball Organization, according to a Naver Sports report. Wright and former Phillies outfielder Aaron Altherr, who also signed with NC, will earn $1 million next season according to the report. Wright becomes the second hurler with Orioles ties to sign overseas this winter, after Aaron Brooks signed with KBO's Kia Tigers. Wright made 101 appearances for the Orioles from 2015-'19.