Schoop, Hardy on bounceback paths
Infielders struggled through '15 injuries, but are raking in spring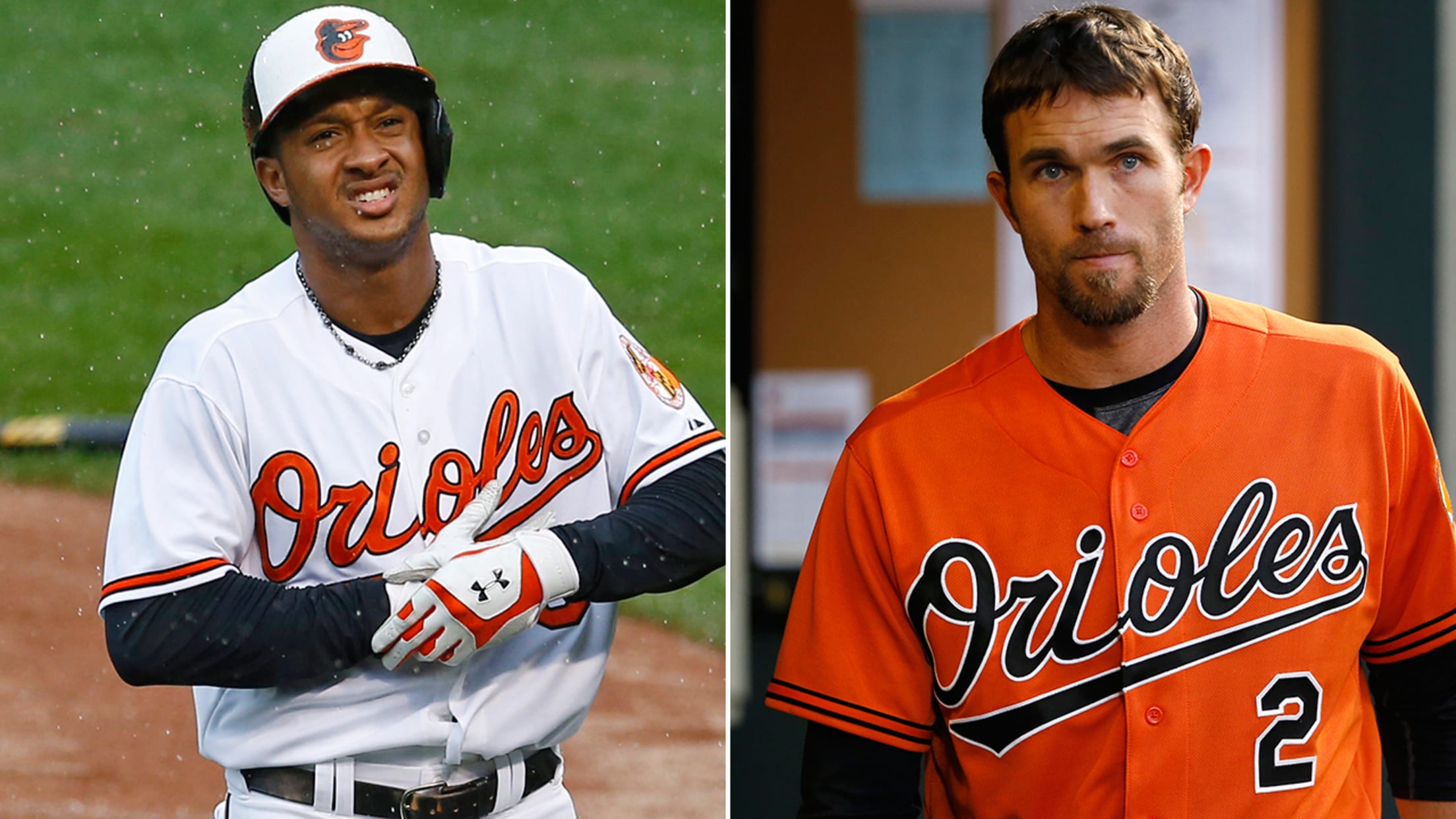 Jonathan Schoop (left) and J.J. Hardy are among the Orioles' most productive hitters this spring. (AP)
SARASOTA, Fla. -- Last year was a challenge for the Orioles in the middle infield, as J.J. Hardy struggled to play through a torn labrum in his shoulder, and a knee injury cut Jonathan Schoop's productive year in half.But so far this spring, besides being strong physically, Schoop and Hardy
SARASOTA, Fla. -- Last year was a challenge for the Orioles in the middle infield, as J.J. Hardy struggled to play through a torn labrum in his shoulder, and a knee injury cut Jonathan Schoop's productive year in half.
But so far this spring, besides being strong physically, Schoop and Hardy have been two of Baltimore's most productive hitters. Entering Thursday night's split-squad game against the Twins at Ed Smith Stadium, Schoop was batting .406/.424/.656 with two doubles, two homers and eight RBIs in 32 at-bats. Hardy was at .381/.435/.524 with two extra-base hits.
• Orioles Spring Training info
"I'm excited for him to be healthy and me to be healthy," Schoop said. "Hopefully we can stay that way for the rest of the season."
In the fifth inning of Wednesday's 9-3 win over the Pirates, Hardy singled before Schoop lined a game-tying three-run homer over the left-field wall off reliever Jared Hughes. An inning later, Hardy's ground-rule double to left-center off Arquimedes Caminero put the Orioles in front.
Afterward, Orioles manager Buck Showalter complimented both players.
"I'm really happy with the way J.J.'s moving around," he said. "You can tell he feels good."
As for Schoop, despite the fact he had only one walk this spring, he said he is trying to improve his selectivity. The 24-year-old posted a stellar .788 OPS and smacked 15 homers in 86 games last year, but his walk rate was the fourth-lowest among all players with at least 300 plate appearances. His swing rate was second-highest, just ahead of teammate Adam Jones.
"If I can be more selective at the plate, my numbers are going to go higher," Schoop said. "That's what I'm working on in Spring Training right now -- discipline and swinging at strikes, swinging at pitches I can do damage with."
Worth noting
• Thursday was first baseman Chris Davis' 30th birthday.
• Jimmy Paredes (left wrist) has been increasing his baseball activities but isn't sure if he will have time to get in any games before the end of the Spring Training schedule. That will depend on how he feels once he starts hitting again.
Paredes hurt the wrist, on his glove hand, trying to make a diving catch in right field on March 3, his third Grapefruit League game.
• The Orioles held "Go Green" Day to celebrate St. Patrick's Day when they hosted the Twins on Thursday night at Ed Smith Stadium. Orioles players and coaches wore green caps, as well as special jerseys featuring green lettering, plus a shamrock on the right sleeve. All of that gear will be autographed, authenticated and then auctioned online at Orioles.com/spring, to benefit the Marie Selby Botanical Gardens.
The auction runs through March 24 at 10 p.m. ET. Last year's auction raised almost $8,000, according to the team.