O's lose Paredes to Blue Jays on waiver claim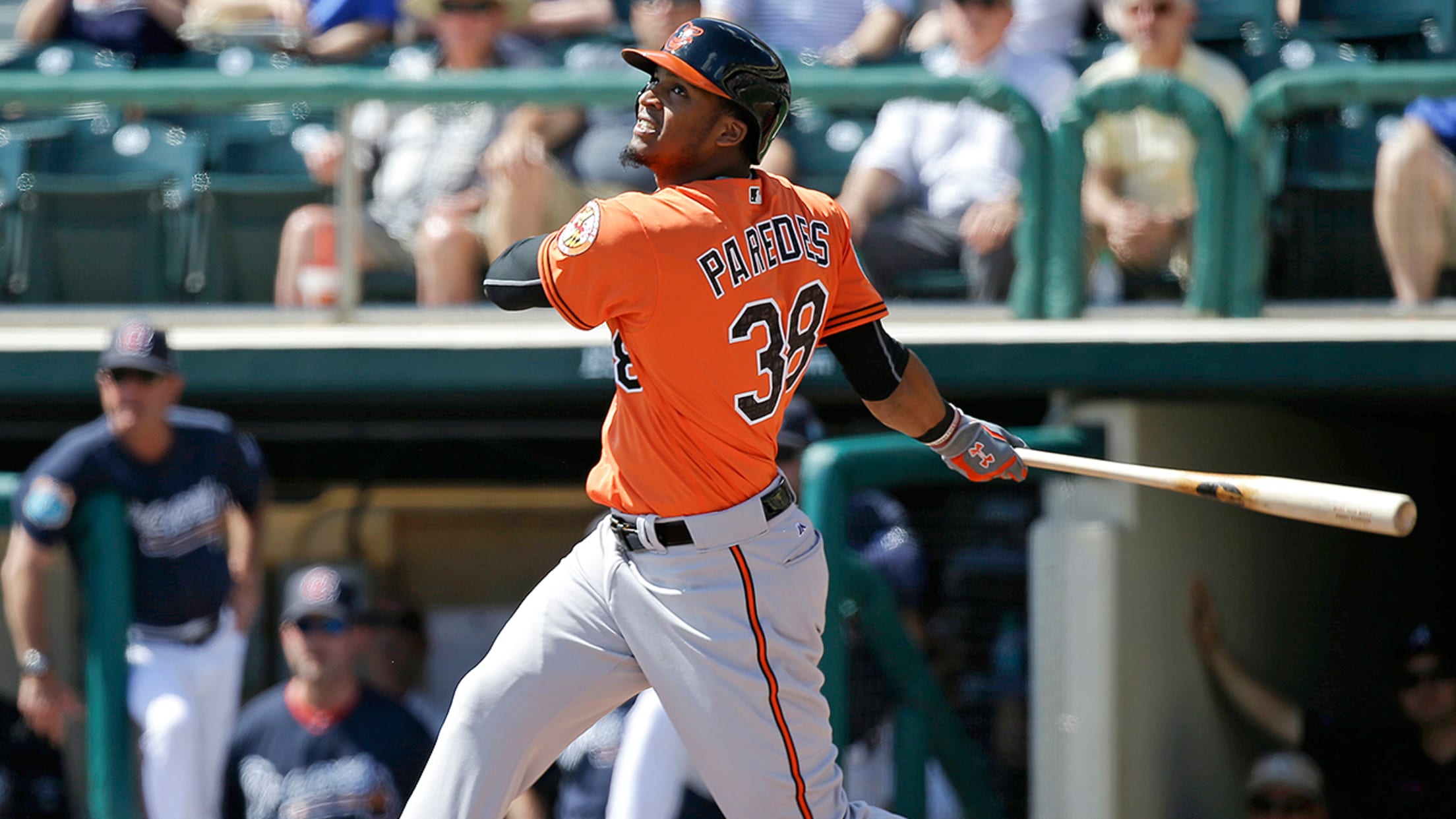 Jimmy Paredes hit .279 with 12 homers and 50 RBIs in 122 games with the Orioles from 2014-15. (AP)
BALTIMORE -- Despite an injury to shortstop, J.J. Hardy, the Orioles couldn't free up a roster spot for Jimmy Paredes, who was claimed off waivers by the Blue Jays on Monday."The O's tried, but we just didn't find a fit for Jimmy Paredes on this year's team when it was
BALTIMORE -- Despite an injury to shortstop, J.J. Hardy, the Orioles couldn't free up a roster spot for Jimmy Paredes, who was claimed off waivers by the Blue Jays on Monday.
"The O's tried, but we just didn't find a fit for Jimmy Paredes on this year's team when it was time for him to be reinstated," executive vice president of baseball operations Dan Duquette said. "Jimmy worked hard with us and we appreciate his contributions over the past two seasons."
Paredes, who suffered a left wrist injury diving for a ball in Spring Training in early March, has always been a more offensive-minded player. And with the O's shifting Manny Machado to shortstop -- to cover for Hardy -- and manager Buck Showalter showing a willingness to use Pedro Alvarez at third base, along with Ryan Flaherty, there wasn't an easy choice to remove from the roster.
Paredes, a .257/.293/.369 career hitter in parts of five Major League seasons with the Astros, Royals and Orioles, did play some outfield in winter ball. But Nolan Remold is playing well and Hyun Soo Kim is also contributing and would have to accept a demotion to the Minor Leagues.
The first-place Orioles, who have hit an eye-popping 55 homers already this season to lead the Major Leagues, didn't have any room for another designated hitter. So the 27-year-old Paredes was placed on waivers after completing a rehab assignment in which he hit .309 with two homers in 19 games.
The hope was Paredes would clear waivers and be outrighted to Triple-A Norfolk before Toronto scooped him up. Paredes is coming off a solid 2015 season in which he rode a magnificent first half to some respectable numbers, posting a .275/.310/.416 line in 104 games last season. He batted .299/.332/.475 with 12 doubles, two triples, 10 home runs and 39 RBIs in 68 games in the first-half.
Alvarez recorded his first start since August 2014 at third base over the weekend.