Orioles, Marlins honor Father's Day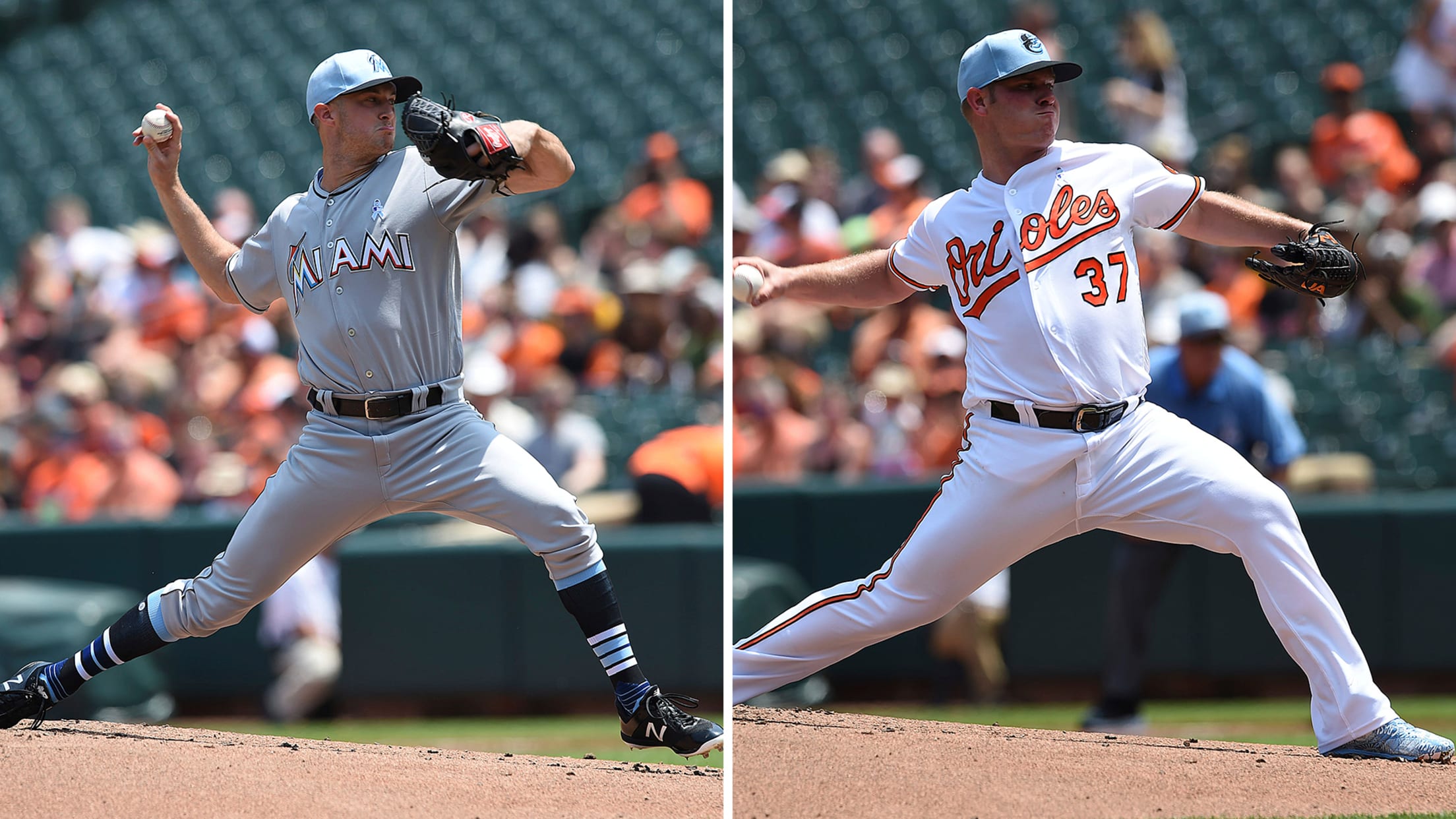 BALTIMORE -- It is the second Father's Day for Orioles reliever Mychal Givens, whose two-year-old daughter, Makaylah Grace, will be in attendance to watch her dad play."It always means very much," Givens said of playing on Father's Day, "but to even have a little girl, now going into my second
BALTIMORE -- It is the second Father's Day for Orioles reliever Mychal Givens, whose two-year-old daughter, Makaylah Grace, will be in attendance to watch her dad play.
"It always means very much," Givens said of playing on Father's Day, "but to even have a little girl, now going into my second Father's Day, it's even more [meaningful] to see her grow, and see the smile she has and see the features she has of me."
On Father's Day, Major League Baseball players donned blue hats and wore a commemorative blue ribbon on their jerseys along with other blue pieces of equipment to raise awareness for the fight against prostate cancer. Many players wore special cleats and accessories including Givens and Manny Machado for the Orioles, and Brian Anderson and Derek Dietrich for the Marlins.
Major League Baseball has also raised awareness with its "Home Run Challenge," which has given fans the chance to make a one-time monetary donation for every home run hit by their favorite team from June 1 through Father's Day, all while tracking where their team has stacked up in a "Team vs. Team" competition. Every dollar donated through the Home Run Challenge goes to Prostate Cancer Foundation to fund critical research to defeat prostate cancer.
• Shop Father's Day gear
Father's Day couldn't have come at a better time for Justin Bour.
His team is playing well as of late, winning eight of their last 12, and he gets to spend the holiday just a quick trip up I-95 from his family in Northern Virginia.
Born in Centreville, Va., Bour played a lot of his youth baseball in Maryland, the same state in which the Marlins take on the Baltimore Orioles on Father's Day. Bour's father, a former Secret Service agent, was not only his ride to most games, but his coach for a good amount of his youth playing days.
"It's pretty cool. It's special," Bour said of playing close to home on Father's Day. "[My dad] was able to coach me and my brother growing up a little bit, and one year in high school, he coached us too a little bit."
Does Jim Bour still try to give his son pointers?
"No not really," Justin said. "Every once in a while, he will say something small. But he's in a situation where he understands we have very good coaches who are very good at what they do, and he understands the game of baseball, and that it's not as easy as some fans and family members would make it out to be. So he actually has a really good feel for the game of baseball. And he doesn't really get involved too much. He's watching every game."
Zachary Silver is a reporter for MLB.com based in Baltimore.
** Ian Quillen ** is a contributor to MLB.com based in Baltimore.