O's Wright throws stellar 5 in win vs. Twins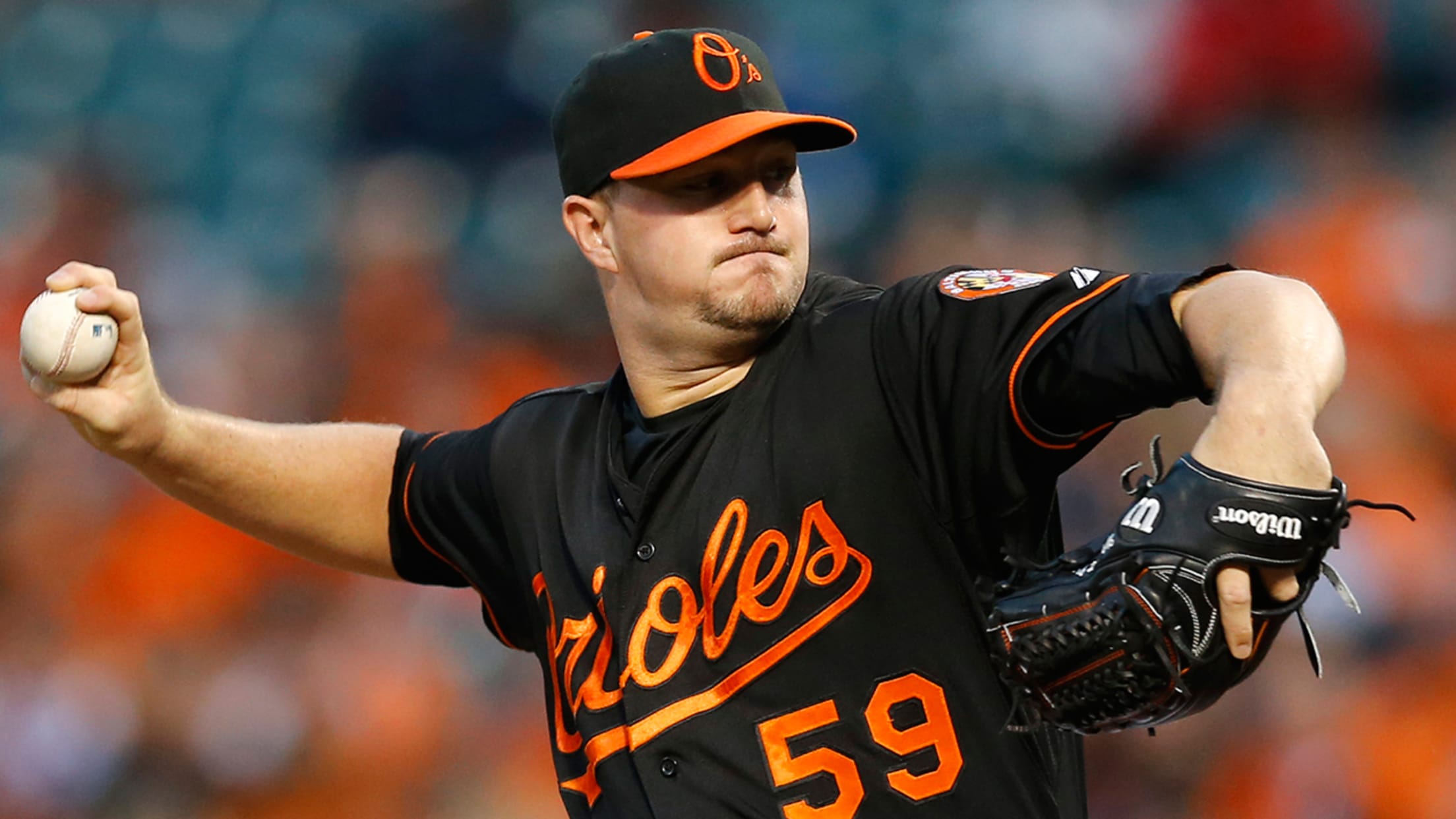 Mike Wright started and tossed five scoreless innings versus the Twins on Thursday night. (AP)
SARASOTA, Fla. -- Starter Mike Wright pitched five scoreless innings, and Adam Jones homered and drove in two runs on Thursday night, as an Orioles split squad earned a 4-1 victory over the Twins at Ed Smith Stadium.Since starting Grapefruit League play 0-10-2, Baltimore has gone 4-2-1, including Thursday afternoon's
SARASOTA, Fla. -- Starter Mike Wright pitched five scoreless innings, and Adam Jones homered and drove in two runs on Thursday night, as an Orioles split squad earned a 4-1 victory over the Twins at Ed Smith Stadium.
Since starting Grapefruit League play 0-10-2, Baltimore has gone 4-2-1, including Thursday afternoon's 9-5 split-squad loss to the Red Sox in Fort Myers, Fla.
In Wright's first three spring outings, he allowed seven earned runs over 6 2/3 innings. But the right- hander was on his game this time, holding Minnesota to four singles and striking out two without issuing a walk.
"Like I said before in my last two starts, that easily could have been the same results, because I've felt good," Wright said. "I've felt like I was locating well, all my pitches felt pretty good, so I was happy to finally get the results in this game."
Eduardo Nunez and Miguel Sano hit back-to-back singles with one out in the top of the first inning, but Wright induced a double-play grounder from Carlos Quentin, the first of nine straight batters he retired. After Quentin and Eddie Rosario singled with two gone in the fourth, Wright got Byung Ho Park to pop up before retiring the side in order in the fifth.
Reliever Brad Brach induced another double-play grounder from Quentin to end the sixth, after the Twins put two runners on with no outs.
Twins lefty Taylor Rogers started and threw two scoreless innings, then gave way to righty Ryan Pressly.
"It was exciting [to start],'' Rogers said. "It was something that was familiar. I just felt good about the routine going into it. I'm glad they gave me the opportunity, and I'm glad to have taken advantage of it.''
He added: "I'm feeling more comfortable as camp is going on. Just pitching more and refining everything. That's what Spring Training is for. I'm just starting to feel the groove a little bit and hopefully take it into the season."
Twins manager Paul Molitor was impressed by Rogers.
"There were some good things with the pitching tonight,'' Molitor said. "Taylor seems to improve every outing. He did a really nice job of keeping the ball down. I never thought he was timid, and he faced some good hitters over there and was aggressive with his fastball. So that was really good to see."
Leading off the fourth, Pressley got ahead of Jones 0-2 but then left a fastball over the plate and watched it soar over the left-field bleachers. It was Jones' third homer of the spring.
In the sixth, after Manny Machado drew a leadoff walk against J.R. Graham, Jones stroked an RBI double to right-center. Two batters later, he scored on Mark Trumbo's single to left.
Baltimore's Michael Almanzar came off the bench to add an RBI single in the seventh, and an inning later, Twins reserve Buck Britton -- the brother of Orioles closer Zach Britton -- put Minnesota on the board with an RBI single.
The Twins did get some stellar defense in the first from center fielder Max Kepler, the organization's No. 6 prospect. When Machado led off with a shot into the right-center gap, Kepler gave chase and made a full-extension diving grab. Three batters later, he went the other way, covering a lot of ground as he raced back to the wall in left-center to pick off Trumbo's drive.
"Kepler made a couple nice plays in center field,'' Molitor said. "I didn't get to see him play too much last year, but we heard a lot about the improvement in his all-around game."
Up next for the Twins: Outfielder Danny Santana, who has been sidelined since March 10 with a tender wrist, is expected to return to the lineup when the Twins face the Red Sox at Jet Blue Park on Friday. First pitch is 1:05 p.m, and the game is available on an exclusive MLB.com webcast. Right-hander Tyler Duffey, who is penciled in as the No. 4 starter, is scheduled to be on the mound. Duffey, who has been working on his changeup this spring, is 0-1 with a 10.38 earned run average.
Up next for Orioles: The Orioles will play under the lights for the second straight night as they travel to Tampa on Friday to face the Yankees at 6:35 p.m. ET, live on MLB.TV. Opposing New York's CC Sabathia will be Baltimore right-hander Miguel Gonzalez, who has struggled this spring. Gonzalez has allowed 14 earned runs on 18 hits over 5 2/3 innings, surrendering six runs against the Twins in his last outing, on Sunday.