Dickerson's season in jeopardy after setback
Back surgery is a possibility for ailing Padres outfielder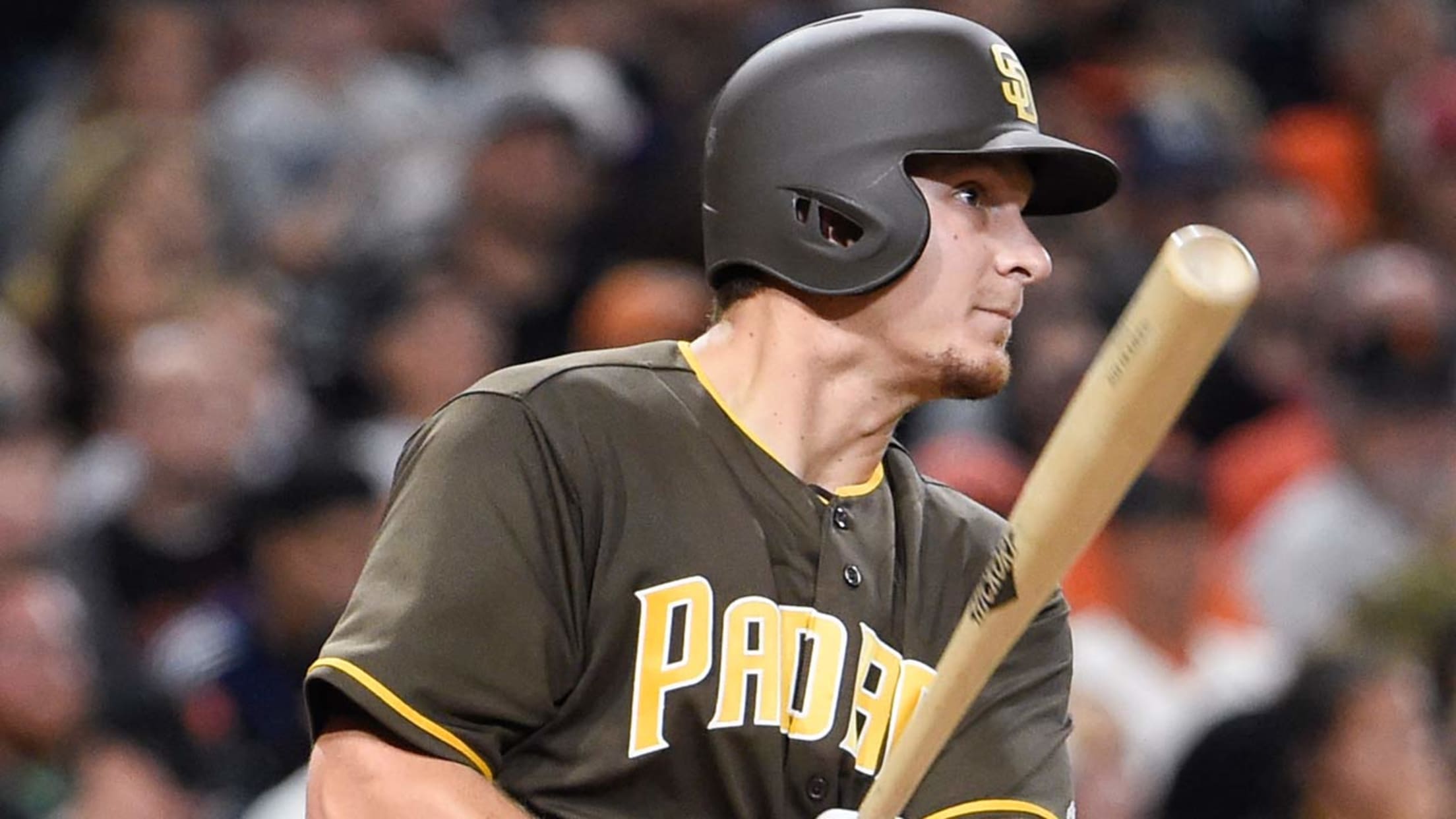 Alex Dickerson injured his back in Spring Training. (Getty)
SAN DIEGO -- After suffering another setback in his recovery from a bulging disk in his lower back, Padres outfielder Alex Dickerson may not play this season, manager Andy Green said Tuesday.Dickerson, who sustained the injury during Spring Training, woke up a day after having four at-bats as designated hitter
SAN DIEGO -- After suffering another setback in his recovery from a bulging disk in his lower back, Padres outfielder Alex Dickerson may not play this season, manager Andy Green said Tuesday.
Dickerson, who sustained the injury during Spring Training, woke up a day after having four at-bats as designated hitter in an extended spring training game and "didn't feel great," Green said. Dickerson and the team are considering surgery.
"I can't look at you and say I'm optimistic that he plays this year at this point in time," Green said. "I'm not. He's seeing doctors right now to kind of figure out what's the next step. He's worked incredibly hard to get back. Gets right to that point where he starts playing, and the next day, he gets up after playing, and he just doesn't feel right, so it's frustrating for him and for us."
Dickerson experienced pain in his upper back a couple of weeks ago, but he recovered quickly. The pain in his lower back, though, has lingered.
Green said Dickerson, 27, hit .257/.333/.455 with 10 home runs in 84 games last season.
"Not having him at all this year's been tough [on us] and tough on him," Green said. "It's not out of the question that he plays this year, but it's increasingly unlikely that he suits up for us this year. Hopefully, we figure out what it is and get it right, so we can go forward with his career."
Dickerson will undergo a scan Tuesday before he and the Padres determine the next step. Green said surgery is not a "foregone conclusion," but that it is a possibility.
"You want to avoid back surgery as much as humanly possible," Green said. "He'll see some more specialists. If there's another step between now and then, they'll explore that step.
"He loves playing baseball. He's a very good baseball player. I want him to be able to do what he loves to do on the baseball field."
Worth noting
• Right-hander Trevor Cahill (right shoulder strain) threw a bullpen session Tuesday. Green said he will throw one more before the team has him face hitters in a simulated setting sometime during its upcoming road trip.
• Outfielder Manuel Margot (right calf strain) took batting practice with the team Tuesday. He's been running, but has progressed closer to baseball activity, Green said. The hope is he will go on a rehab assignment sometime during the road trip or shortly thereafter.
• After undergoing a CT scan on his previously fractured right foot, outfielder Travis Jankowski has been cleared to start physical activity, but Green said there will be a slow build-up to baseball activity, adding Jankowski is still "weeks away."
• Catcher Hector Sanchez has recovered from a hamstring strain he sustained during his recent rehab assignment for a right foot contusion. Green said Sanchez is close to playing in games.
• Right-hander Jered Weaver (left hip inflammation) might join Cahill in facing hitters in a simulated setting during San Diego's road trip.
Nathan Ruiz is a reporter for MLB.com based in San Diego.