Padres weighing options to fill out rotation
Clemens, Jackson among possibilities for hole left by trade of Pomeranz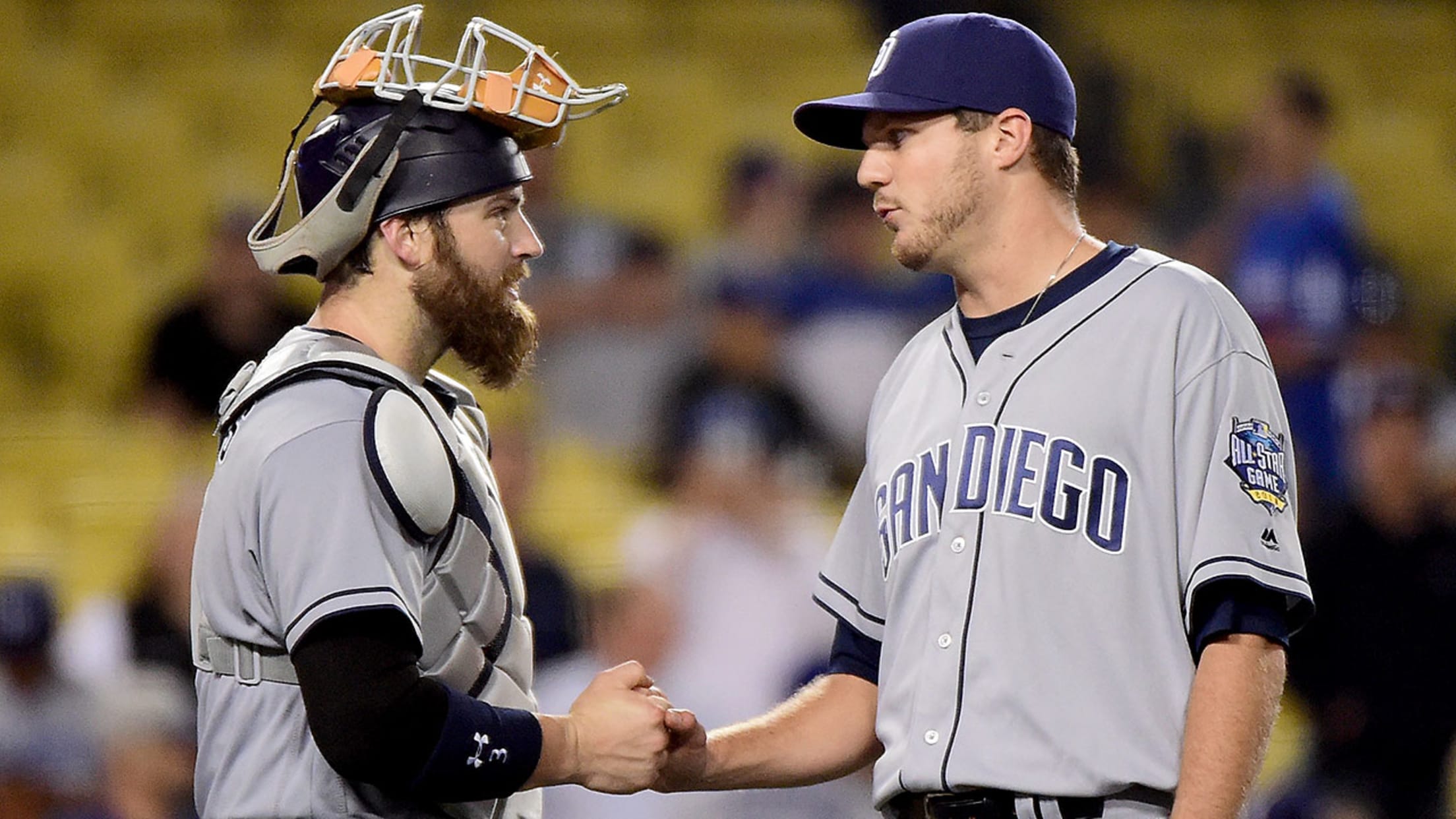 Paul Clemens was acquired from Miami to provide pitching depth in the event of a trade. (Getty)
SAN DIEGO -- With Drew Pomeranz now a member of the Boston Red Sox, the Padres are looking at the hole he left in the starting rotation as an opportunity for other pitchers in the organization.San Diego manager Andy Green said he would likely announce who slots into Pomeranz's spot
SAN DIEGO -- With Drew Pomeranz now a member of the Boston Red Sox, the Padres are looking at the hole he left in the starting rotation as an opportunity for other pitchers in the organization.
San Diego manager Andy Green said he would likely announce who slots into Pomeranz's spot (Sunday's start vs. Johnny Cueto) on Saturday, but there are a handful of players who could jump into the rotation.
"We've had a lot of discussions over the last couple days," Green said. "There's opportunities we have here in front of us for some guys that are here currently.
"You look at Paul Clemens probably sliding into the rotation at some point in time. Maybe not necessarily this Sunday, but we're having internal discussions to decide where we go."
With Friday's promotion of left-hander Buddy Baumann, the team could move Clemens into the rotation without losing an arm out of the 'pen. Green said Clemens was originally acquired from the Marlins for added pitching depth as teams began to inquire about Pomeranz.
"We knew that there were a lot of teams that were after Drew," Green said, "and when the opportunity came, there was a possibility we'd make a trade. So we went out and got Paul at that point in time. [He] gives us some depth and [is] a guy that we do believe that we can turn into a great starter."
San Diego general manager A.J. Preller said Edwin Jackson -- whom the Padres signed to a Minor League contract June 19 -- could also be used in that spot.
"[Jackson] pitched a lot of good innings in the big leagues," Preller said, "and he'll get a chance, potentially, in the next couple of weeks."
Jackson was used as a reliever with the Marlins at the Major League level this season, but has started three games for Triple-A El Paso, posting a 7.11 ERA during 12 2/3 innings.
Regardless of who winds up in the starting rotation -- and it could easily be several pitchers -- the Padres are actively trying to find the next Pomeranz.
"I think it's going to be a challenge for our scouts," Preller said. "After we made the [Pomeranz trade], Pete DeYoung, our pro director, immediately sent out an email to our scouting group about finding the next Pomeranz-type guy.
"I think throughout the organization there have been some guys who have stepped up, and I think those guys will get opportunities."