Suspension over, Preller has work cut out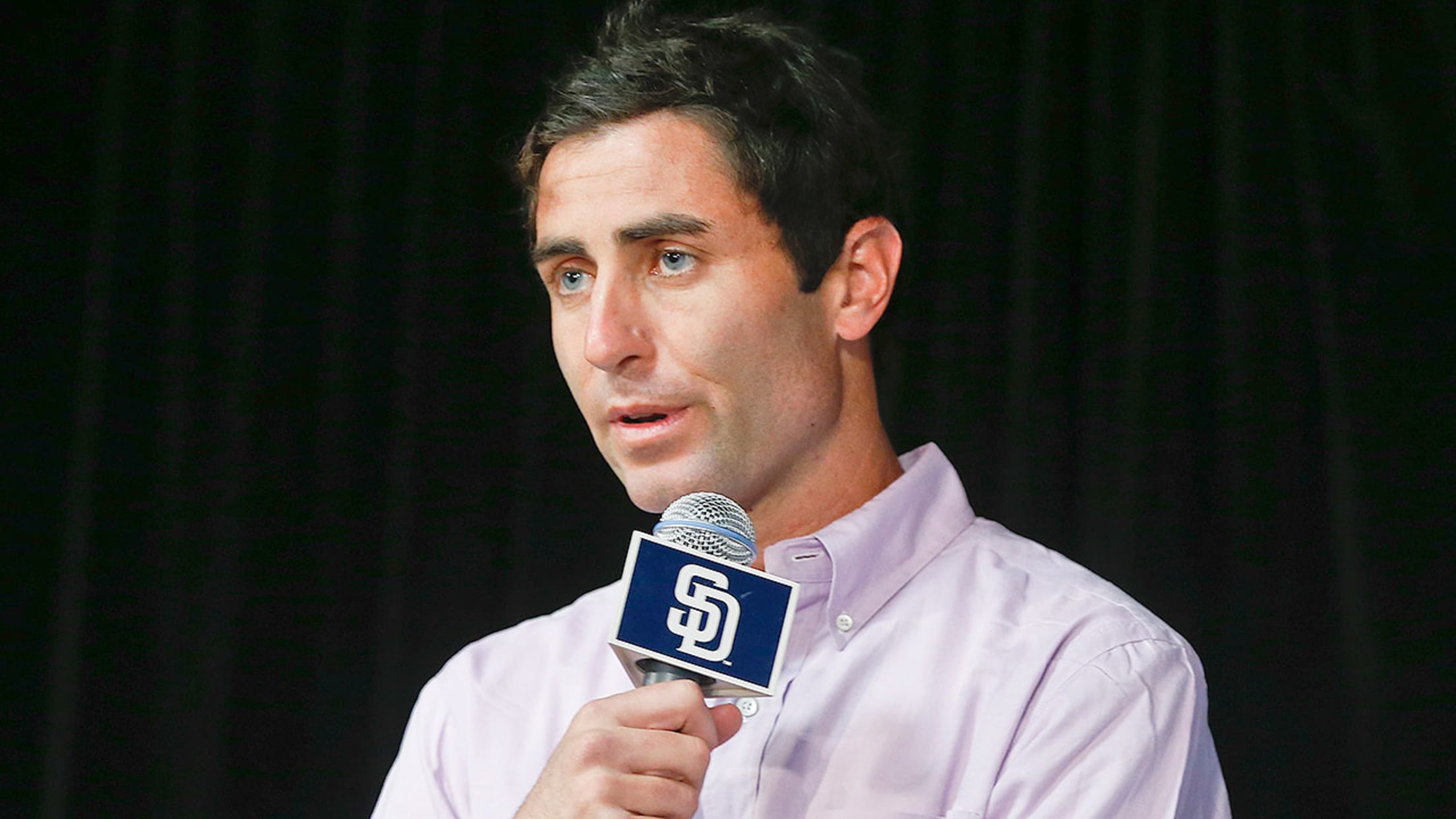 Among Padres GM A.J. Preller's offseason goals is extending Wil Myers with a long-term deal. (AP)
SAN DIEGO -- A.J. Preller's 30-day suspension ended on Wednesday, and the Padres general manager returns to duty with a busy offseason on the horizon.In September, Preller was suspended by Major League Baseball as a result of undisclosed medical information in the trade that sent left-hander Drew Pomeranz from the
SAN DIEGO -- A.J. Preller's 30-day suspension ended on Wednesday, and the Padres general manager returns to duty with a busy offseason on the horizon.
In September, Preller was suspended by Major League Baseball as a result of undisclosed medical information in the trade that sent left-hander Drew Pomeranz from the Padres to the Red Sox in July.
Preller is returning to an undoubtedly different environment, as the Padres recently parted ways with team president and CEO Mike Dee, who hired Preller in 2014 and largely oversaw Preller's decisions.
The Padres are leaning toward a structure in which Preller would report directly to ownership, while the new team president handles the business side.
With that in mind, here are the key baseball decisions awaiting Preller and the Padres this offseason:
• Extending Wil Myers: Both the Padres and Myers have expressed their interest in coming to an extension that would keep Myers in San Diego past 2019 -- the earliest he would be eligible for free agency. The Padres believe Myers could eventually be a veteran piece on a perennial contender. Myers is only 25, meaning he'll still be in his prime when some of the organization's talented prospects arrive on the scene.
• Filling out the rotation: Injuries have put Tyson Ross, Colin Rea and Jarred Cosart in question for the Opening Day roster. Erik Johnson and Robbie Erlin are question marks for the 2017 season due to Tommy John surgery, and the Padres will likely be in the market for at least two starters -- preferably proven innings eaters. Clayton Richard and Edwin Jackson are free agents and have expressed a desire to return. Preller could look to the open market, which is weak at the top but at least somewhat deep.
• Developing a plan for Ross: The 29-year-old Ross pitched on Opening Day before missing the remainder of the season with an inflamed right shoulder. He underwent Thoracic Outlet Syndrome surgery last week, and the Padres are hopeful he will return in Spring Training. Ross is a free agent after the 2017 season, and given his injury, it's doubtful Preller would trade him during the offseason. But it's worth testing the market for Ross, who -- if he returns to form -- could be one of the most sought-after commodities at next year's non-waiver Trade Deadline.
• Adding some veteran presence: Among Padres under contract for 2017, 30-year-old Brett Wallace is the only player past his 20s. In many ways, that's a very good thing for the Padres, whose recent youth movement could portend a bright future. Veterans like Jon Jay, Adam Rosales and Carlos Villanueva had strong voices in '16. If Preller decides not to bring those players back, he'll at least be looking for players to fill similar roles.
• Trading a catcher: Presumably, this would be Derek Norris, with the Padres poised to hand the keys to 24-year-old Austin Hedges. After a lackluster 2016 season, Norris' value wouldn't seem to be high. Still, he's the club's likeliest trade candidate entering the offseason. The remainder of the roster is full of young players who are -- presumably -- part of the future. Then again, Preller has never been shy about making offseason trades.