Padres have signed 12 of first 13 picks from June Draft
Reed only unsigned after playing in College World Series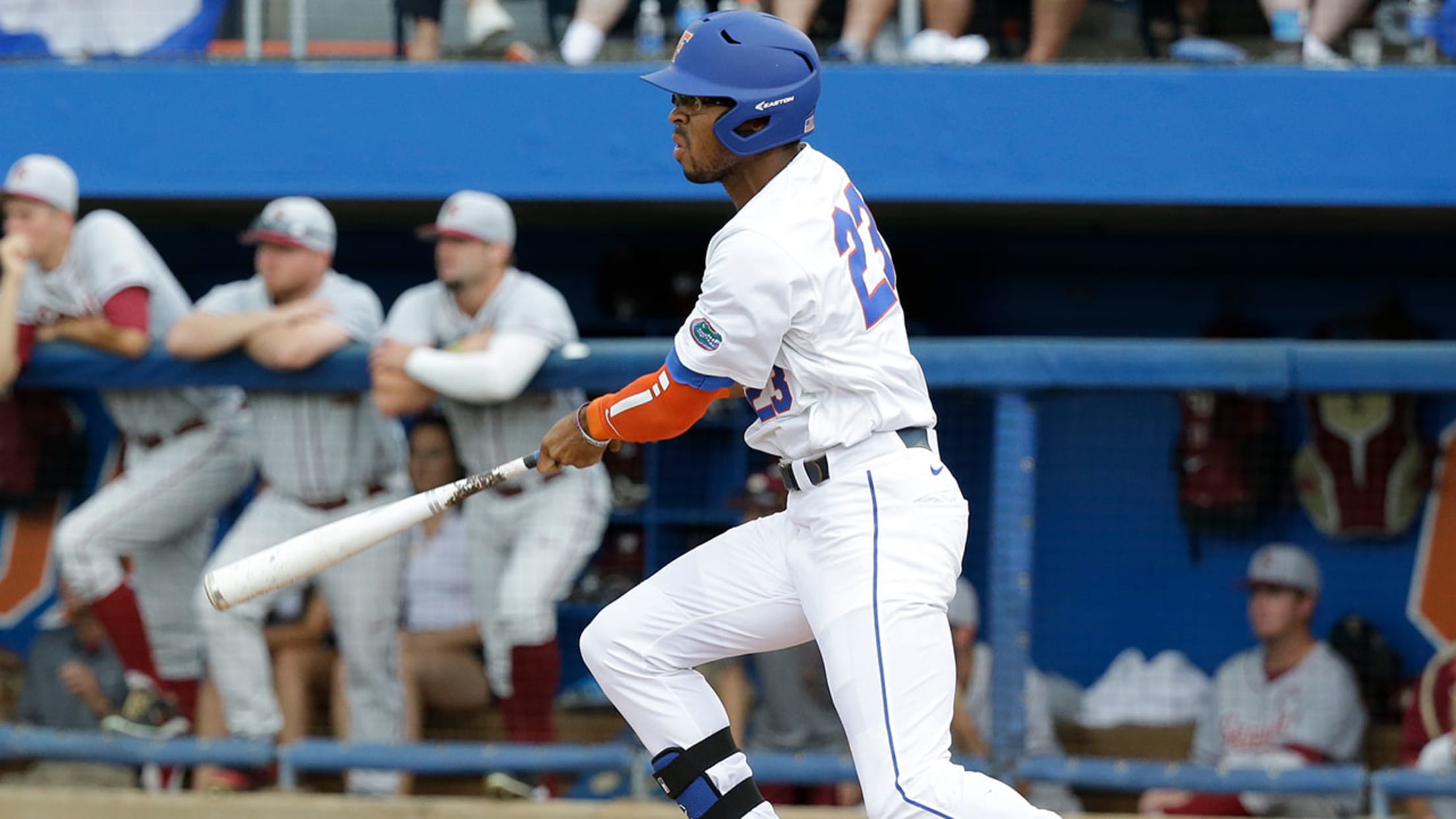 Buddy Reed is the only player who has yet to sign with the Padres. (AP)
Bill Center, longtime sportswriter for U-T San Diego, is an employee of the Padres.The Padres have signed the top three and 12 of their first 13 picks from the June draft.The only pick among the Padres top 10 who hasn't signed is University of Florida outfielder Buddy Reed.The Padres three
Bill Center, longtime sportswriter for U-T San Diego, is an employee of the Padres.
The Padres have signed the top three and 12 of their first 13 picks from the June draft.
The only pick among the Padres top 10 who hasn't signed is University of Florida outfielder Buddy Reed.
The Padres three first-round picks, right-hander pitcher Cal Quantrill (eighth overall), infielder Hudson Potts (24th overall) and left-handed pitcher Eric Lauer (25th overall), have all signed. Five of the six players taken by the Padres in the draft's first 85 picks have signed.
Potts, who was Hudson Sanchez on draft day, has made his pro debut with the Padres of the Arizona Rookie League. On Wednesday night he was 2-for-3 with a double, two walks, two stolen bases and two runs scored.
Five of the Padres top-12 signed picks have already made their professional debuts.
Overall, the Padres have signed 25 of the 43 players they selected in the June amateur draft.
NOTES FROM THE SCOREBOOK:
--Right fielder Matt Kemp leads the Major Leagues with 30 hits (in 20 Padres games) in June. Kemp was was 6-for-10 as the Padres split two games in Baltimore with two doubles, four RBIs and a run scored. After hitting .186 in May for the second straight season, Kemp is batting .370 (30-for-81) through the first 20 games in June with six doubles, two home runs, 18 RBIs and 11 runs scored.
--Right-handed pitcher Colin Rea's earned run average has dipped from 5.15 to 5.02 without throwing a pitch. An earned run charged to Rea last week when Washington catcher Wilson Ramos scored from second, when reliever Brandon Maurer failed to handle a toss at from first baseman Wil Myers, has been changed to an unearned run, and Maurer was charged with an error.
--Left fielder Melvin Upton was 0-for-4 Wednesday to end his six-game hitting streak (11-for-24 during the streak with two doubles, a homer, four RBIs and six runs scored). Of course, he did hit a shot that appeared to be a two-run homer, until it was called foul.
--Myers was also 0-for-4 Wednesday to end a six-game hitting streak (9-for-25 during the streak with four doubles, two homers, seven RBIs and five runs scored). Myers hit .348 (27-for-79) this month with eight doubles, nine homers, 23 RBIs and 19 runs scored.