Padres homers come in bunches this season
Notes on Hedges, Galvis, Reyes, Strahm, Castillo, Stammen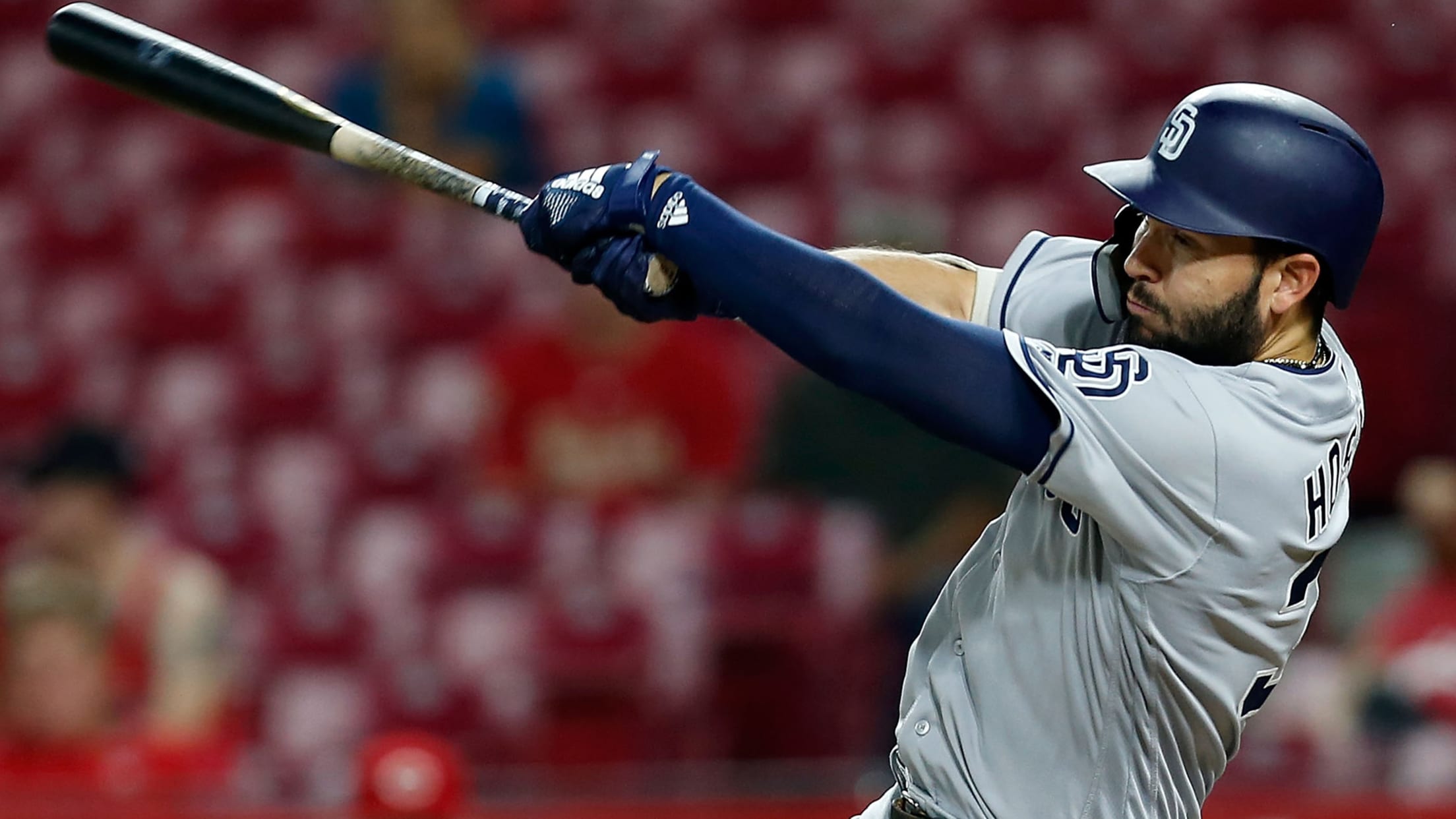 Bill Center, longtime sportswriter for U-T San Diego, is an employee of the Padres.Padres first baseman Eric Hosmer goes into Seattle Tuesday night riding a streak of homering in three straight games for the first time in his career. It is the fifth streak of homering in at
Bill Center, longtime sportswriter for U-T San Diego, is an employee of the Padres.
Padres first baseman Eric Hosmer goes into Seattle Tuesday night riding a streak of homering in three straight games for the first time in his career.

It is the fifth streak of homering in at least three games by a Padre this season.

Wil Myers had six homers during a four-game home run streak from July 7-10. Hunter Renfroe homered in four straight games from Aug. 5-9. Third baseman Christian Villanueva (April 14-16) and Franmil Reyes (May 28-30) also homered in three straight games.

But what is the Padres record for homers in consecutive games?

That would be six, by Graig Nettles during the Padres' 1984 run to their first National League title.

Hosmer is also 6-for-16 with the three homers and six RBIs and five runs scored during a four-game hitting streak.

NOTEBOOK:

--SS Freddy Galvis was in a 2-for-19 slump with 12 strikeouts before he hit a two-run double in his second at-bat Sunday in Cincinnati. But Galvis has always had trouble at Great American Ballpark. Before going 3-for-14 with eight strikeouts in Cincinnati last week, Galvis was 8-for-36 (.222) in Cincinnati with eight strikeouts, although three of the hits were homers.

--C Austin Hedges is riding the longest active hitting streak by a Padre. Hedges is 9-for-30 (.300) during an eight-game hitting streak with two doubles, two triples, a home run, six RBIs and four runs scored. The two triples, by the way, are also the first two triples of Hedges' career.

--RF Franmil Reyes is 7-for-19 (.368) with a double, two home runs, six RBIs and four runs scored thus far on this trip.

--LHP José Castillo has allowed two hits and two walks with 10 strikeouts over 8 2/3 innings in eight straight scoreless appearances.

--LHP Matt Strahm gave up a run in Cincinnati on a decisive home run by Phillip Ervin. It was only the second run allowed by Strahm over his 11 appearances covering 12 2/3 games. During the run, Strahm has given up nine hits and two walks with 19 strikeouts.

--RHP Craig Stammen has allowed one run on five hits and two walks with 11 strikeouts in 11 innings over his last 11 appearances.