Szczur's painting, spirit features of inaugural Padres Summer Blood Drive
Padre outfielder's portrait of Gwynn up for auction during Petco Park Event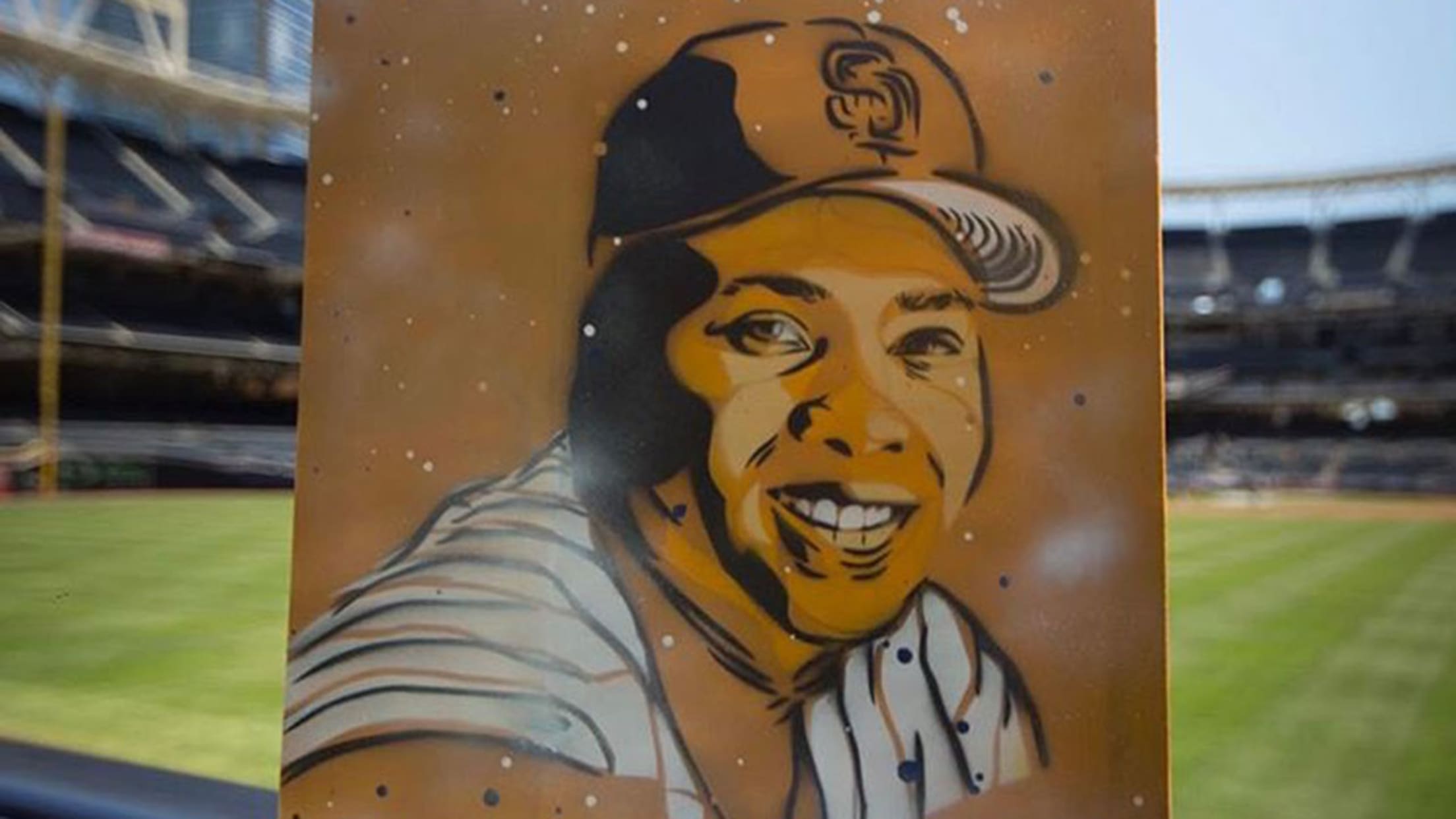 Bill Center, longtime sportswriter for U-T San Diego, is an employee of the Padres.On June 27, the Padres will be asking their fans -- and all San Diegans -- to give a pint of themselves during the ballclub's inaugural Padres Summer Blood Drive at Petco Park.One of the Padres who
Bill Center, longtime sportswriter for U-T San Diego, is an employee of the Padres.
On June 27, the Padres will be asking their fans -- and all San Diegans -- to give a pint of themselves during the ballclub's inaugural Padres Summer Blood Drive at Petco Park.
One of the Padres who plans to be there during part of the drive is Matthew Szczur. And the outfielder knows something about giving of himself.
"I know the importance of events like this," Szczur said. "A blood donor is likely saving a life. That's something that gives back to the donor daily ... just the feeling."
Szczur knows the feeling.
Because Szczur has saved a life as a bone marrow donor.
"It's the greatest thing I've ever done," said Szczur, who was tested as a bone marrow donor while a two-sport freshman at Villanova University.
"Our football coach, Andy Talley, annually had a bone marrow testing program," said Szczur. "He was devoted to the idea. Before we tested, he explained in detail the importance of being a possible donor. He also explained there's almost no chance of ever getting the most important call of your life."
After all, the odds of being a match are 80,000-to-1. But in 2009, Szczur got the call. He was a match. He'd get a second call asking for his bone marrow when the timing was right for the recipient.
The timing was not exactly perfect for Szczur.
Villanova was in the middle of a football season that would result in Szczur, who played wide receiver, being named the Most Valuable Player of the NCAA championship game as Villanova won the Division I-AA title. But the call didn't come until the baseball season, as Szczur was leading the Big East Conference in hitting and was a month away from the Draft.
Was it a hard decision to put his dreams on hold to save someone else's life?
"No," said Szczur. "Things have a way of working out. I was committed to saving a life, if possible. What greater opportunity than to be there for someone who needed you like no one else might ever need you?"
So Szczur stepped away from baseball. There were risks. He received a drug to enhance the quality of his bone marrow donation. His spleen could have ruptured. The procedure to remove the needed marrow required three hours. And afterwards, he felt weakened, "and my bones hurt."
As he waited to return to baseball, he didn't know who the recipient was or if the bone marrow transplant was successful. He found out just over a year later. The recipient was a 2 1/2-year-old Ukrainian girl named Anatasia Olkhovsky. And she was healthy.
"I can't tell you the feeling I had when I met Anatasia and her parents on Skype," Szczur said recently during a talk in the Padres' dugout. "There's always going to be this bond. I might have played a role in saving her life, but I can't explain the number of great ways it has benefitted my life."
And there you have the essence of Szczur's gift ... and the gift of all those who donate blood.
To this day, Szczur continues to give of himself to medical causes.
An artist, Szczur annually produces paintings to benefit the Andy Talley Bone Marrow Testing Drive. Szczur's dad Marc has become a blood donor. "I'm not sure what it is, but the first time he went, Dad discovered he has the best possible blood you can give," he said.
And for the Padres inaugural Summer Blood Drive, Szczur has donated a painting he made of Padres legend Tony Gwynn. It's currently up for auction and will be available for bids through Thursday. Proceeds from the painting will benefit the San Diego Blood Bank's own cord blood program.
It's not just any painting. Szczur uses spray paints -- applying colors by using a series of stencils and colors, Szczur creates works of art. He painted the Gwynn portrait for a recent episode of Padres POV on FOX Sports San Diego.
But it's more than a painting.
"It's what I can do for this important event," said Szczur. "I think any time someone makes a medical donation, of blood, bone marrow, anything, if creates a life-long connection."
The first Padres Summer Blood Drive will be held from 8 a.m. to 3 p.m. on Tuesday, June 27, at Petco Park. Sycuan Casino will be a presenting sponsor. In addition to Padres players and alumni, the Friar and Pad Squad will be on hand. Players and Padres alumni will be signing autographs. There will be activities for kids, including wiffleball games.
Also on hand will be several patients, including children, whose lives have been saved by the donation of blood.
Donating blood is donating the gift of life. One pint of blood can save up to three lives. And about one in seven people entering a hospital will need blood. The San Diego Blood Bank collects up to 100,000 units of blood annually with six donor centers and 10 bloodmobiles.
Donors at the inaugural Padres Summer Blood Drive will receive several bonus rewards including:
• Two tickets to the Padres game on either July 24 or 25 (while supplies last).
• VIP access to the Padres and Padres alumni autograph booths.
• A free event-day ballpark meal voucher.
Plus, free parking in the Lexus Premier Lot to the east of Petco Park will be available on a first-come, first-served basis.