1-run losses an unwanted theme for Padres
San Diego needs to figure out a way to win close games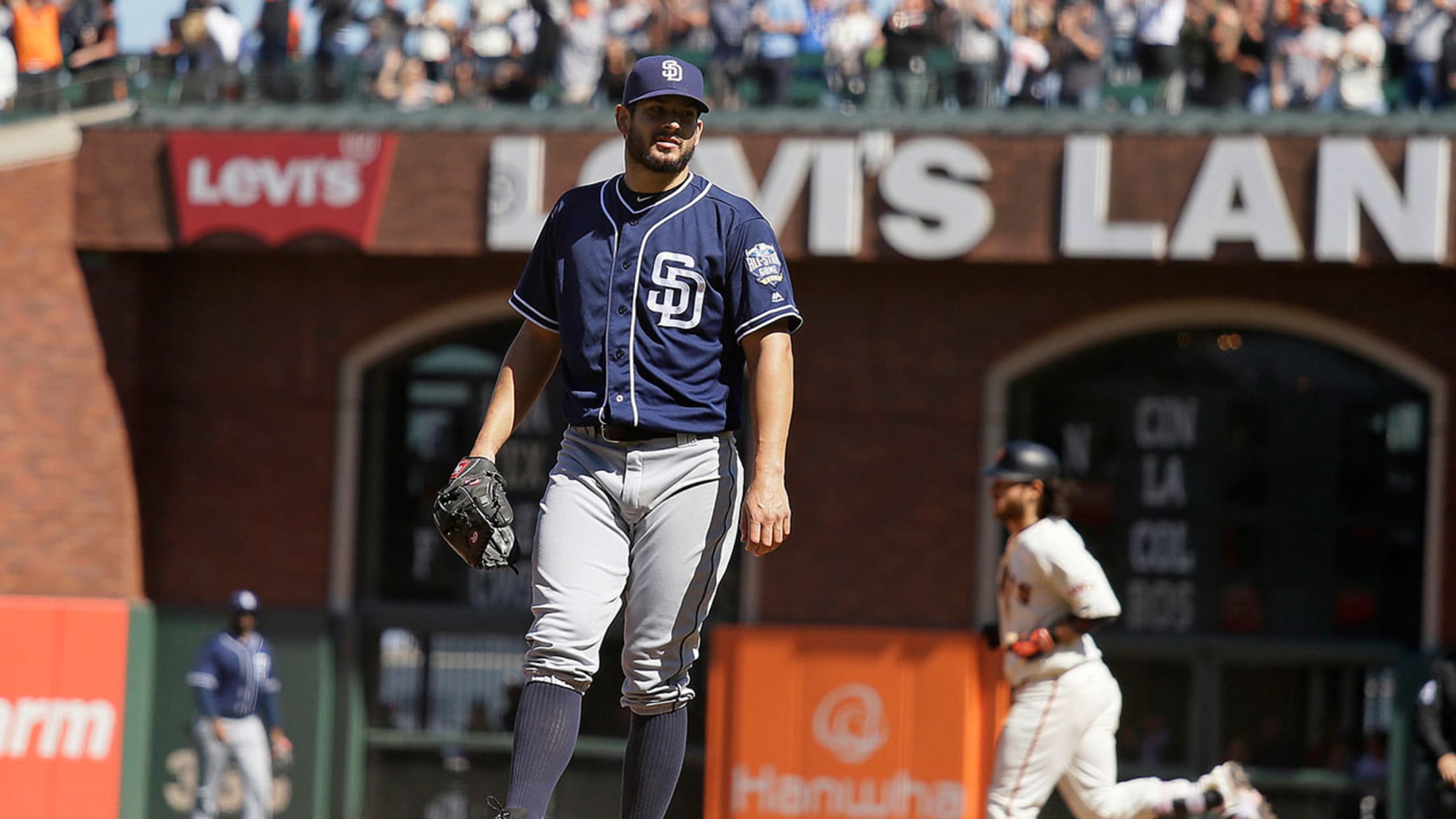 The Padres fell to 0-9 against the Giants with their loss on Wednesday. (AP)
SAN FRANCISCO -- Yangervis Solarte deposited Josh Osich's fastball into the left-field seats, circled the bases at a half sprint and leapt into the air before coming down on home plate. The Padres, who had spent most of nine games taking punches from San Francisco, had punched back, tying Wednesday's
SAN FRANCISCO -- Yangervis Solarte deposited Josh Osich's fastball into the left-field seats, circled the bases at a half sprint and leapt into the air before coming down on home plate. The Padres, who had spent most of nine games taking punches from San Francisco, had punched back, tying Wednesday's game with a two-run homer in the top of the eighth.
But the Giants -- as they've done so frequently over the past half-decade -- would find a way to deliver a knockout blow, walking off for a 4-3 victory in the 10th on Brandon Crawford's single off the center-field wall.
With the loss, the Padres fell to 0-9 on the season against their orange-clad rivals. Five of those nine losses have come by one run, and another by two.
"The Giants have obviously been good at winning [close games] against us, and we've given them a hand or two a few times in doing that," manager Andy Green said. "But I think it's a momentum-based thing. Once you start winning them, it's like, 'OK, we expect to win.' We have to create that feeling by [having] expectation in the dugout and the clubhouse."
By nature, the Padres -- a team predicated on pitching and defense -- need to win close games to be competitive. But Wednesday's defeat dropped them to 7-12 in one-run contests this season.
Said Padres starter James Shields: "If you want to play winning baseball and you want to go to the playoffs, you've got to win those one-run games."
Shields was once again sharp on Wednesday afternoon, allowing two runs over six innings to lower his ERA to 3.06. But he has received very little run support this season, and the Padres have won just two of his starts.
Never one to make excuses, Shields called upon the pitching staff to figure out ways to win -- no matter the run support.
"Of course it's frustrating," Shields said. "We're in a bad stretch right now, but we need to figure out a way to get out of this. No matter how good you pitch, you've still got to find a way to win the ballgame."
But the Padres' offensive woes this season have given them an extremely thin margin for error.
Perhaps Solarte summed it up best when he said: "They're small mistakes that lose the game."
On Monday, it was a catchable popup that dropped in short right field, which allowed the Giants to walk off in the ninth. On Wednesday? Take your pick.
The 10th inning alone was littered with chances for the Padres. First, Jon Jay's bloop single could have scored Wil Myers from second. But Myers didn't get a good read on the ball and had to hold at third with one out. Solarte followed by striking out, and Matt Kemp stranded the pair with his grounder to short.
In the bottom of the frame, a wild pitch allowed Matt Duffy to scoot to second base, before Crawford launched one off the center-field wall to end the game.
"They've had championship-caliber swings against us," Green said. "When we've given them the opportunity, they've taken advantage of it. We have to do the same thing when we get the chances."
And, despite the 0-9 record, the Padres have had their share of chances against the Giants this season. They simply haven't capitalized.
"It's really frustrating to lose a game like that," Solarte said. "I think the only silver lining -- if there is one -- is we're losing good games, we're losing close games. But it's hard when we're up there battling, we're trying to fight and we lose a game like that."