Margot, Renfroe NL Rookie of the Year candidates
Center fielder first rookie to hit two homers in a Padres home opener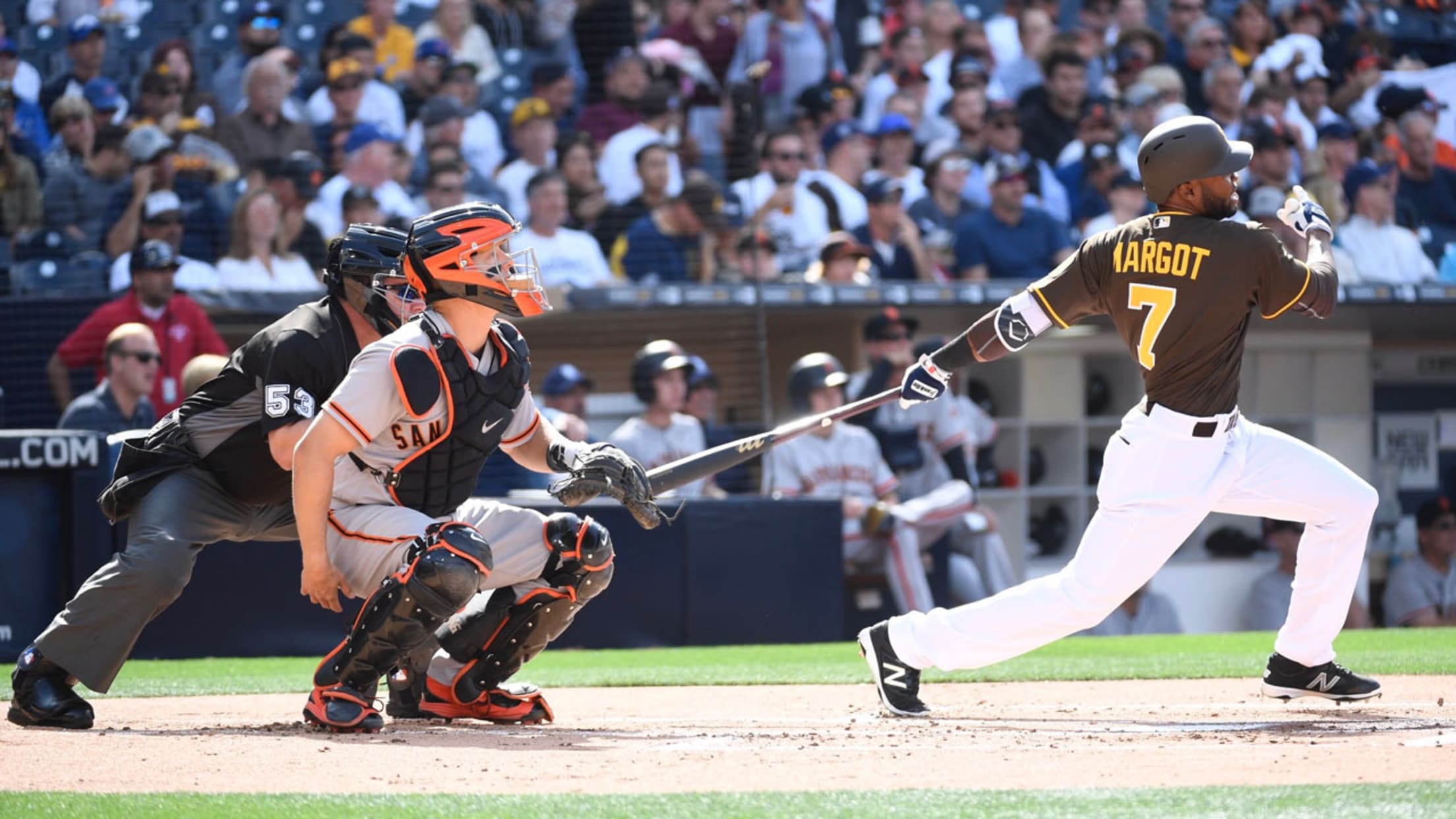 Manuel Margot homered in his first two at-bats during the Padres' home opener on Friday. (Padres)
Bill Center, longtime sportswriter for U-T San Diego, is an employee of the Padres.The Padres have had one "official" National League Rookie of the Year Award winner in their 48-season history.Catcher Benito Santiago, now a member of the Padres Hall of Fame, was a unanimous pick to win the Rookie
Bill Center, longtime sportswriter for U-T San Diego, is an employee of the Padres.
The Padres have had one "official" National League Rookie of the Year Award winner in their 48-season history.
Catcher Benito Santiago, now a member of the Padres Hall of Fame, was a unanimous pick to win the Rookie of the Year Award voted upon by the Baseball Writers' Association of America in 1987. Shortstop Khalil Greene was recognized as the Rookie of the Year by Baseball America magazine in 2004.
But the Padres have two legitimate Rookie of the Year candidates this season in center fielder Manuel Margot and right fielder Hunter Renfroe.
Renfroe, 25, drew national attention last year with a blast that became the first homer to land on the roof of the Western Metal Supply Co. building in left field at Petco Park. He has five homers in 16 Major League games -- including one this season -- which was his fourth against the Dodgers.
And Margot, 22, turned heads on Friday when he homered in his first two at-bats in the Padres' 2017 home opener. The first blast, which was also Margot's first career homer, traveled 401 feet to left-center. The second was 364 feet to left field. Both were hit off of right-hander Player Page for Matt Cain.
"Margot is fun to see," said Padres manager Andy Green.
Margot joined outfielder Carmelo Martinez (1985) as the second Padre to hit two homers in the home opener. Margot is also the first rookie to achieve the feat.
Margot also became the fourth-youngest Padre -- at 22 years and 191 days -- to have a multi-homer game. Infielder Cesar Crespo (2001) was the youngest at 22 years and 124 days. The Padres' original Dave Roberts was 22 years and 151 days old when he homered twice in a 1973 game, while Santiago was 22 years and 162 days when he connected for two homers in a game in '87.
Margot is off to a 5-for-19 (.263) start after five games this season, with the two homers, a double, two steals, two walks, three RBIs and three runs scored. Renfroe is 5-for-20 (.250) with a double, a homer and a steal.
Game notes:
• Second baseman Yangervis Solarte was 3-for-5 with a double and four RBIs against the Giants on Friday. It was his seventh career game with four or more RBIs. Solarte has hit safely in four of the Padres' first five games and is off to a 7-for-20 (.350) start, with two doubles, a homer, seven RBIs and two runs scored.
But fast starts are nothing new to Solarte. He is a .321 lifetime hitter (54-for-168) in April with 36 RBIs. The .321 is his highest batting average for any month in his career.
"I thought that Solarte was ready to go from the first at-bat of the season," said Green of the infielder, who missed considerable playing time during Spring Training while playing for Venezuela in the World Baseball Classic.
Green is not surprised Solarte has become a favorite with Padres fans. "It's hard not to gravitate toward him," said the manager.
"He has an infectious personality."
• Third baseman Ryan Schimpf walked in all four plate appearances on Friday. That doubled his previous single-game high for walks. But walks are very much a part of Schimpf's game. Although he hit only .217 last season, Schimpf drew 42 walks in 330 plate appearances, leading to a .336 on-base percentage. Schimpf is best known for hitting 19 homers in just over half a season. But he reached base 51 times via walk and being hit by a pitch (nine times), compared to 60 times by a hit.
• Rookie Rule 5 pitcher Miguel Diaz has appeared in three of the Padres' first five games. He hasn't allowed a runner yet, with two strikeouts in 2 1/3 innings. He got a double play grounder on the fourth pitch he threw on Friday to get the Padres out of a fifth-inning jam.
• Left-handed rookie reliever Jose Torres struck out two in a perfect seventh on Friday, and was credited with his first Major League win when the Padres scored three runs in the bottom of the inning.