Friars to wear nicknames for Players Weekend
New event to take place during all games from Aug. 25-27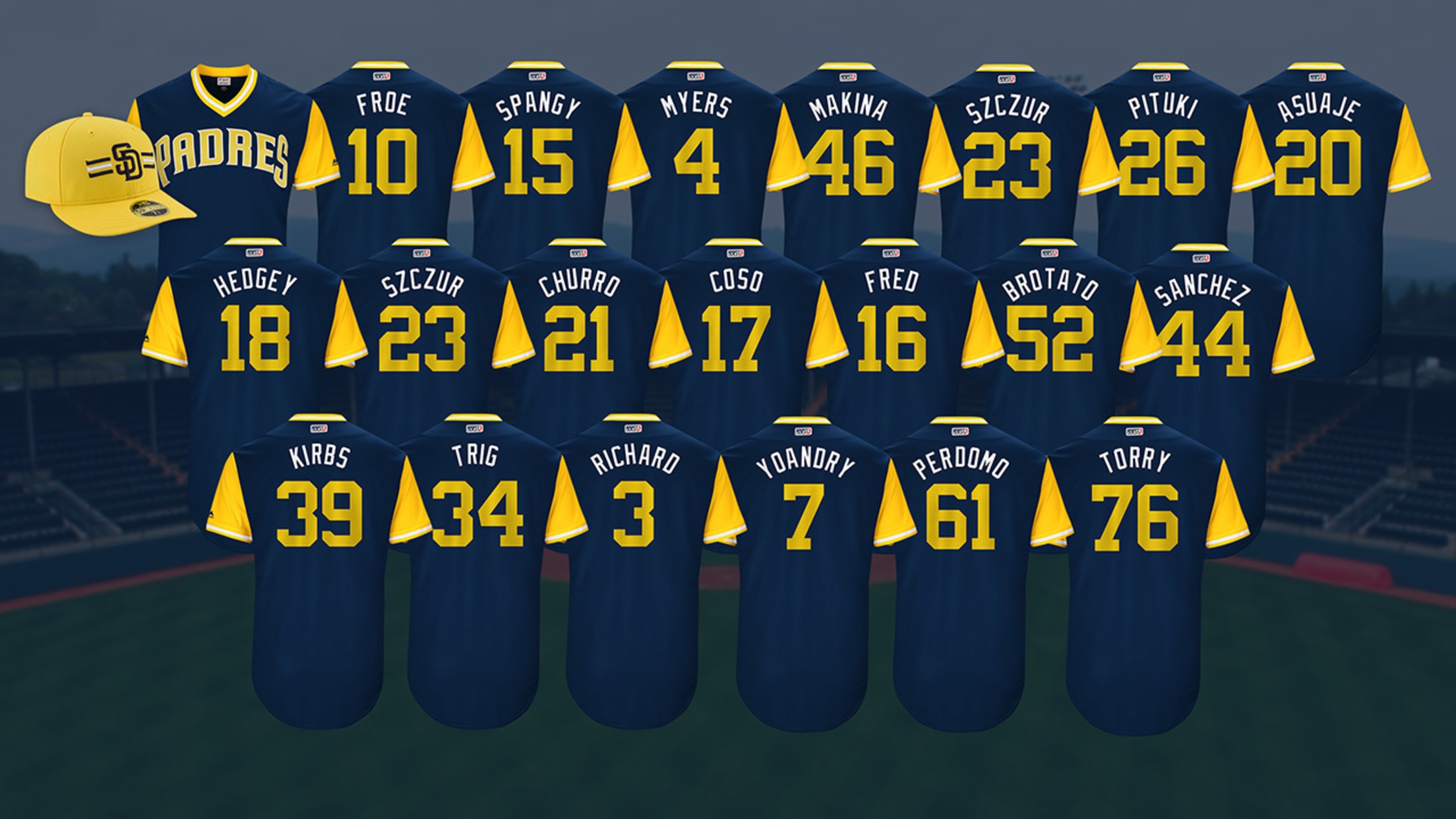 CINCINNATI -- Major League Baseball has announced the details for Players Weekend, set to take place at the end of August. For several Padres, it's a way to have some fun on the diamond while also paying tribute to the people who helped them achieve their big league dreams.• Players
CINCINNATI -- Major League Baseball has announced the details for Players Weekend, set to take place at the end of August. For several Padres, it's a way to have some fun on the diamond while also paying tribute to the people who helped them achieve their big league dreams.
• Players Weekend gear available at MLBShop.com
As part of Players Weekend -- set for Aug. 25-27 -- all teams will wear uniforms featuring alternate non-traditional designs. They can sport nicknames on the back, and each player will don a patch on his sleeve to commemorate the people who helped them advance their careers.
Kirby Yates' nickname is simple enough. (It's Kirbs.) In his eyes, it's the patch that's most meaningful. A Hawaii native, Yates marked "Ohana" on the sleeve patch, which shows the progression of a child evolving into a Major Leaguer.
"In Hawaii, that's one of the things you learn at a young age, that family is No. 1, regardless of anything else," Yates said. "Ohana in Hawaii is family. They're the backbone of everything that's happened to me in my career, so it just seemed appropriate."
Austin Hedges (donning Hedgey on the back of his jersey) used the opportunity to commemorate Pat Bulger, his first travel baseball coach, who died of cancer when Hedges was 12 years old.
"He was a really big influence in my life and got me started at a really high level of competitive baseball," Hedges said. "Even for just three or four years of my life, he had a big influence. It's great to be able to honor him like that."
Several Padres took the opportunity to honor their parents on their sleeves, William Myers among them.
"It's just to acknowledge all the time and effort they put in for me when I was younger," Myers said. "They gave me every opportunity to play whenever I wanted, traveled with me. So it's nice to have more of a way to acknowledge them."
Said Cory Spangenberg: "Without them, I wouldn't be in this position. The sacrifice and time they put into me and my dreams -- it wouldn't have happened without them. ... This is just another way to thank them."
Spangenberg will wear "Spangy" across his back that weekend.
Along with the nicknames and uniform tributes, players will have the opportunity to use uniquely designed spikes, batting gloves, wristbands, sleeves, catcher's masks and bats. They will wear caps and socks designed specially for the occasion by New Era and Stance, respectively.
For their pregame and postgame interview sessions, players will wear T-shirts that highlight a charity or cause of their own choosing.
Game-worn, Players Weekend jerseys will be auctioned at MLB.com/auctions with 100 percent of net proceeds donated to the MLB-MLBPA Youth Development Foundation.

Here's a list of nicknames that some Padres are expected to sport on the back of their jerseys on Players Weekend:
• Brad Hand: "BROTATO"
• Hunter Renfroe: "FROE"
• Spangenberg: "SPANGY"
• Manuel Margot: "YOANDRY"
• Yangervis Solarte: "PITUKI"
• Jhoulys Chacin: "MAKINA"
• Dinelson Lamet: "EL FLACO"
• Travis Wood: "WOODY"
• Hedges: "HEDGEY"
• Yates: "KIRBS"