Wednesday's best: Tatis Jr. powers Fort Wayne to victory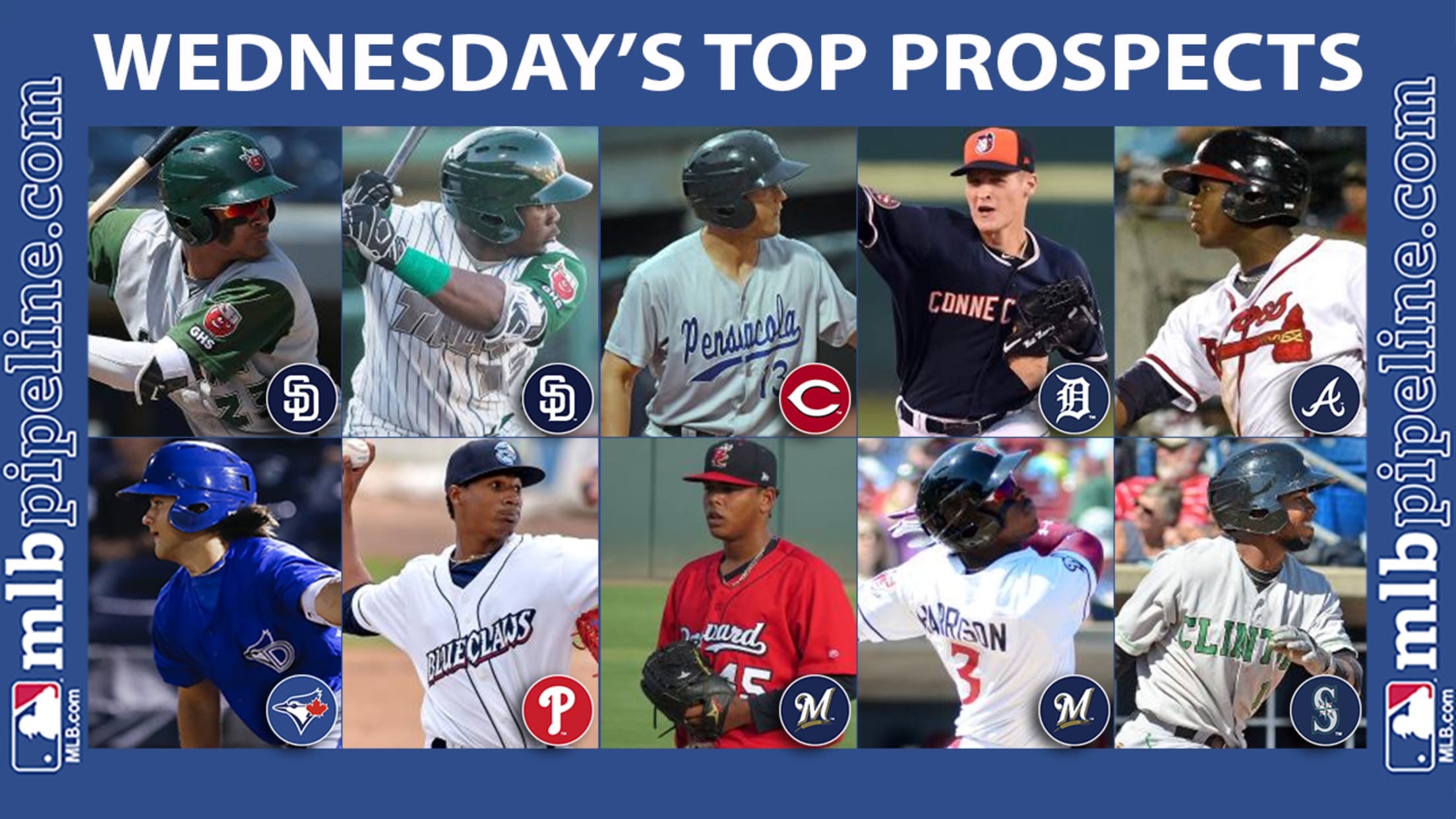 Fernando Tatis Jr.'s bright future was on full display once again on Wednesday as he connected on his first career grand slam as part of a two-homer performance to lead Class A Fort Wayne past Burlington, 8-1, in a rain-shortened game.The Padres' No. 5 prospect (No. 100 overall) went deep
Fernando Tatis Jr.'s bright future was on full display once again on Wednesday as he connected on his first career grand slam as part of a two-homer performance to lead Class A Fort Wayne past Burlington, 8-1, in a rain-shortened game.
The Padres' No. 5 prospect (No. 100 overall) went deep in his first and last at-bats for the TinCaps, leading off the game with a solo shot before delivering a grand slam in the seventh to finish with a career-high five RBIs. The game was suspended due to rain after the following half-inning.
Making Tatis' pair of home runs all the more impressive was that he hit them both after working the count full, with the grand slam coming on the seventh pitch of his at-bat.
"I was really excited with how he worked that at-bat," Fort Wayne hitting coach Doug Banks told MiLB.com. "He didn't get too big in the situation and go chasing outside of the zone. That's kind of an organizational philosophy to be aggressive in the zone and Fernando did a great job in that at-bat."
The son of former big leaguer Fernando Tatis has hit 15 homers over his first 85 games as an 18-year-old in the Midwest League, all while slashing .279/.375/.511 with 20 stolen bases and 49 RBIs. The 6-foot-3 shortstop has been particularly hot lately, too, with a .455/.581/1.121 batting line, four home runs, six stolen bases and more walks (10) than strikeouts (eight) in 10 games this month.
"He came in with a lot of expectations, but to do what he's doing this year at just 18 years old, shows that he's on his way to being a five-tool player," Banks added. "It's fun to watch a kid with the type of makeup he has put it all together. He's a strong kid and shows up to play every day and is smart in the way he goes about his business, which is why he's up there in games played in the Midwest League."
Padres No. 8 prospect Jorge Ona also hit a solo shot in the first inning for Fort Wayne, his eighth of the season. He went 2-for-4 in the contest, while outfielder Buddy Reed (No. 27) went 3-for-3 with two doubles and two runs scored.
The rest of the best performances from top prospects Wednesday
• No. 19 overall prospect Nick Senzel (Reds' No. 1) went 3-for-6 as he extended his hitting streak to 13 games for Double-A Pensacola. After slashing .305/.371/.476 in 62 games with Class A Advanced Daytona, Senzel has produced a .318 average in the Southern League over his first 18 contests.
• For the second time this season No. 61 overall prospect Matt Manning (Tigers' No. 1) had what was shaping up to be a strong start for Class A Short Season Connecticut cut short by rain. He still managed to complete four innings in which he allowed one earned run on one hit with one walk and six strikeouts. The 2016 first-rounder (No. 9 overall) owns a 1.77 ERA with 24 strikeouts in 20 1/3 innings (five starts) this season.
• No. 86 overall prospect Ronald Acuna (Braves' No. 7) hit a pair of doubles and swiped a bag in a 3-for-4 performance for Double-A Mississippi. The toolsy 19-year-old outfielder improved his Double-A average to .326 in the process, and he's now accrued 35 extra-base hits and 33 steals in 85 games across two levels.
MILB Video - Title: Watch: Acuna notches hit - Url: http://www.milb.com/r/video?content_id=1601059183
• No. 97 overall prospect Bo Bichette (Blue Jays' No. 5) collected his first two hits for Class A Advanced Dunedin, and they proved the difference in their 4-2 win over Tampa. Playing in his second game for Dunedin, the 19-year-old shortstop put his team on the board with a two-run homer in the sixth inning before pushing across the game-winning run in the eighth. It was the 11th homer this season for Bichette, who received a well-deserved promotion after he led the Midwest League in all three triple-slash categories, at .384/.448/.623.
• No. 99 overall prospect Sixto Sanchez (Phillies' No. 4) scattered three hits over six innings of one-run ball in another dominant outing for Class A Lakewood. The 18-year-old righty compiled four strikeouts against one walk and demonstrated command of his triple-digit fastball by throwing 45 of his 62 pitches for strikes. He has a 2.88 ERA and a 0.83 WHIP in 11 starts this season, with a .199 opponents' average and a 54-to-6 strikeout-to-walk ratio in 56 1/3 innings.
• In another strong start for Double-A Biloxi, Brewers No. 19 prospectFreddy Peralta gave up one earned run on three hits and one walk while striking out five in 5 2/3 innings. The 21-year-old righty has been impressive in his four Southern League starts, posting a 3.10 ERA with 32 strikeouts and one home run allowed in 20 1/3 innings.
• Brewers No. 22 prospect Monte Harrison stuffed the box score in Class A Advanced Carolina's 7-3 win over Down East. The 21-year-old outfielder recorded his second straight multihit game, going 2-for-4 with a home run, one stolen base, four RBIs and three runs scored. He's hitting .293 with three homers and eight RBIs in 10 games since being moved up to the Carolina League.
MILB Video - Title: Watch: Harrison launches homer - Url: http://www.milb.com/r/video?content_id=1601124983
• Mariners No. 30 prospect Luis Rengifo collected three extra-base hits and a career-high five RBIs to lead Class A Clinton past Dayton in a rain-shortened game. The 20-year-old second baseman hit a pair of doubles as well as his eighth home run, a three-run shot in the second inning. He also stole a base in the contest, his 24th in 34 attempts (70.6 percent success rate).
• Red Sox No. 17 prospect Shaun Anderson established a career high with seven scoreless innings to pace Class A Advanced Salem in a shutout of Potomac. Throwing 59 of his 88 pitches for strikes, the 2016 thrid-rounder scattered four hits, walked one and struck out six while generating another 10 outs via ground balls. He's 2-2 with a 5.05 ERA in eight starts for Salem.
• Rockies No. 5 prospect Peter Lambert turned in a scoreless performance for Class A Advanced Lancaster, completing six innings for a fourth straight start. He allowed six hits while striking out three and throwing 62 of his 83 pitches for strikes. The 20-year-old righty has pitched to a 3.95 ERA in 107 innings this season, with an average of nearly six innings per outing across 18 starts.