Padres' 2 LFs could be unavailable until June
Dickerson, Jankowski both expected to miss May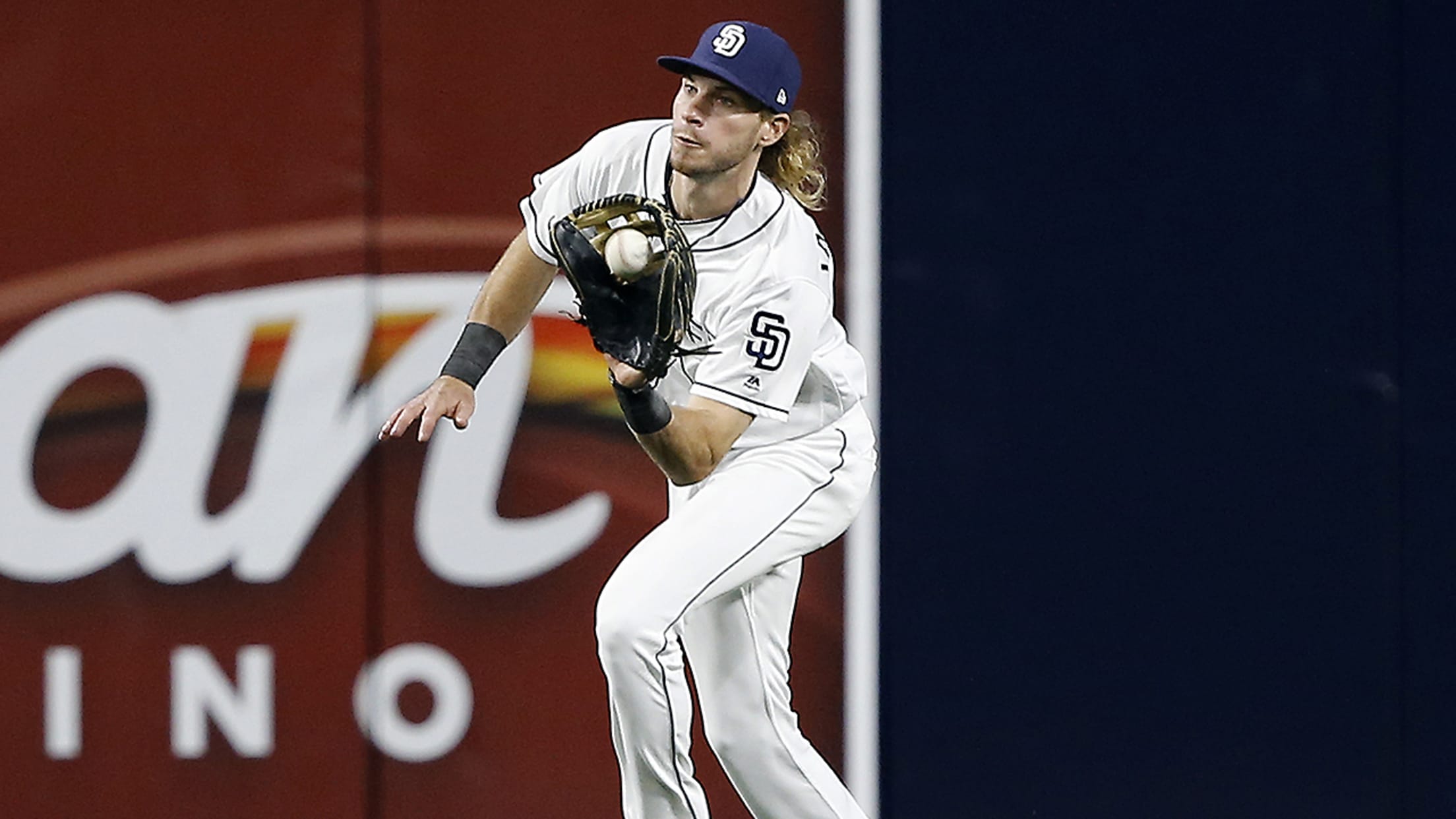 (Alex Gallardo/AP)
Bill Center, longtime sportswriter for U-T San Diego, is an employee of the Padres.Jabari Blash, Allen Córdoba, Cory Spangenberg, Ryan Schimpf. Those are the Padres' outfield options until at least June 1. The Padres were already without Alex Dickerson until the last days of May. Dickerson, 26, has been out since spring
Bill Center, longtime sportswriter for U-T San Diego, is an employee of the Padres.
Jabari Blash, Allen Córdoba, Cory Spangenberg, Ryan Schimpf.
Those are the Padres' outfield options until at least June 1.
The Padres were already without Alex Dickerson until the last days of May. Dickerson, 26, has been out since spring training with a protruded disc in his back and has been transferred to the 60-day disabled list.
Now It appears that Travis Jankowski will likely miss the next month with a bone bruise in his right foot that could be a hairline fracture. Jankowski, 25, is on the 10-day disabled list, but Padres manager Andy Green said Wednesday that Jankowski won't be returning any time soon. He won't even be out of his walking boot for at least 10 days.
When it came to the Padres' projections in left over the winter, Dickerson was the power and the offensive end of the equation. Jankowski was the speed and defense.
Dickerson hit .257 with 16 doubles, two triples and 10 home runs with 37 RBIs in 253 at-bats last season. He had a .333 on-base percentage and a .455 slugging percentage for a .788 OPS. But he also missed almost all of spring training, meaning his rehab will take time and he has yet to resume baseball activities.
Jankowski hit .238 last season with a .332 on-base percentage and 32 steals. His foot injury strikes at the heart of his strength.
So what are the Padres to do in left?
Blash is a natural outfielder. But the 2016 Rule 5 acquisition is 1-for-15 this season with nine strikeouts, although his hit was a solo homer. As a Major Leaguer, Blash is 13-for-86 (.151) with four homers and 43 strikeouts.
Defensively, the 21-year-old Córdoba has looked comfortable in left during cameos in the first month of the season. But he is both an infielder by trade and a Rule 5 pick who never before played above Rookie Ball. After a 6-for-13 start, Córdoba has one hit in his last 15 at-bats.
Spangenberg and Schimpf are both left-handed-hitting infielders who moved from second to third earlier this year. Spangenberg, however, has been given a look in the outfield in the past and has appeared in left during each of his first three games back in the Major Leagues.
Schimpf, 30, who was back at third base Thursday, homered for the second straight game. It marked the fifth time since he joined the Padres that Schimpf has homered in back-to-back games, although he is still only 3-for-32 since April 16 and is hitting .125 for the season.
Spangenberg, 26, is 2-for-10 since he was recalled from Triple-A El Paso, where he was hitting .347.
GAME NOTES
• Christian Bethancourt wasted no time in debuting for Triple-A El Paso as a pitcher. After telling Padres general manager A.J. Preller Wednesday that he intended to pursue the transition from backup catcher to pitcher, Bethancourt pitched for El Paso Thursday night, allowing a hit in two-thirds of a scoreless inning.
• Carter Capps had another rough outing Thursday on his rehab assignment, allowing five runs on three hits and two walks with a strikeout in one-third of an inning. The fifth run charged to Capps, whose earned run average is 20.25 with the Chihuahuas, scored on the hit allowed by Bethancourt. Capps had "Tommy John" elbow reconstruction surgery on March 8, 2016.
• Yangervis Solarte had a RBI single in four at-bats Thursday night in Arizona to extend his hitting streak to eight straight games. He is 13-for-29 during the streak with four doubles, four walks and four RBIs.
• Erick Aybar extended his hitting streak to five games. Aybar is 6-for-18 during his streak with a double and a homer.