Neshek's scoreless streak ends in rough way
Phillies reliever, who hadn't permitted a run in 18 innings, gives up go-ahead HR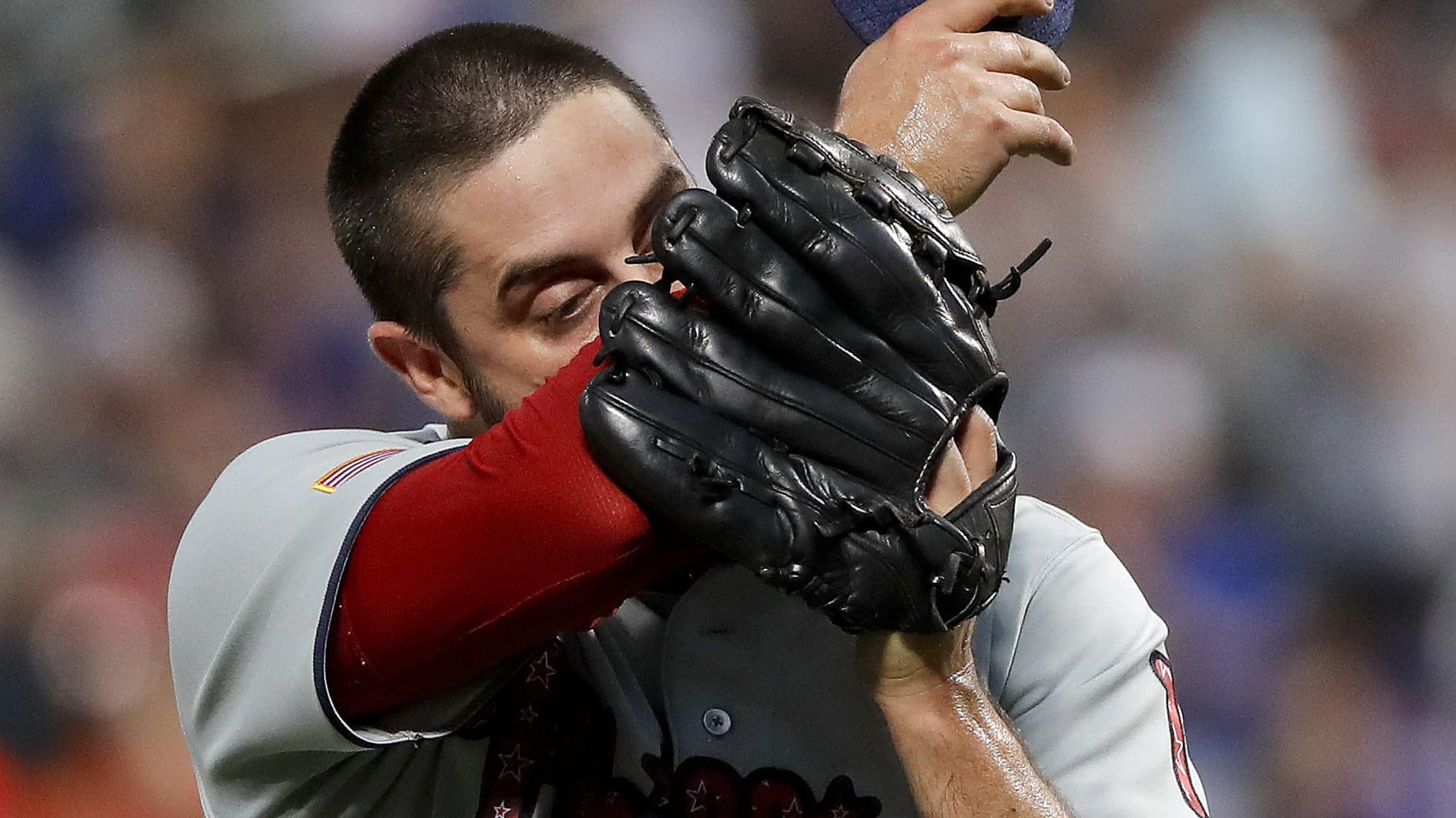 Pat Neshek, who allowed three runs Saturday, had yielded just two runs in 31 2/3 innings. (AP) (Julie Jacobson/AP)
NEW YORK -- Pat Neshek could learn Sunday that he has made the National League All-Star team, most likely as the Phillies' lone representative.It would be better than his Saturday.Neshek allowed three runs in the seventh inning in a 7-6 loss to the Mets at Citi Field. They were the
NEW YORK -- Pat Neshek could learn Sunday that he has made the National League All-Star team, most likely as the Phillies' lone representative.
It would be better than his Saturday.
Neshek allowed three runs in the seventh inning in a 7-6 loss to the Mets at Citi Field. They were the first runs he had allowed since May 14, snapping an 18-inning scoreless streak over 19 appearances. He entered the game having allowed just two runs in 31 2/3 innings in 34 appearances.
"It's going to happen," Neshek said. "Yeah, just put it behind you."
Neshek replaced starter Jeremy Hellickson with one out in the seventh. He allowed a double to Travis d'Arnaud and a single to pinch-hitter Wilmer Flores to score a run and cut the Phils' lead to 7-5.
"I felt like I could have finished that inning, but then you see Neshek come in and you feel good about that," said Hellickson, who threw just 85 pitches in 6 1/3 innings. "He's been the best reliever in the game so far but it happens. I was happy to see him come in right there. Just felt like I could've gotten out of that."
After Neshek struck out Curtis Granderson for the second out, he threw a 1-1 slider to Asdrubal Cabrera, who smashed a two-run homer to right-center field to hand the Mets the lead. Neshek entered the game having held left-handed hitters to a .156 average, a .410 OPS and just three extra-base hits.
"Flores did a good job going the other way," Neshek said. "I kind of hung the home run to Cabrera there. Bad location. You're going to have days like that when you miss and he did the right thing."
Neshek's ERA jumped from 0.57 to 1.39, but he is the smart bet to make the All-Star team.
"I don't know," Neshek said, asked if he expects to make it. "What do you think?"
Sure. After all, who else could it be? Aaron Altherr, maybe? He entered the afternoon with an .854 OPS, which ranked 12th among NL outfielders. Cesar Hernandez might have been the guy, but he has been on the DL since June 11 with a strained left oblique.
Does it matter to him?
"I don't have anything to say," Neshek said.
The Phillies hope Neshek returns to form following Saturday's loss. They expect to trade him before the July 31 non-waiver Trade Deadline. He will not command a top prospect, but the Phillies could land a Class A pitcher with some upside, similar to when the Phils acquired Nick Pivetta from the Nationals in July 2015 for Jonathan Papelbon.
"Neshek has been one of the best relievers in Major League Baseball, but everyone has one of those days, you know?" Phillies first baseman Tommy Joseph said. "He's going to go out there and pitch for us again tomorrow and we're going to expect nothing but the best, just like we always do."