Mclellan wins in MLB's Pitch, Hit and Run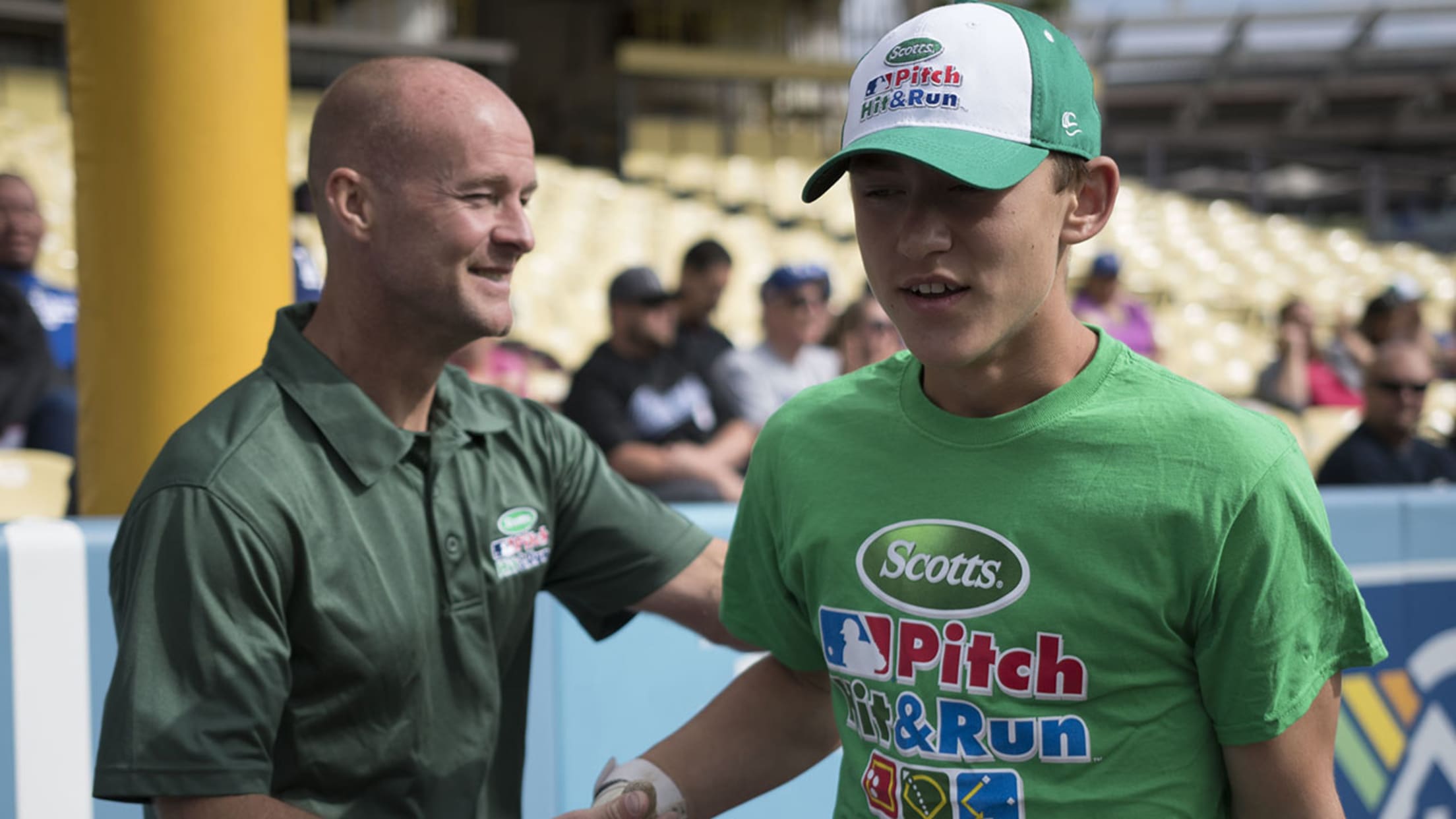 "I'm excited for him, he's a hard worker," said Patti Einspar, Patrick Mcllelan's mother. "He loves baseball so much. It's really fun to see him have some success here." (Dodgers) (Josh Barber)
LOS ANGELES -- Patrick Mclellan can finally call himself a first-place winner.Mclellan has competed in the MLB's Pitch, Hit and Run competition since he was 8 years old and went out a winner in his last opportunity to participate in the competition. The San Diego native won the 13/14 age
LOS ANGELES -- Patrick Mclellan can finally call himself a first-place winner.
Mclellan has competed in the MLB's Pitch, Hit and Run competition since he was 8 years old and went out a winner in his last opportunity to participate in the competition. The San Diego native won the 13/14 age group of the event Sunday at Dodger Stadium.
"I'm excited for him, he's a hard worker," said Patti Einspar, Mclellan's mother. "He loves baseball so much. It's really fun to see him have some success here."
Two families traveled thousands of miles from Hawaii to compete in the event. Star Gonzalez, from Wahiawa, Hawaii said her friends helped pitch in to pay for roundtrip plane tickets for her and her daughter Skylynne to travel to Los Angeles
"A lot of Hawaii kids don't get too much exposure," Gonzalez said. "Just to come out here and see what else competition is out there is awesome."
Ruby Grajeda of Long Beach took home first place in the 7/8 softball division. Grace Shary, also a Long Beach native, won the 9/10 softball division, Yasmin De La Rosa of Rosemead won the 11/12 division and Valerie Lopez from South Gate won the 13/14 softball division.
Aaron Anderson of Glendora won the 7/8 baseball division, Dalton Chi of Cerritos won the 9/10 baseball division and Dominic Torrez from Baldwin Park won the 11/12 baseball division.
Pitch, Hit & Run, invites kids to show off their pitching, hitting and running abilities in baseball and softball and is the official youth skills competition of Major League Baseball.
The competition is in conjunction with the Play Ball initiative between Major League Baseball, USA Baseball and USA Softball, which promotes participation in all forms of baseball/softball activities among all age groups. The initiative also gives players, parents and coaches resources to help find events and leagues, as well as proper play information and instruction, through playball.org.
After the competition makes its way to every stadium in the MLB, winners of each age group in baseball and softball will be combined in one pool. The three highest scorers from each division, which will be announced June 26 on MLB Network and will then advance to Miami to compete during the All-Star festivities.