Price impressed by Peraza's brief big league stint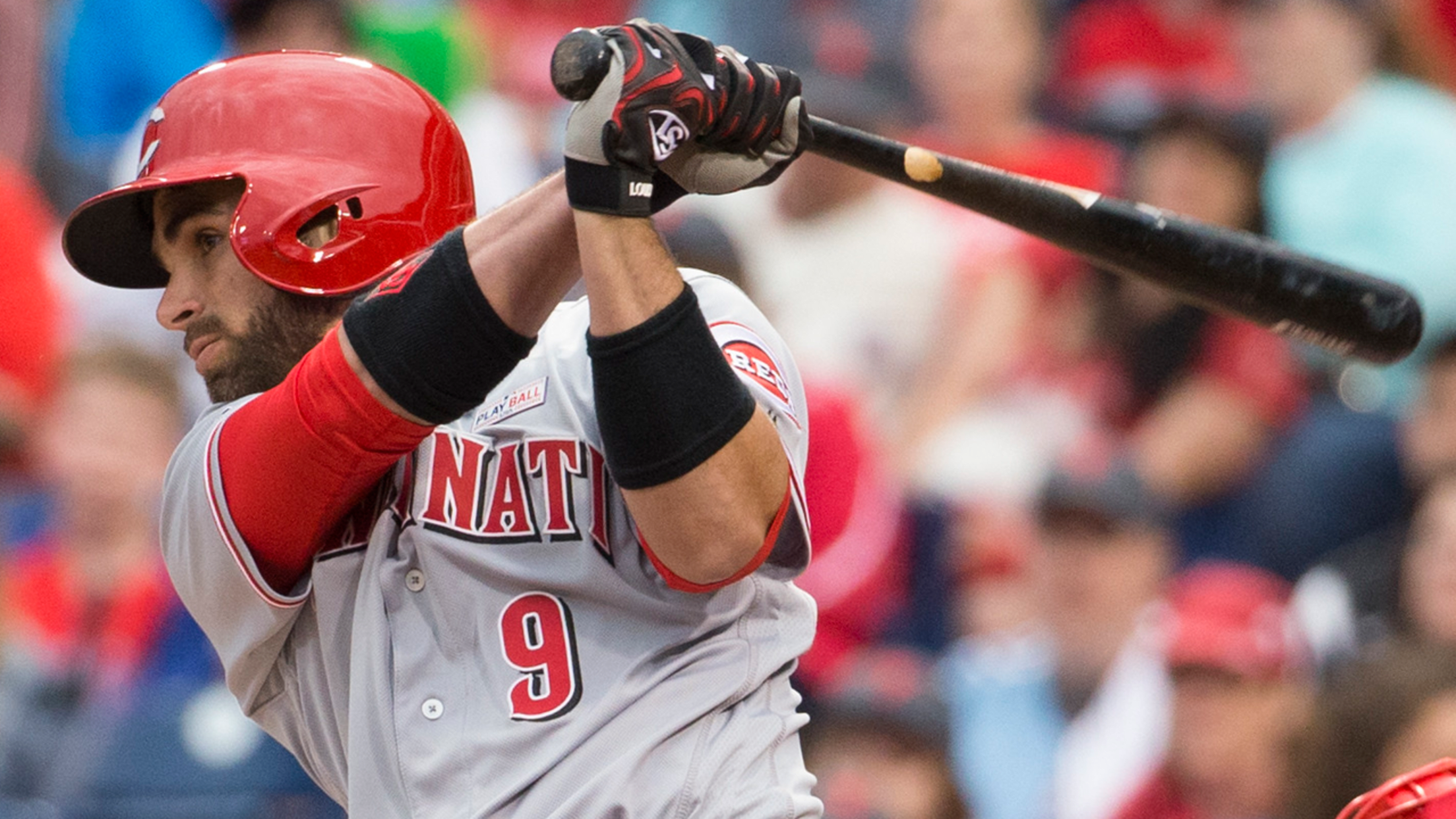 Jose Peraza went 3-for-12 in four games with the Reds. (AP) (AP)
CINCINNATI -- Among the numerous young players whom the Reds acquired in offseason trades to grease the wheels of rebuilding, Jose Peraza was one of the more anticipated arrivals from the Dodgers.Given a brief callup before he was optioned to Triple-A Louisville on Wednesday, Peraza did not disappoint. Called up
CINCINNATI -- Among the numerous young players whom the Reds acquired in offseason trades to grease the wheels of rebuilding, Jose Peraza was one of the more anticipated arrivals from the Dodgers.
Given a brief callup before he was optioned to Triple-A Louisville on Wednesday, Peraza did not disappoint. Called up Friday when Billy Hamilton went on the bereavement list, he played in four games and started three and went 3-for-12 with three singles and two strikeouts.
"[He is] a kid who really stayed through the middle, a contact approach -- hard contact through the middle," Reds manager Bryan Price said. "[He has] athleticism, speed, energy -- kind of as advertised. We saw him at two positions -- center field and second base. A glimpse of the future, for sure."
Peraza, 22, already had limited big league experience when he came from the Dodgers in the Dec. 16 three-team trade that sent Todd Frazier to the White Sox. He is currently ranked as Cincinnati's No. 5 prospect by MLBPipeline.com.
A late roster cut in Spring Training, Peraza was sent to Louisville so he could play regularly. He played 23 of his 30 games at shortstop with the others at second base and center field. There is still a learning curve in center field as he misjudged one fly ball to the wall on Monday at Cleveland that went for a two-run double by Francisco Lindor.
As for where Peraza will land -- position-wise -- when he is in the Majors for good, that remains a fluid situation. It's also possible he could fill in if there's a need in left field, should something happen to Adam Duvall.
"At this point in time, it's going to be on a need-be basis," Price said. "When he gets here, he should be in a circumstance where he gets to play regularly.
"There has to be an opportunity either for him to float and play regularly, five games a week, or it has to be a situation where he has an everyday spot in one of those positions."