Ample candidates, questions for Padres' 2017 rotation
Perdomo, Richard, Chacin, Cahill, Friedrich lead deep field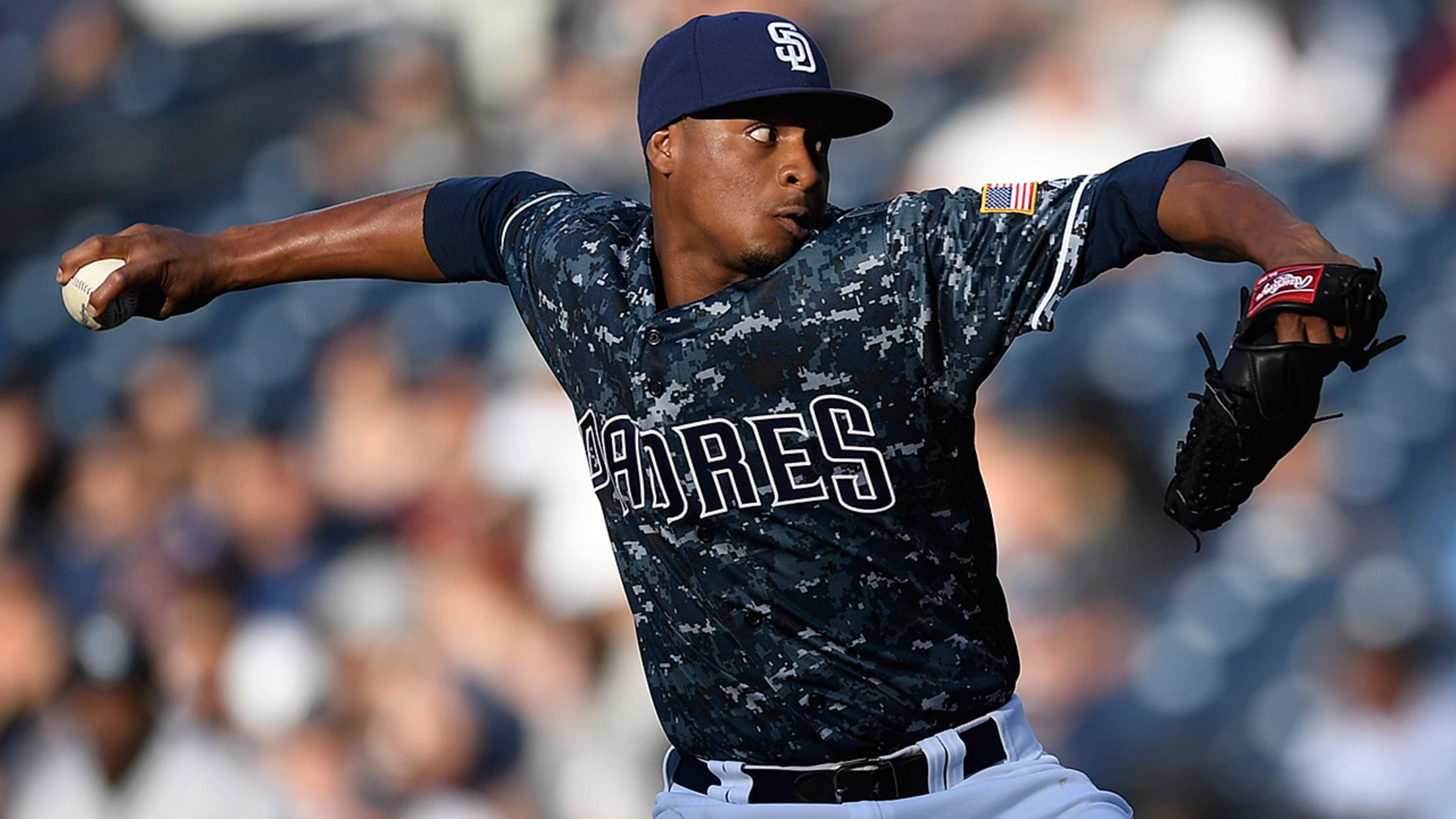 Luis Perdomo is likely set for one of the Padres' five rotation spots. (Padres)
Bill Center, longtime sportswriter for U-T San Diego, is an employee of the Padres.When I started thinking about the Padres' starting pitching prospectus for 2017, my thoughts drifted back to the start of Spring Training in 2012.The Padres went into camp five years ago with 13 starting pitchers on their
Bill Center, longtime sportswriter for U-T San Diego, is an employee of the Padres.
When I started thinking about the Padres' starting pitching prospectus for 2017, my thoughts drifted back to the start of Spring Training in 2012.
The Padres went into camp five years ago with 13 starting pitchers on their depth chart -- enough to fill almost three rotations. By May 1, they were scanning the waiver wire looking for starting pitching.
You can never have enough starting pitchers.
The Padres have plenty in their organization this season. Trouble is, most of those are prospects. And most of those prospects are, in fact, solid prospects. Thirteen of the top 30 prospects in the Padres system are starting pitchers. But most of those will be operating at Class A or below this season.
At the Major League level, the Padres have at least 11 candidates for their rotation right now. But there are almost as many questions as there are candidates.
When recently asked to describe the Padres' rotation battle this spring, manager Andy Green needed only two words: "Wide open."
The real plus here is that veteran Padres pitching coach Darren Balsley's resume is deep with pitchers whose careers he has helped rebuild.
A brief look at some Padres starting pitchers:
Luis Perdomo
A year ago, the right-hander came to camp as a Rule 5 draftee and earned an Opening Day roster spot as a long reliever. By May 14, Perdomo earned a chance to start and went 8-8 over his final 18 starts with a 4.48 earned run average over 110 2/3 innings. The rapid improvement of the 22-year-old -- who was 9-10 overall with a 5.71 ERA -- was correlated to the development of his sinker. Perdomo needs to develop a secondary pitch and improve his command. But he is likely set for one of the five spots.
Clayton Richard
Signed as a free agent last Aug. 6 after being waived by the Cubs as a reliever, the 6-foot-5 left-hander immediately joined the rotation and went 3-3 with a 2.52 ERA in nine starts. Richard is a different pitcher than the one who started for the Padres from 2009-2013. After two rounds of surgery, he has dropped down in his delivery and goes for ground balls rather than strikeouts. Richard wants to be a Padre and the organization covets his leadership as well as his ability.
Jhoulys Chacin
The right-hander is now 29 and signed with the Padres because of a promise to start after rekindling a fading career last summer as a reliever and spot starter for the Angels (5-6, 4.68 ERA in 29 games, 17 starts). Like Richard and Perdomo, Chacin looks for groundouts over strikeouts. The Padres are hoping he returns to the form that gave him 14 wins and a 3.47 ERA in 31 starts for Colorado in 2013. He is 9-16 since with an ERA of 4.81.
Trevor Cahill
Like Chacin, the 28-year-old product of Vista High signed as a free agent with his hometown team because the Padres guaranteed the right-hander a shot at making the rotation. Cahill has spent most of the last 2 1/2 seasons working out of the bullpen. Last season he was 4-4 with a 2.74 in 50 appearances -- but only one start -- with the World Series champion Chicago Cubs. He had 66 strikeouts in 65 2/3 innings then went 1-1 with a 3.38 ERA in six relief appearances in the National League postseason.
Christian Friedrich
The 29-year-old right-hander was claimed by the Padres from the Rockies last Feb. 19 and started the season with Triple-A El Paso. Promoted to the Padres on May 13, Friedrich was 3-2 with a 2.12 ERA in his first six starts for San Diego. But he went 2-10 after that with a 5.76 ERA to finish the season with a 5-12 record and a 4.80 ERA in 24 games (23 starts). Friedrich faded late in games and the season. If he becomes more durable, the Padres think they have something. He led the Padres in starts last year.
Cesar Vargas
The 25-year-old, 6-foot-2 right-hander had a 3.34 ERA in his first six starts for the Padres last season. Then he gave up seven runs on six hits and two walks on May 28 in what proved to be his final start of the season. He went on the disabled list with a flexor strain the following day and didn't pitch again in 2016. He made 10 appearances over the winter in the Mexican Pacific League and had a 1.98 ERA.
Jarred Cosart
The 6-foot-3, 26-year-old right-hander came to the Padres on July 29 as part of the package from Miami in exchange for pitcher Andrew Cashner. Like Cashner, Cosart had problems keeping a hit or a walk from spiraling downhill into a big inning. After allowing one run or less in four of his first five starts, Cosart finished with an 0-3 record and 6.03 ERA in nine starts. The Padres like his ceiling.
Paul Clemens
Claimed on waivers from the Marlins last June 28, the 6-foot-3, 29-year-old right-hander finished the 2016 season strong, going 2-0 while allowing two earned runs over 21 2/3 innings (0.83 ERA) on 13 hits and four walks with 15 strikeouts in his final four starts. Before that, Clemens was 1-5 with a 5.44 ERA in 12 appearances (eight starts). The Padres love his stuff, but he needs to go deeper into games.
Dinelson Lamet
The 24-year-old right-hander is the most advanced Padres starting pitcher among their top 30 prospects. The 6-foot-4, 187-pounder still has a ways to go, but routinely throws his fastball in the mid-90s. Last season he was 12-10 overall with a 3.00 ERA in 28 starts while advancing from Class A Advanced Lake Elsinore to Triple-A El Paso. Lamet probably needs another season at Triple-A. If all goes well, look for him later in the season.
Walker Lockett
A fourth-round pick in the 2012 Draft, the 6-foot-5, 225-pound Lockett had nearly fallen off the radar when he jumped from low Class A Fort Wayne to Triple-A last season. Overall, he went 10-9 with a 2.96 ERA at all four levels of the Padres' Minor League system. He had 123 strikeouts in 164 innings. Lockett will likely start the season at Triple-A, but after last season's surprise, who knows?
Tyrell Jenkins
The Padres claimed the 6-foot-4 right-hander off waivers from the Cincinnati Reds on Jan. 3. The 24-year-old Jenkins was the 50th overall pick of the 2010 Draft by the St. Louis Cardinals. He is a long shot. Jenkins made his Major League debut last season with Atlanta and was 2-4 with a 5.88 ERA in 14 games (eight starts) and gave up 55 hits in 52 innings.
Prospects: Help is on the way. Led by right-hander Anderson Espinoza, who rated as the top prospect in the Padres' organization and No. 13 among all Minor League prospects, 13 of the Padres' top 30 prospects are pitchers. In addition to Espinoza, right-hander Cal Quantrill, the Padres' top Draft pick last June (eighth overall) is rated as No. 5 in the Padres family. Among other Padres Minor League pitchers to watch are right-handers Chris Paddack, Jacob Nix, Enyel De Los Santos, Hansel Rodriguez, Miguel Diaz, Reggie Lawson and Mason Thompson and left-handers Adrian Morejon, Eric Lauer and Logan Allen. Right now, the Padres say they have between 12 and 18 pitchers who could start for their two full-season Class A teams this spring. The pitching depth is one reason why the Padres will have two teams in the Rookie-level Arizona League this summer. Look for some of the young arms to advance quickly. Quantrill and Lauer are talking of reaching the Major Leagues in their first full season of professional baseball.
Overview: The Padres are hoping there is strength in numbers. All 11 leading candidates going into Spring Training are question marks. But there is potential off past performances on the list of possibilities.