Phillies acquire Venditte from Mariners
Ambidextrous pitcher provides much-needed depth to Phils 'pen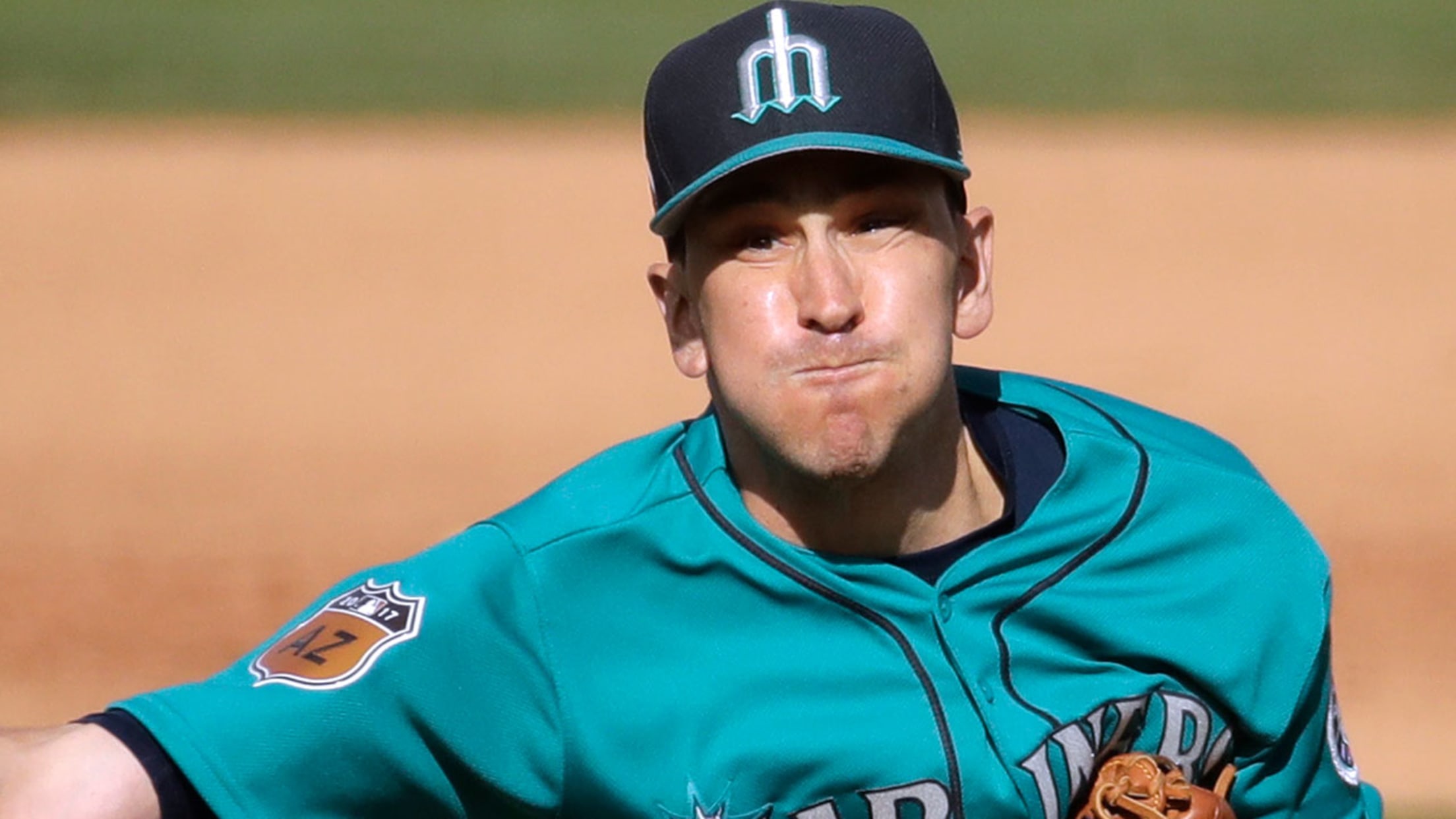 Pat Venditte will join the Phillies as a non-roster invitee. (AP)
CLEARWATER, Fla. -- Phillies general manager Matt Klentak watched reliever Pat Venditte, pitching for Team Italy in the World Baseball Classic, strike out Venezuelan stars Jose Cabrera and Carlos Gonzalez on Saturday night.Sunday, he acquired Venditte from the Seattle Mariners for Minor League outfielder Joey Curletta.No, that's not why he
CLEARWATER, Fla. -- Phillies general manager Matt Klentak watched reliever Pat Venditte, pitching for Team Italy in the World Baseball Classic, strike out Venezuelan stars Jose Cabrera and Carlos Gonzalez on Saturday night.
Sunday, he acquired Venditte from the Seattle Mariners for Minor League outfielder Joey Curletta.
No, that's not why he made the move. And it's not because Venditte is ambidextrous. Although that didn't hurt, either.
"We've liked Venditte for a long time," Klentak said. "There's some intrigue to what he can do, with the fact that he can throw with both hands. But, you know, this guy was a pretty good Triple-A performer last year. He obviously has some big league time and the Phillies [don't] have a ton of upper level left-handed pitching depth."
The Phillies currently have three left-handed pitchers on the 40-man roster: Joely Rodriguez, who has 23 days of big league service time; Elniery Garcia, who hasn't pitched above Class A Advanced, and Adam Morgan, who has been a starter most of his career.
Venditte had a combined 3.74 ERA in 30 games for Triple-A Buffalo and Tacoma last season. He has a career 4.97 ERA in the Major Leagues in 41 games for the A's, Blue Jays and Mariners.
He'll report to Clearwater as a non-roster invitee after Team Italy concludes play in the WBC.
"The plan is Pat will come here and compete for a Major League job," Klentak said. "If that fails, he'll end up going to Triple-A and join what we hope will be a good bullpen down there."
Manager Pete Mackanin said there are two bullpen spots open after right-handers Jeanmar Gomez, Hector Neris, Joacquin Benoit, Pat Neshek and Edubray Ramos are penciled in. Venditte appears to be competing against lefties Morgan, Rodriguez, Cesar Ramos and Sean Burnett and right-hander Luis Garcia. Ramos and Burnett are not on the 40-man roster.
Even though Klentak mentioned Venditte as adding left-handed depth, that doesn't mean the Phillies view him as throwing exclusively from that side.
"We view him as however he can best get lefties and righties out," the general manager said. "He'll continue to throw with both hands. No issue there. We don't have to construct a bullpen with [a certain] number of lefties and a [certain] number of righties. Obviously, his ability to pitch with both hands provides the manager, whether it's a Major League manager or a Triple-A manager, with more options. So I think he comes into camp competing to make the Major League team no matter how you slice it."
Klentak is definitely intrigued by Venditte. "The baseball fan in me is curious," he said. "This guy has been pitching for awhile and has an established track record.
"So this is more about a player we think has a chance to be pretty good. It's about results but, yeah, I'm curious just like everybody else."
Curletta, 23,was acquired from the Dodgers in the Carlos Ruiz trade last August. He played at Class A Advanced Rancho Cucamonga and Double-A Tulsa with the Dodgers and also was part of the Florida Instructional League with the Phillies. "Good looking kid. Has some power. You just have to give to get," Klentak said.
Worth noting
Infielders Rhys Hoskins and Scott Kingery, catcher Chace Numata and outfielder Andrew Pullin have been assigned to the Minor League complex. The Phillies now have 58 players in camp.
Paul Hagen is a reporter for MLB.com.