Phillies rough up former teammate Kendrick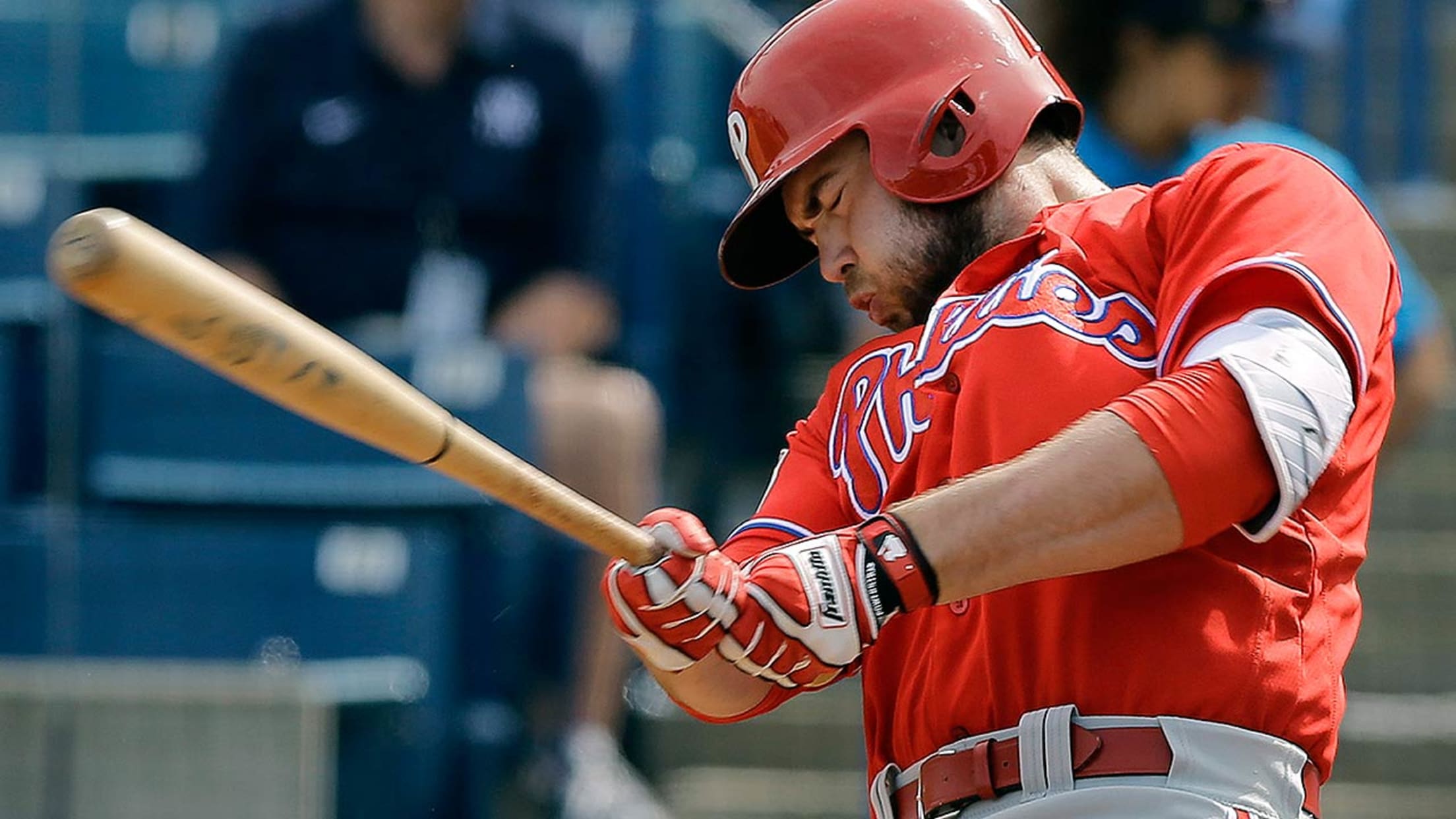 Darin Ruf went 2-for-3 with two RBIs. (AP Photo)
LAKE BUENA VISTA, Fla. -- Ryan Howard recorded one of the three doubles his former Philadelphia teammate Kyle Kendrick surrendered during a three-run first inning that propelled the Phillies to a 9-2 win over the Braves on Friday afternoon at ESPN's Wide World of Sports complex.Kendrick's bid to earn a
LAKE BUENA VISTA, Fla. -- Ryan Howard recorded one of the three doubles his former Philadelphia teammate Kyle Kendrick surrendered during a three-run first inning that propelled the Phillies to a 9-2 win over the Braves on Friday afternoon at ESPN's Wide World of Sports complex.
Kendrick's bid to earn a roster spot with Atlanta was further weakened as he retired just five of the 16 batters he faced before exiting with two outs in Philadelphia's four-run second inning. The former Phillies pitcher surrendered nine hits, including a pair of doubles recorded by Darin Ruf.
Phillies manager Pete Mackanin was impressed with what he saw from Howard, who returned to the lineup after battling the flu and served as the club's designated hitter.
"I told him, 'You should not take batting practice all year,'" said Mackanin. "He hadn't had an at-bat in a week, and that's as good as he's looked in awhile. So I'm real happy about that.
"I'd like to play him tomorrow at first base to try to catch up. He swung the bat real well."
Phillies leadoff hitter Peter Bourjos reached safely in each of the three plate appearances he recorded through the first three innings. Bourjos began the game with a double and then advanced to third base on the first of the three singles recorded by Cesar Hernandez. Emmanuel Burriss also notched a three-hit game for Philadelphia.
Kendrick came to Spring Training hoping to earn a spot in Atlanta's starting rotation. But his hopes have diminished as he has allowed 14 hits and nine earned runs over 3 2/3 innings in his first two starts.
Phillies starter David Buchanan looked like he might also be in for a long day when he loaded the bases before he recorded his first out. Buchanan limited his first-inning damage to two runs, as A.J. Pierzynski and Dian Toscano notched RBIs. Buchanan stranded two runners when he completed a scoreless second inning with a strikeout of Freddie Freeman.
"I was just a little erratic today," said Buchanan. "I've just got to keep the ball down. I've been throwing well in my bullpen [sessions] and the games I've been in this spring, so I'm going to build on that."
After swinging and missing the final pitch he saw from Buchanan, Freeman exited because of discomfort around his right hand and wrist. The veteran first baseman was either sidelined or burdened by right wrist discomfort for most of last season's final four months.
Up next for the Braves:Manny Banuelos will make his first Grapefruit League appearance when Atlanta hosts the Nationals on Saturday at 6:05 p.m. ET. As long as he remains healthy, Banuelos appears to be the favorite to begin the season as Atlanta's fifth starter. This will be the Braves' first night game of the year, and fans can catch the action on Gameday Audio.
Up next for the Phillies: Right-hander Vince Velasquez, who was acquired from the Astros as part of the Ken Giles trade over the winter, will continue his quest to nail down a spot in the starting rotation when he faces the Blue Jays on Saturday at Bright House Field. First pitch is scheduled for 1:05 p.m. ET, and the game will air on MLB.TV. It will be the third Grapefruit League appearance, and second start, for the 23-year-old who made his big league debut with the Astros last season.