Neris' stumble adds to Phils' closer questions
Righty allows 4 earned runs in walk-off loss to Dodgers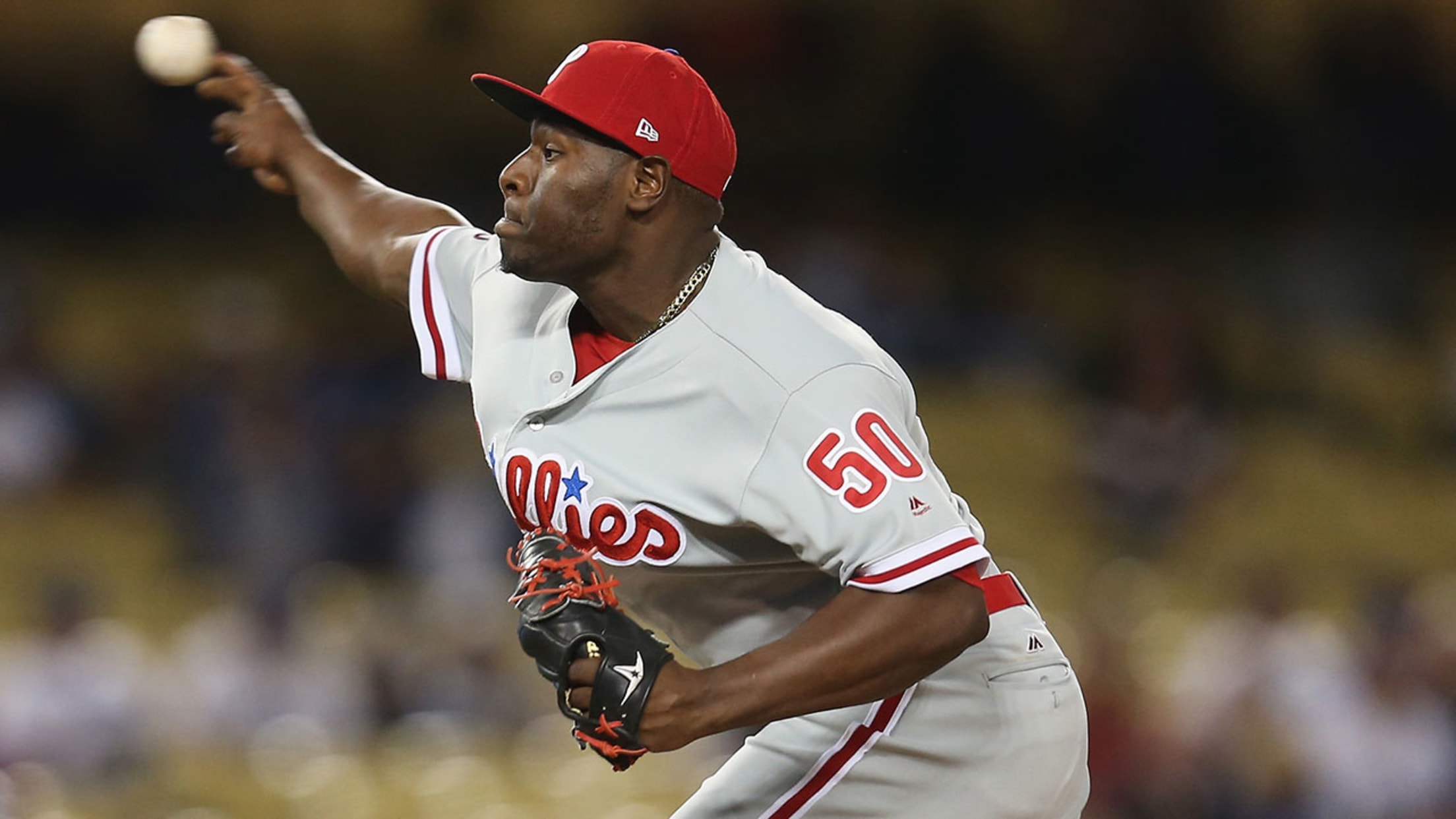 Hector Neris was tagged with four earned runs in the ninth inning of Saturday's 6-5 loss. (Getty)
LOS ANGELES -- It happened fast and it happened loudly.Boom, boom, boom.Yasiel Puig, Cody Bellinger and Justin Turner hit back-to-back-to-back home runs off Hector Neris in the bottom of the ninth inning Saturday night to hand the Phillies a stunning 6-5 loss at Dodger Stadium. Then, with runners on first and
LOS ANGELES -- It happened fast and it happened loudly.
Boom, boom, boom.
Yasiel Puig, Cody Bellinger and Justin Turner hit back-to-back-to-back home runs off Hector Neris in the bottom of the ninth inning Saturday night to hand the Phillies a stunning 6-5 loss at Dodger Stadium. Then, with runners on first and second and two outs, Adrian Gonzalez hit a ground ball toward Maikel Franco, but the ball hit the tip of Franco's glove and rolled into shallow left field to allow the winning run to score.
"It's one of the worst losses I've ever been associated with, the way we lost," Phillies manager Pete Mackanin said. "Those weren't wind-blown home runs. They were bombs. It's tough to take."
The Phillies have a ninth-inning problem. Four pitchers have blown four leads in the ninth inning this season. They lost two of those games. The Phillies also have an 8.83 ERA in the ninth. They opened the season with Jeanmar Gomez closing, but he quickly lost the job. They tried Joaquin Benoit in the role, but he did not last long.
Neris is the latest pitcher to struggle in the ninth. He has allowed a run in four of his six appearances since he picked up his first save April 20.
"Bad day," Neris said "Everyone has one."
Neris is his best when he is throwing his splitter, but for some reason he has moved away from the pitch. He threw 19 pitches Saturday, but just eight splits. Puig and Turner homered on fastballs. Last season, he threw the splitter 52 percent of the time when he posted a 2.58 ERA and struck out 102 batters in 80 1/3 innings. He entered Saturday throwing the splitter 44 percent of the time this year.
"It was the location," Neris said "It wasn't because they were fastballs."
Mackanin said he will speak with Neris about getting back to his splitter. But at the moment, the ninth inning is an Achilles heel for a team that entered the series on a six-game winning streak.
"I'd like to have [Eric] Gagne," Mackanin said, referring to the 2003 National League Cy Young Award winner. "I'd like to have a lights-out closer, but we don't have one right now. We'll continue to look at it. I think Neris is capable of being a closer, but for some reason he's just not throwing his split as often as he did and that's his out pitch, the pitch that makes him who he is, who he was."
Neris tried to remain upbeat after the game.
"I'm here," he said. "My head is never down."