Stuff is there, but Pivetta seeks command
Right-hander still searching for 1st MLB win after allowing 3 solo HRS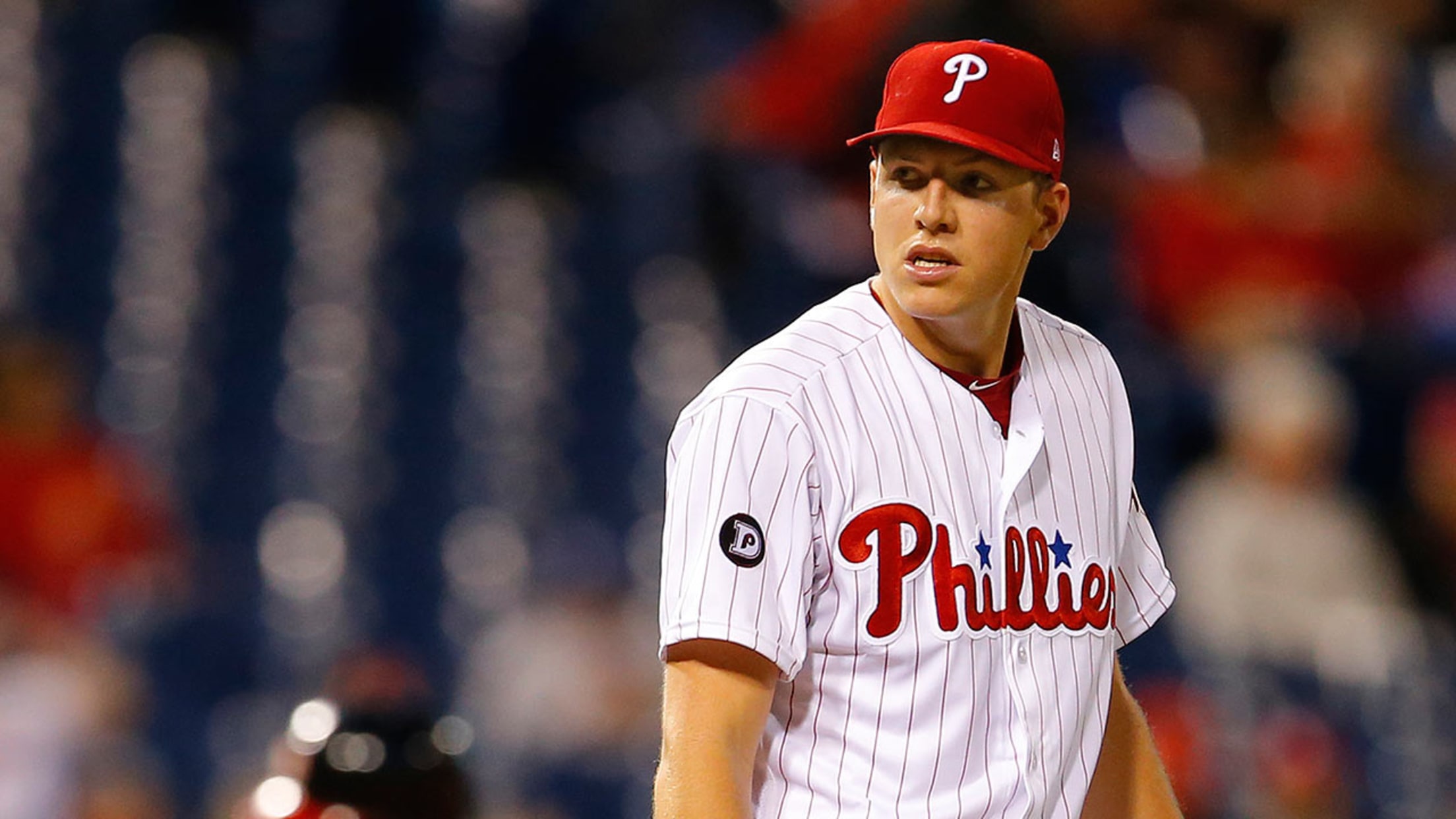 Nick Pivetta struck out six but allowed four runs on nine hits on Friday vs. Washington. (AP)
PHILADELPHIA -- Nick Pivetta has to be sharper early and command the inside half of the plate if he wants to improve on the foundation he has laid down in his first two Major League starts.The Canadian right-hander was handed his second consecutive loss Friday, lasting just five innings and
PHILADELPHIA -- Nick Pivetta has to be sharper early and command the inside half of the plate if he wants to improve on the foundation he has laid down in his first two Major League starts.
The Canadian right-hander was handed his second consecutive loss Friday, lasting just five innings and allowing all four Nationals runs in a 4-2 loss.
The majority of the damage came on three solo home runs, two of which came in his fifth and final inning. He's allowed four home runs in his first 10 big league innings.
"That really hurt me," Pivetta said of the back-to-back homers from Anthony Rendon and Ryan Zimmerman.
"I didn't like those two runs, they kind of sucked. That was a big turning point for the game. If I would have executed those pitches, it would have given the team a better chance to win."
While a solo homer does result in a run, it keeps the pitcher working out of the windup and doesn't often spark rallies. They're not the worst possible outcome at face value. One run is just one run.
But allowing three in a handful of innings, as Pivetta did Friday, is not a recipe for success, especially when one comes off the bat of the opposing pitcher, Stephen Strasburg.
"Good stuff coming out of his hand," Phillies manager Pete Mackanin said. "He just had poor location, had trouble locating his fastball inside to hitters."
The homers to Zimmerman and Rendon came on pitches in the middle or on the outer half of the zone, where the hitters could extend their arms.
"Maybe if I worked inside a little more, they wouldn't be able to lunge out and hit those balls that way," Pivetta said.
In both starts this season, Pivetta has run into trouble in the first inning but escaped allowing a single run.
"I got away with one run, which was nice," Pivetta said of stranding the bases loaded in the first on Friday. "I was able to minimize there, just like I was last time."
While minimizing the damage, Pivetta elevated his pitch count to 29, something he said hurt his outing from the get-go. It's been a troubling trend for the entire Phillies starting rotation, not just Pivetta. Only six times in 28 games has a Philadelphia starter completed the seventh inning.
Mackanin had the option to pinch-hit for Pivetta with the bases loaded in the fourth, but the day after a 13-inning game was not the time to stretch out his relievers.
"We're having enough trouble getting innings out of our starters," Mackanin said. "That's what we need as much as anything right now."
The game pitted Pivetta against the club that drafted and molded him for the first two and a half years of his professional career. He was traded from the Nationals to the Phillies in 2015 for Jonathan Papelbon.
"I didn't really think about it too much, I just thought of it as my second start," he said.
Ben Harris is a reporter for MLB.com based in Philadelphia.