Phillies practicing patience with prospects
Despite need for offensive boost, Mackanin and Klentak not rushing Minor Leaguers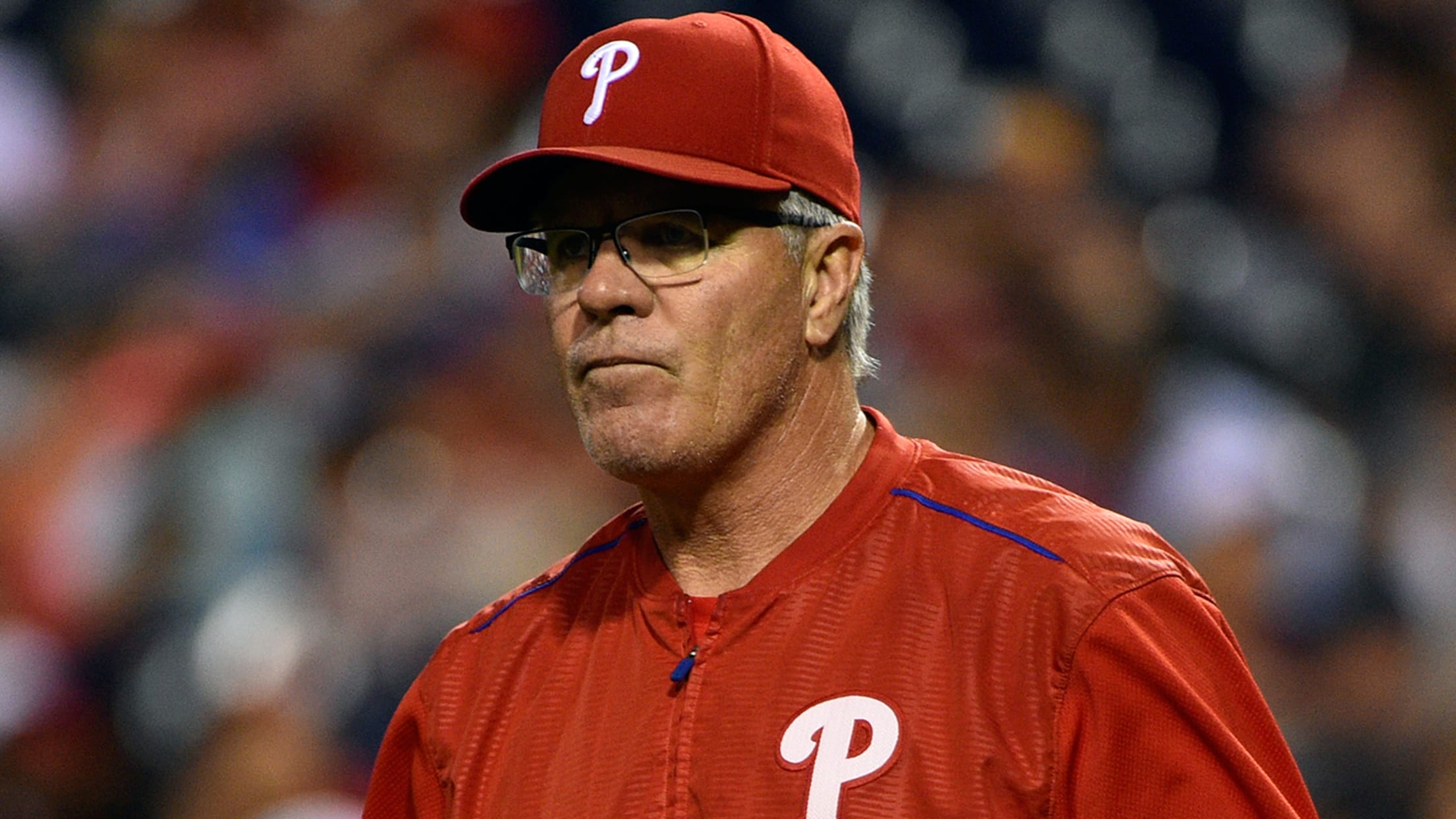 Manager Pete Mackanin is excited about the "promising guys" in the Phillies' Minor League system. (AP)
PHILADELPHIA -- The Phillies surprised almost everybody by getting off to a 24-17 start, but then they lost 11 of their next 13. They've scored three or fewer runs in nearly two of every three games they've played.Manager Pete Mackanin noted before Friday night's game against the Brewers at Citizens
PHILADELPHIA -- The Phillies surprised almost everybody by getting off to a 24-17 start, but then they lost 11 of their next 13. They've scored three or fewer runs in nearly two of every three games they've played.
Manager Pete Mackanin noted before Friday night's game against the Brewers at Citizens Bank Park that the team is "starving" for offense.
Both Mackanin and general manager Matt Klentak agree on two things. Both believe better days are ahead. And both say that, no matter what ups and downs lie ahead, they won't rush prospects to the big leagues or otherwise change their approach to rebuilding.
"In my role, I need to be cognizant that over the course of a 162-game schedule, teams are going to have high points and they're going to have low points," Klentak said. "We're not going to win 81 in a row and then lose 81 in a row. It doesn't really work that way. And that's true of every team in the league, not just the Phillies. Obviously, we're going through a tougher stretch now after we went through a pretty good stretch for a couple of months. And I don't doubt for a second that we're going to turn it around here shortly.
"So, no, I wouldn't say there's been a radical change in our vision for either this season or the long term."
On a day the Phillies honored their organizational players for the month for May -- Double-A Reading outfielder Dylan Cozens (hitter), Triple-A Lehigh Valley right-hander Edubray Ramos (pitcher) and Class A Advanced Clearwater outfielder Carlos Tocci (defender) -- Klentak said he won't accelerate the progress of any farmhands.
"No, the players will come up when we believe they're ready to come up, contribute and stay here," he said
Mackanin is on board with that approach.
"I was in development for so many years that I know the fear is you take a guy, you move him too soon and if he fails, maybe you shouldn't have moved him because now he loses confidence," the manager said.
At Lehigh Valley, outfielder Nick Williams is coming on strong after a slow start and speedy Roman Quinn is showing promise. Touted shortstop J.P. Crawford is also with the IronPigs and Cozens could join them at Triple-A before long.
"There are a lot of promising guys down below," Mackanin said. "But we don't want to just rush them just because we're starving for offense. We don't want to just throw these guys into the fire. We just have to hold down the fort."
Paul Hagen is a reporter for MLB.com.