Herrera getting days off to clear head
Phillies center fielder entered Monday's game hitting .181 in May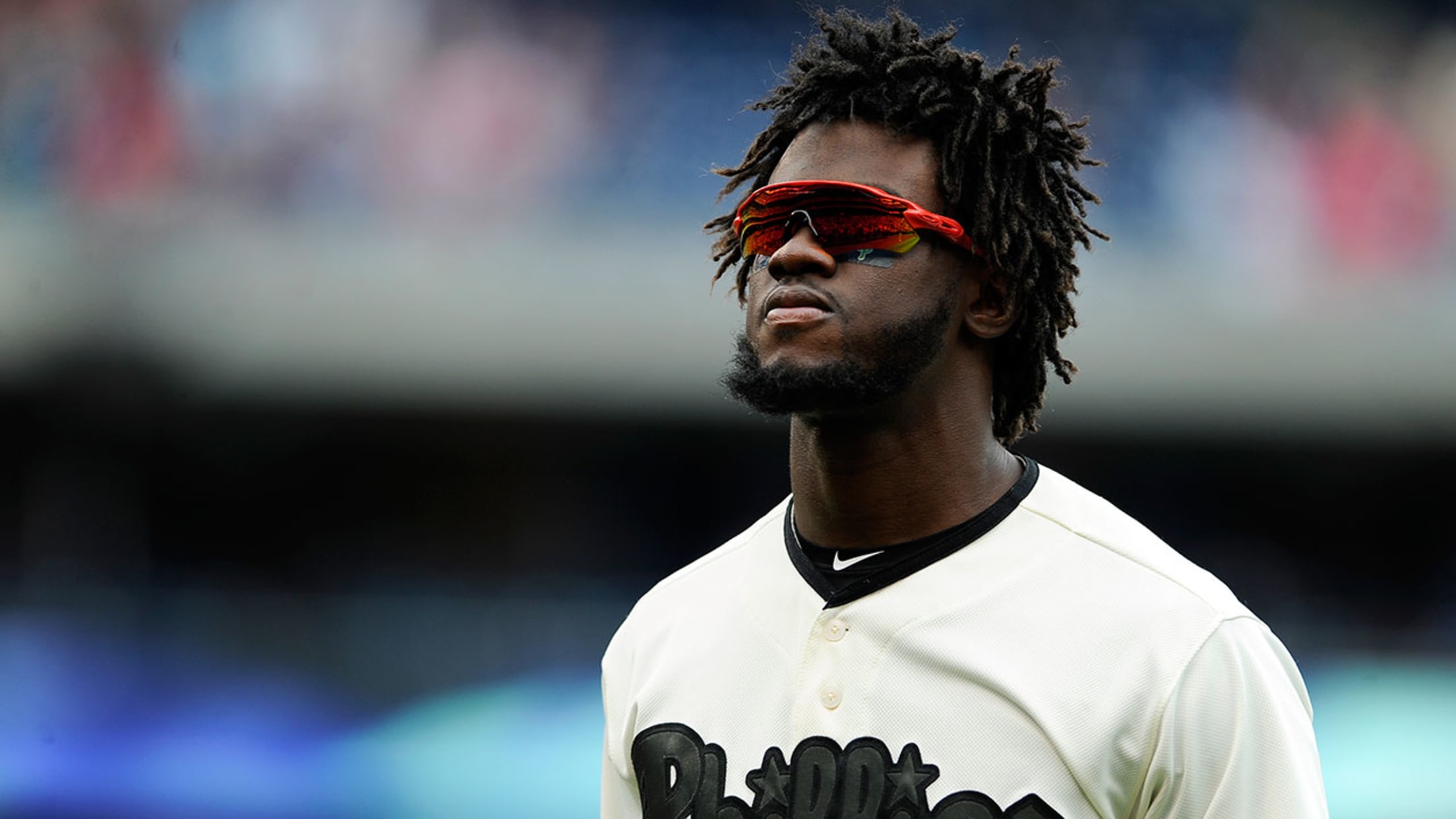 Center fielder Odubel Herrera was 3-for-28 during the Phillies' latest seven-game homestand. (AP)
MIAMI -- Two years ago, Phillies manager Pete Mackanin took a look at Odubel Herrera and thought he could win a batting title. Fast forward to Memorial Day, 2017, and the Phils' center fielder suffering through the worst slump of his professional career."He was so unorthodox," Mackanin said. "He could
MIAMI -- Two years ago, Phillies manager Pete Mackanin took a look at Odubel Herrera and thought he could win a batting title. Fast forward to Memorial Day, 2017, and the Phils' center fielder suffering through the worst slump of his professional career.
"He was so unorthodox," Mackanin said. "He could take two bad swings and then all of sudden turn on something. He was uncanny how he could do that.
"He hasn't been doing that this year. I wish I had the answer. I've said it too many times, I can't teach you how to ride a bike. I can teach you how to pedal, teach you where to put your hands and where to sit, but I can't teach you balance. You've got to learn it yourself."
Herrera, who went 3-for-28 (.107) in the Phils' last homestand, entered Monday's opener against the Marlins hitting .181 in May and .217 for the season.
Mackanin has decided to give Herrera a couple of days off to clear his head and get back to the form that made him an All-Star last season.
"I'm giving him two days off to correct his flaws," Mackanin said. "I told him I wanted him to really concentrate on what he feels he's not doing and work on that for two days but stay ready for the game in case we need to make a double switch."
What flaws specifically does Mackanin see with Herrera?
"Plate discipline," Mackanin said. "It all boils down to being more disciplined at the plate. It's a mindset. So much of this game is mental."
The Phils' center fielder welcomed the time off but remains ready to pitch in where he can.
"It feels good, take my mind out of it for a day and try to relax a little bit," Herrera said. "I am ready to play, and if I had to play I would play. But it feels good to have a day off. Mentally, I'm [still] ready to play.
"But I need to find that approach that I had last year. I was more disciplined. That's what I need to go back to."
Herrera said this is the most difficult period he's had to endure at the plate as a professional.
"Not even in Minor Leagues [has it] been this tough," he said. "But one thing is for sure: I'm going to come out of it, as soon as possible."
Mackanin said he's gone back and forth as to what is the right approach concerning Herrera.
"Sometimes you've got to let a guy keep fighting his way out of it," Mackanin said. "And sometimes you've just got to back off. Being on the road could relax him a little bit, but I don't have any secret formula.
"But that's what a manager does; he tries to figure out what's the best thing at the right time. It's why we don't sleep."
Worth noting
• Outfielder Daniel Nava began a rehab assignment with Triple-A Lehigh Valley on Monday. Nava was placed on the 10-day disabled list Tuesday with a left hamstring strain.
Glenn Sattell is a contributor to MLB.com based in Miami.