Phillies' pair among top prospect performers Thursday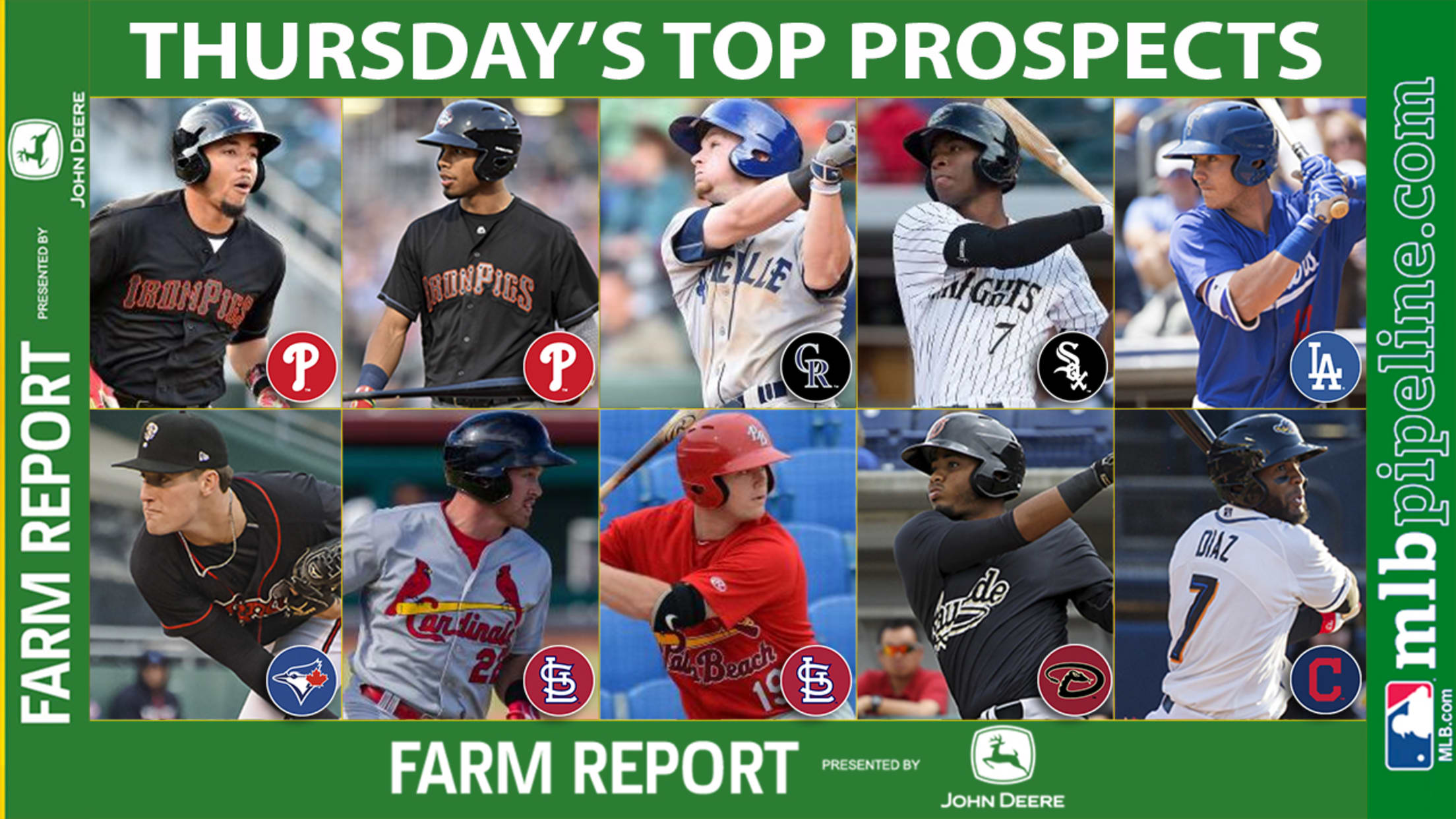 (Paul Sancya/AP)
A pair of Phillies' top prospects had three-hit games in Lehigh Valley's win over Pawtucket. J.P. Crawford, the No. 3 overall prospect (Phillies' No. 1), scored a pair of runs in the game, but more importantly, he found his stroke offensively. Since he was promoted to Triple-A, Crawford got off
A pair of Phillies' top prospects had three-hit games in Lehigh Valley's win over Pawtucket. J.P. Crawford, the No. 3 overall prospect (Phillies' No. 1), scored a pair of runs in the game, but more importantly, he found his stroke offensively. Since he was promoted to Triple-A, Crawford got off to a bit of a slow start. The shortstop went 3-for-15 over his first four games, but on Thursday night everything was clicking as Crawford went 3-for-5.
But Crawford wasn't the only Phillies' farmhand to have a good night at the plate. Nick Williams, Philadelphia's No. 3 prospect, was a perfect 3-for-3 at the plate and raised his average to .279.
The rest of the best performances from top prospects Thursday:
• Brendan Rodgers is back. In Rodgers' first game back from the DL, the No. 10 overall prospect (Rockies' No. 1) hit a game-winning three-run homer in the top of the 11th. The homer was Rodgers' eighth this year and the 19-year old is hitting .338 in his first full season of pro ball.
• Tim Anderson continues to swing a hot bat as the White Sox No. 2 prospect went 3-for-5 with a double and an RBI in Charlotte's win over Syracuse. Anderson, the No. 42 overall prospect, has a nine-game hitting streak, including multi-hit efforts in each of the last four.
"I try not to pay too much attention to the numbers," Anderson told MiLB.com. "Every time at bat, I just feel very confident and I believe in myself. Every time I go up there, I feel like I'm going to get a hit or do something positive. I feel real great in the box."
MILB Video - Title: Anderson's RBI double - Url: http://www.milb.com/r/video?content_id=742643183
• Dodgers' No. 5 prospect Cody Bellinger rounded the bases a couple of times as he had his first multi-homer game of the year. Bellinger finished 3-for-4 at the plate with two homers and three RBIs for Tulsa.
MILB Video - Title: Bellinger's second blast - Url: http://www.milb.com/r/video?content_id=742546283
• Despite turning in his longest start of the season Sean Reid-Foley was stuck with a no-decision in Lansing's loss to Fort Wayne. Toronto's No. 3 prospect gave up one run on six hits and a walk and struck out seven in as many innings.
• Cardinals' No. 9 prospect Charlie Tilson had his first four-hit game of 2016, going 4-for-5 with a double in Memphis' win.
MILB Video - Title: Watch: Tilson torches double - Url: http://www.milb.com/r/video?content_id=743634083
• Carson Kelly came through with his fourth three-hit game of the season and his second of the week. The Cardinals' No. 13 prospect went 3-for-4 with a homer and three RBIs, a season high.
• D-backs No. 16 prospect Dawel Lugo had two homers and a double in a 3-for-5, five RBI night for Class A-Advanced Visalia.
• Yandy Diaz's day at the plate wasn't enough to get Columbus a win over Buffalo, but the Indians' No. 14 prospect still had an impressive performance. Diaz put together his third three-hit game of the year, going 3-for-4 with two doubles, a homer and two RBIs.
• Indians' No. 16 prospect Shawn Morimando turned in another stellar outing in Akron's loss to Altoona. The left-hander gave up just three hits and struck out eight -- a season high -- in seven scoreless frames.
• Marlins' No. 9 prospect Jake Esch threw six quality innings for Jacksonville on Thursday night. The right-hander gave up one run and struck out eight, the most he's fanned all year.
MILB Video - Title: Watch: Esch K's batter - Url: http://www.milb.com/r/video?content_id=743634683
• Nationals' No. 26 prospect Kelvin Gutierrez led the Hagerstown Suns to a win with a career-high four RBIs. The 21-year-old third baseman went 2-for-4 and also scored a pair of runs.
• Chad Kuhl, the Pirates' No. 16 prospect, also struck out a season high, fanning seven in seven innings. Kuhl gave up one run on six hits in Indianapolis' win over Rochester. The right-hander has a measly 1.03 ERA through nine starts.
• Sal Romano set a season high with nine strikeouts in Pensacola's loss to Birmingham. The Reds' No. 15 prospect was stuck with a loss, but threw seven strong innings, allowing just two earned runs.
• Jon Moscot led Louisville to victory, while pitching in Triple-A on a rehab assignment. The Reds' No. 24 prospect is working his way back from left elbow inflammation and was likely pleased with his results Thursday night. Moscot hurled six scoreless innings, giving up four hits and striking out four.
• Tigers' No. 8 prospect JaCoby Jones continues to drive in runs. The 24-year-old went just 1-for-4 in Erie's loss to Reading, but drove in three runs in the process. Over his past four games, Jones has three homers and 10 RBIs.