Short starts stretching Phillies relievers thin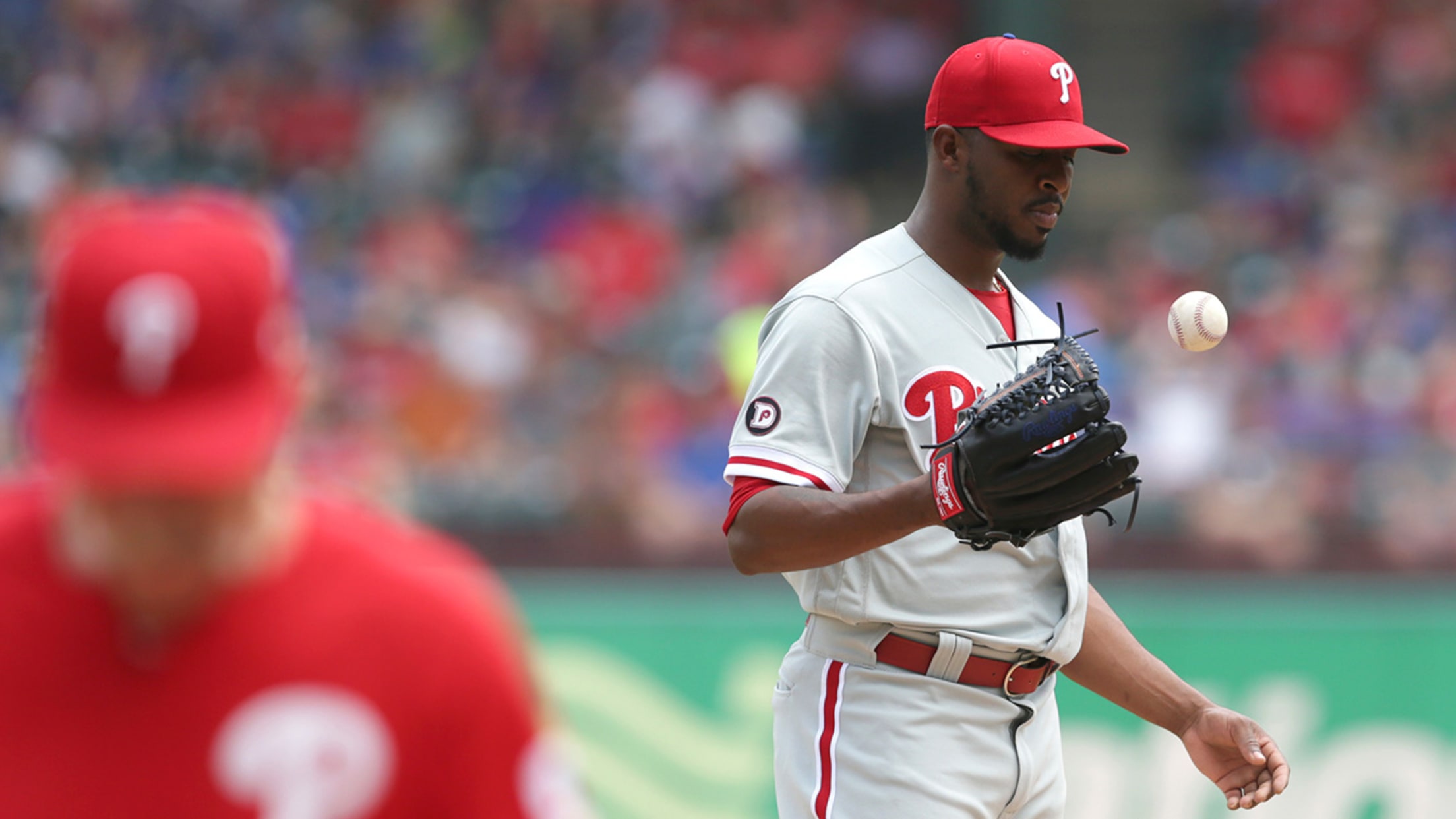 Joely Rodriguez (right) saw his ERA swell to 6.97 after allowing seven runs in two-thirds of an inning. (AP)
ARLINGTON -- The Phillies are wondering, like everybody else, when the losing will end.Their bullpen blew a two-run lead on Thursday afternoon in an 8-4 loss to the Rangers at Globe Life Park, which allowed Texas to sweep the series and hand the 14-24 Phillies their 15th loss in 18
ARLINGTON -- The Phillies are wondering, like everybody else, when the losing will end.
Their bullpen blew a two-run lead on Thursday afternoon in an 8-4 loss to the Rangers at Globe Life Park, which allowed Texas to sweep the series and hand the 14-24 Phillies their 15th loss in 18 games. It is the Phillies' worst 38-game start since 2000, when they also opened 14-24.
"We are in trouble right now," Phillies third baseman Maikel Franco said. "We're in a little bit of trouble."
Phillies starter Nick Pivetta, optioned to Triple-A after the game, got the hook with a runner on first and two outs in the fifth inning, as manager Pete Mackanin called for left-hander Joely Rodriguez to face the left-handed-hitting Nomar Mazara.
Rodriguez had posted a 1.23 ERA in 14 appearances since April 11, but he walked Mazara and allowed five runs to score in a span of eight pitches, including Ryan Rua's three-run home run, to hand the Rangers a 5-2 lead. Rodriguez started the sixth, but he could not finish it. He allowed seven runs on six hits in just two-thirds of an inning to take the loss.
Rodriguez is the first Phillies reliever to allow seven earned runs in less than an inning since Hector Mercado allowed seven in a 17-3 loss to the Astros on May 13, 2002, at Veterans Stadium.
The Phillies' bullpen is 6-12 with a 5.04 ERA this season. It has allowed 27 home runs, the most by any bullpen in the Majors.
"I still think we have a chance to have a good bullpen, but once again, here I am in the fifth inning going to the bullpen," Mackanin said. "We've scuffled once again. The [starting] pitchers aren't getting us enough length. It's a broken record."
Mackanin is correct about that. Phillies starters have pitched fewer than six innings 23 times, which is tied for third most in baseball.
The bullpen is feeling it.
"It's putting a lot of pressure on the bullpen when we're having to come in in the fifth, and even earlier than that," Phillies right-hander Pat Neshek said. "We're not getting ahead and getting into the sixth inning. We were playing normal games the first 20 games. Me, Joely and [Edubray] Ramos would pitch the sixth and seventh, [Joaquin] Benoit would pitch the eighth and [Hector] Neris would pitch the ninth. We just haven't had that. We haven't had that in two, three weeks.
"When you're surprising guys and pitching them in the fourth and fifth, it's not ideal. You can take any bullpen in the league, and I don't think they're going to have much success in that same situation. I've got a lot of confidence in the guys, but we're not doing stuff that we normally do."