Pipeline preview: Giolito takes hill for Syracuse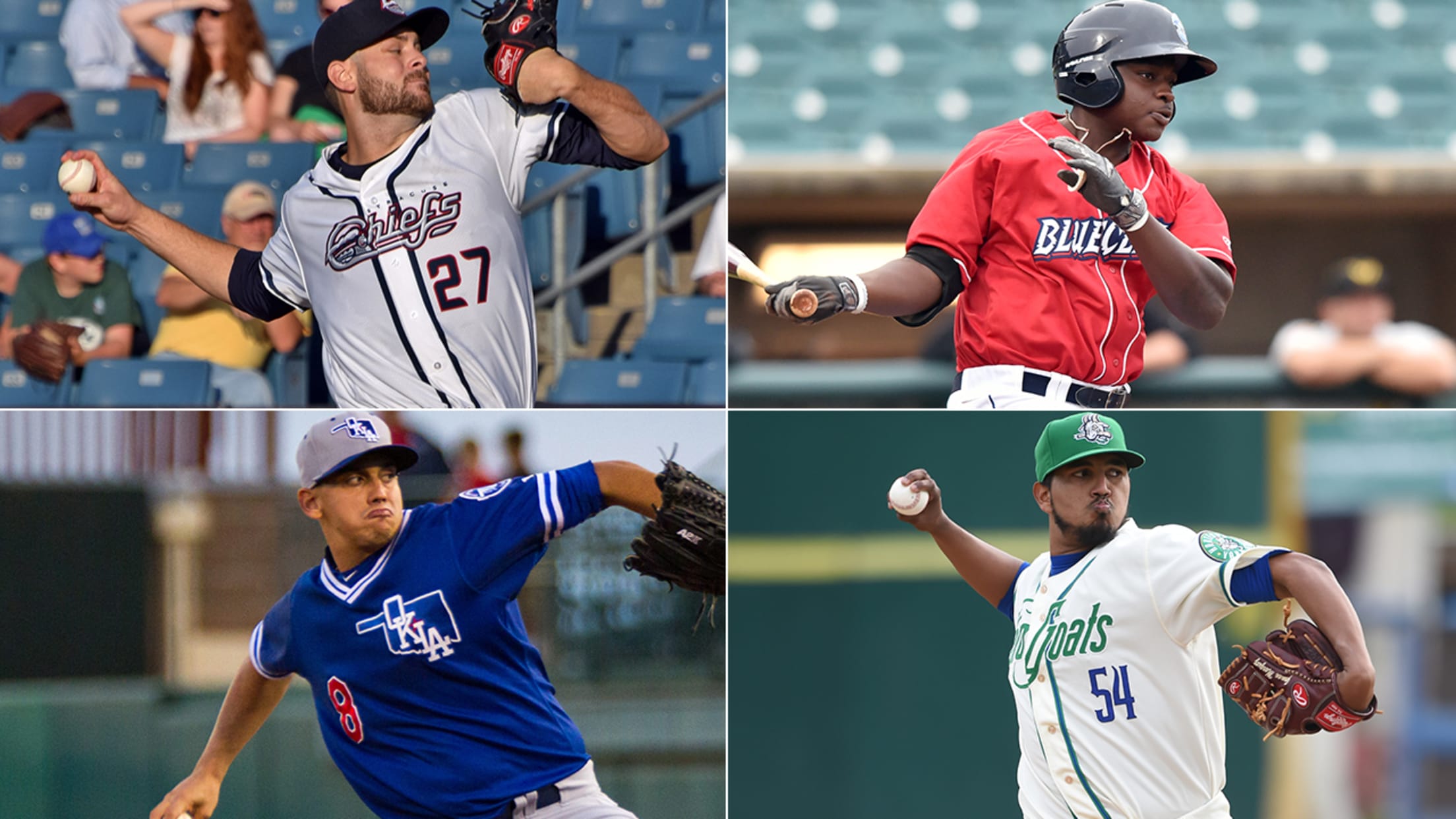 Here's a look at top prospects to watch Wednesday in Minor League action:Hitter to watch: Cornelius Randolph (Phillies' No. 6), Lakewood vs. Hickory (7:05 p.m. ET)Randolph has started to rack up hits in rapid succession. The 19-year-old went 2-for-3 in Game 1 of Lakewood's doubleheader Tuesday and has hits in
Here's a look at top prospects to watch Wednesday in Minor League action:
Hitter to watch: Cornelius Randolph (Phillies' No. 6), Lakewood vs. Hickory (7:05 p.m. ET)
Randolph has started to rack up hits in rapid succession. The 19-year-old went 2-for-3 in Game 1 of Lakewood's doubleheader Tuesday and has hits in 10 of his past 12 games. Randolph has multiple hits in five of those games and is 6-for-13 over his past four contests.
Pitcher to watch: Lucas Giolito (Nationals' No. 1), Syracuse at Toledo (7:05 p.m. ET on MiLB.TV)
After a couple of shaky starts, the No. 4 overall prospect returned to form in his last outing. Giolito gave up one run on three hits in six innings. The 22-year-old right-hander spent the bulk of the season in Double-A, but made one start at the Class A level and started three games in the Majors. Giolito made his Triple-A debut on July 19 and is 1-2 with a 3.38 ERA in four starts with Syracuse.
Duel of the Day: Jose De Leon (Dodgers' No. 2) vs. German Márquez (Rockies' No. 7), Oklahoma City vs. Albuquerque (8:05 p.m. ET on MiLB.TV)
August has been a good month for De Leon and the 24-year-old right-hander will look to keep that going against Albuquerque. De Leon has a 2.77 ERA and 12 strikeouts in 13 innings in two starts this month, while limiting opponents to a .208 batting average. De Leon's season got off to a late start after he sprained his ankle in Spring Training, but when he's been on the mound, he's performed worthy of his No. 39 overall ranking. De Leon is 5-1 with a 3.20 ERA in 13 starts.
Marquez's stellar July (3-0, 2.21 ERA in five starts) helped prompt a promotion to Triple-A, but the 21-year-old's debut at the new level didn't go quite as planned. Marquez had a shutout going through six innings, but was unable to finish the seventh and was charged with four runs. The Rockies' prospect has struck out seven or more in each of his past four starts and will take the mound looking for a better showing with his new club.
Wednesday's Top 100 probables:
No. 4 Lucas Giolito (Nationals' No. 1), Syracuse at Toledo (7:05 p.m. ET on MiLB.TV)
No. 39 Jose De Leon (Dodgers' No. 2), Oklahoma City vs. Albuquerque (8:05 p.m. ET on MiLB.TV)
No. 54 Sean Newcomb (Braves' No. 3), Mississippi vs. Pensacola (8 p.m. ET on MiLB.TV)
No. 59 Luis Ortiz (Brewers' No. 5) vs. Josh Taylor (D-backs' No. 27), Biloxi vs. Mobile (7:40 p.m. ET on MiLB.TV)
No. 97 Stephen Gonsalves (Twins' No. 4) vs. Taylor Guerrieri (Rays' No. 13), Chattanooga vs. Montgomery (7:15 p.m. ET)
More top prospect probables:
Jacob Faria (Rays' No. 5) vs. Ryan Merritt (Indians' No. 30), Durham at Columbus (Triple-A)
Dillon Overton (Athletics' No. 15), Nashville vs. Tacoma (Triple-A)
Rookie Davis (Reds' No. 7), Louisville at Indianapolis (Triple-A)
Chris Ellis (Braves' No. 16), Gwinnett at Charlotte (Triple-A)
Ben Lively (Phillies' No. 24), Lehigh Valley vs. Pawtucket (Triple-A)
Andrew Suarez (Giants' No. 8), Sacramento vs. Iowa (Triple-A)
Kyle McGowin (Angels' No. 19), Salt Lake vs. New Orleans (Triple-A)
Brady Rodgers (Astros' No. 24), Fresno vs. Omaha (Triple-A)
Robert Gsellman (Mets' No. 14), Las Vegas vs. Round Rock (Triple-A)
David Hess (Orioles' No. 24) vs. Yency Almonte (Rockies' No. 20), Bowie at Hartford (Double-A)
Clay Holmes (Pirates' No. 12), Altoona at Portland (Double-A)
Jalen Beeks (Red Sox's No. 29), Portland vs. Altoona (Double-A)
Conner Greene (Blue Jays' No. 10), New Hampshire vs. Binghamton (Double-A)
Heath Fillmyer (Athletics' No. 19), Midland vs. Tulsa (Double-A)
Tyler Alexander (Tigers' No. 7), Erie at Harrisburg (Double-A)
Keury Mella (Reds' No. 8), Daytona at Dunedin (Class A Advanced)
Luis Castillo (Marlins' No. 5), Jupiter at Charlotte (Class A Advanced)
Kodi Medeiros (Brewers' No. 13), Brevard County vs. Lakeland (Class A Advanced)
Jordan Stephens (White Sox No. 11), Winston-Salem at Myrtle Beach (Class A Advanced)
Justin Donatella (D-backs' No. 28), Visalia vs. Stockton (Class A Advanced)
Zack Littell (Mariners' No. 14), Bakersfield vs. San Jose (Class A Advanced)
Gage Hinsz (Pirates' No. 20), West Virginia at Lexington (Class A)
Sandy Baez (Tigers' No. 16), West Michigan at Lake County (Class A)
Antonio Santillan (Reds' No. 13), Dayton vs. Fort Wayne (Class A)
Ricardo Sánchez (Braves' No. 26), Rome vs. Hagerstown (Class A)
Jesus Tinoco (Rockies' No. 23), Asheville vs. Columbia (Class A)
Jordan Sheffield (Dodgers' No. 8), Great Lakes at Lansing (Class A)
Nick Wells (Mariners' No. 25), Clinton vs. Quad Cities (Class A)
Sam McWilliams (D-backs' No. 29), Kane County vs. Wisconsin (Class A)
Oscar De La Cruz (Cubs' No. 7) vs. Genesis Cabrera (Rays' No. 22), South Bend at Bowling Green (Class A)
Mike Shawaryn (Red Sox No. 22), Lowell vs. Connecticut (Class A Short-Season)
Robert Tyler (Rockies' No. 16), Boise at Eugene (Class A Short-Season)
Sam Pastrone (Angels' No. 30), Orem at Missoula (Rookie-level)