Pipeline preview: Vlad Jr. set to resume pro debut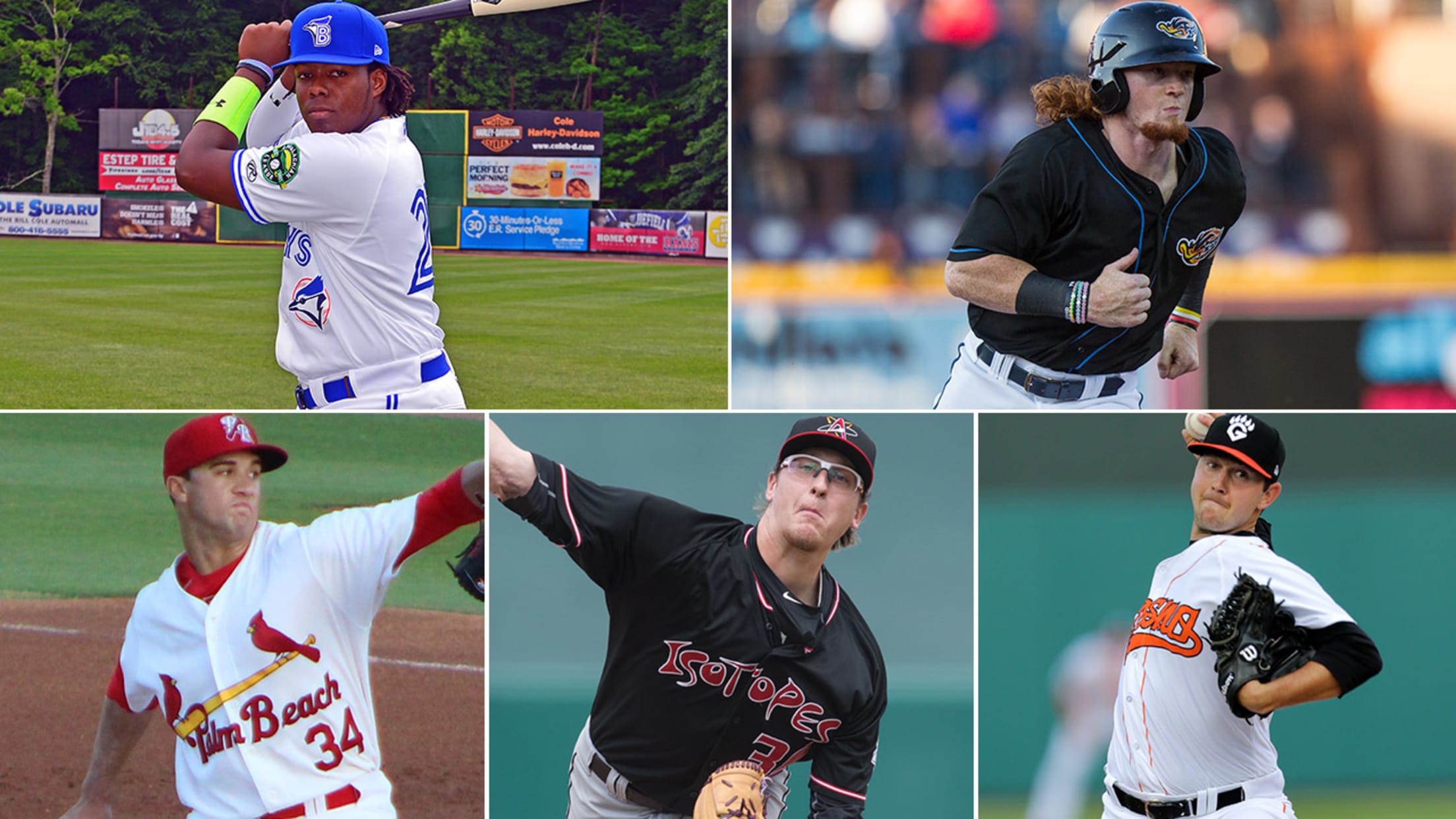 Vladimir Guerrero Jr., son of former American League MVP and nine-time Major League All-Star Vladimir Guerrero, will resume his interrupted professional debut for the Bluefield Blue Jays tonight after Toronto's Appalachian League affiliate had its season opener postponed by rain on Thursday.Guerrero Sr. was in the stands to watch his
Vladimir Guerrero Jr., son of former American League MVP and nine-time Major League All-Star Vladimir Guerrero, will resume his interrupted professional debut for the Bluefield Blue Jays tonight after Toronto's Appalachian League affiliate had its season opener postponed by rain on Thursday.
Guerrero Sr. was in the stands to watch his 17-year-old son's pro debut Thursday, but the game was suspended after three innings due to rain. He's expected to be in attendance again on Friday.
Guerrero Jr. came to the plate once before weather halted play, grounding out to short to end the first inning. He started at third base and batted third.
The game will resume in the top of the fourth at 5:05 p.m. ET, to be followed by tonight's regularly scheduled game, which is slated for seven innings. Guerrero Jr., the Blue Jays' No. 5 prospect is a third-base prospect who was signed by Toronto last July, when he was seventh-ranked international prospect .
Here's a look at top prospects to watch Friday in Minor League action:
Hitter to watch: Clint Frazier (Indians' No. 2), Akron vs. Trenton (7:05 p.m. ET on MiLB.TV)

Frazier has been a top prospecNationals top prospect Lucas Giolito starts for Double-A Harrisburg against Portland at 7 p.m. ET on MiLB.TV.t for a while, and he's certainly been hitting like someone worthy of his ranking. The No. 23 overall prospect collected three hits for Akron on Thursday and has eight hits in his last 16 at-bats. The center fielder is slashing .305/.396/.498 in his first season at the Double-A level and is tied for the lead in the Eastern League with 20 doubles.
Pitcher to watch: Jack Flaherty (Cardinals' No. 2), Palm Beach vs. St. Lucie (6:30 p.m. ET)

Simply put, Flaherty will look for more of the same when he takes the ball against St. Lucie. The No. 71 overall prospect has been dominant over his past three starts, giving up just one unearned run in 20 innings. Flaherty has surrendered only nine hits during that stretch and has racked up 26 K's.
Duel of the Day:Jeff Hoffman (Rockies' No. 4) vs. Brady Rodgers (Astros' No. 27), Albuquerque vs. Fresno (10:05 p.m. ET on MiLB.TV)

Hoffman, the No. 47 overall prospect, struck out a season-high 11 batters in his last start. The right-hander also worked seven strong innings, gave up two runs and didn't walk a single batter. If there was a blemish on his start it would be that he gave up a pair of solo homers. Home runs haven't been a big problem for Hoffman this year, but he will certainly be trying to keep the ball in the yard against Fresno.
Rodgers worked seven innings in his last start, but he also threw a season-high 107 pitches. It was the first time Rodgers threw more than 100 pitches this year, so it will be interesting to see how he bounces back. However, the Astros' prospect has shown an ability to work deep into games, going at least six innings in eight of 12 starts.
Friday's Top 100 probables:
No. 34 Anderson Espinoza (Red Sox's No. 4), Greenville vs. Lakewood (A)
No. 47 Jeff Hoffman (Rockies' No. 4), Albuquerque vs. Fresno (Triple-A)
No. 71 Jack Flaherty (Cardinals' No. 2), Palm Beach vs. St. Lucie (A Advanced)
More top prospect probables:
Mike Clevinger (Indians' No. 7), Columbus vs. Norfolk (Triple-A)
Alec Mills (Royals' No. 13), Omaha vs. New Orleans (Triple-A)
Brock Stewart (Dodgers' No. 26), Oklahoma City vs. Round Rock (Triple-A)
Pierce Johnson (Cubs' No. 11), Iowa vs. Nashville (Triple-A)
Brady Rodgers (Astros' No. 27), Fresno vs. Albuquerque (Triple-A)
Joan Gregorio (Giants' No. 12), Sacramento vs. Tacoma (Triple-A)
Nick Pivetta (Phillies' No. 18), Reading vs. Portland (Double-A)
Sal Romano (Reds' No. 15), Pensacola vs. Tennessee (Double-A)
Jen-Ho Tseng (Cubs' No. 24), Tennessee vs. Pensacola (Double-A)
Kyle Crick (Giants' No. 17), Richmond vs. Binghamton (Double-A)
Andrew Moore (Mariners' No. 10), Jackson vs. Chattanooga (Double-A)
Connor Sadzeck (Rangers' No. 26), Frisco vs. Corpus Christi (Double-A)
Eric Skoglund (Royals' No. 27), Northwest Arkansas vs. Tulsa (Double-A)
Felix Jorge (Twins' No. 25), Fort Myers vs. Jupiter (A Advanced)
Yeudy Garcia (Pirates' No. 18), Bradenton vs. Charlotte (A Advanced)
Cody Ponce (Brewers' No. 8), Brevard County vs. Clearwater (A Advanced)
Elniery Garcia (Phillies' No. 21), Clearwater vs. Brevard County (A Advanced)
Ian Clarkin (Yankees' No. 10), Tampa vs. Dunedin (A Advanced)
Spencer Adams (White Sox No. 3), Winston-Salem vs. Wilmington (A Advanced)
Travis Lakins (Red Sox No. 11), Salem vs. Frederick (A Advanced)
Josh Taylor (D-backs' No. 25), Visalia vs. Inland Empire (A Advanced)
Patrick Weigel (Braves' No. 30), Rome vs. Charleston (A)
Imani Abdullah (Dodgers' No. 22), Great Lakes vs. Lake County (A)
Casey Shane (Indians' No. 28), Lake County vs. Great Lakes (A)
Luis Martinez (White Sox No. 29), Kannapolis vs. Delmarva (A)
Nolan Watson (Royals' No. 5), Lexington vs. Hagerstown (A)
Franklyn Kilome (Phillies' No. 8), Lakewood vs. Greenville (A)
Dario Agrazal (Pirates' No. 30), West Virginia vs. Asheville (A)
Miguel Diaz (Brewers' No. 27), Wisconsin vs. Quad Cities (A)