Pipeline preview: Giolito to show off top prospect talent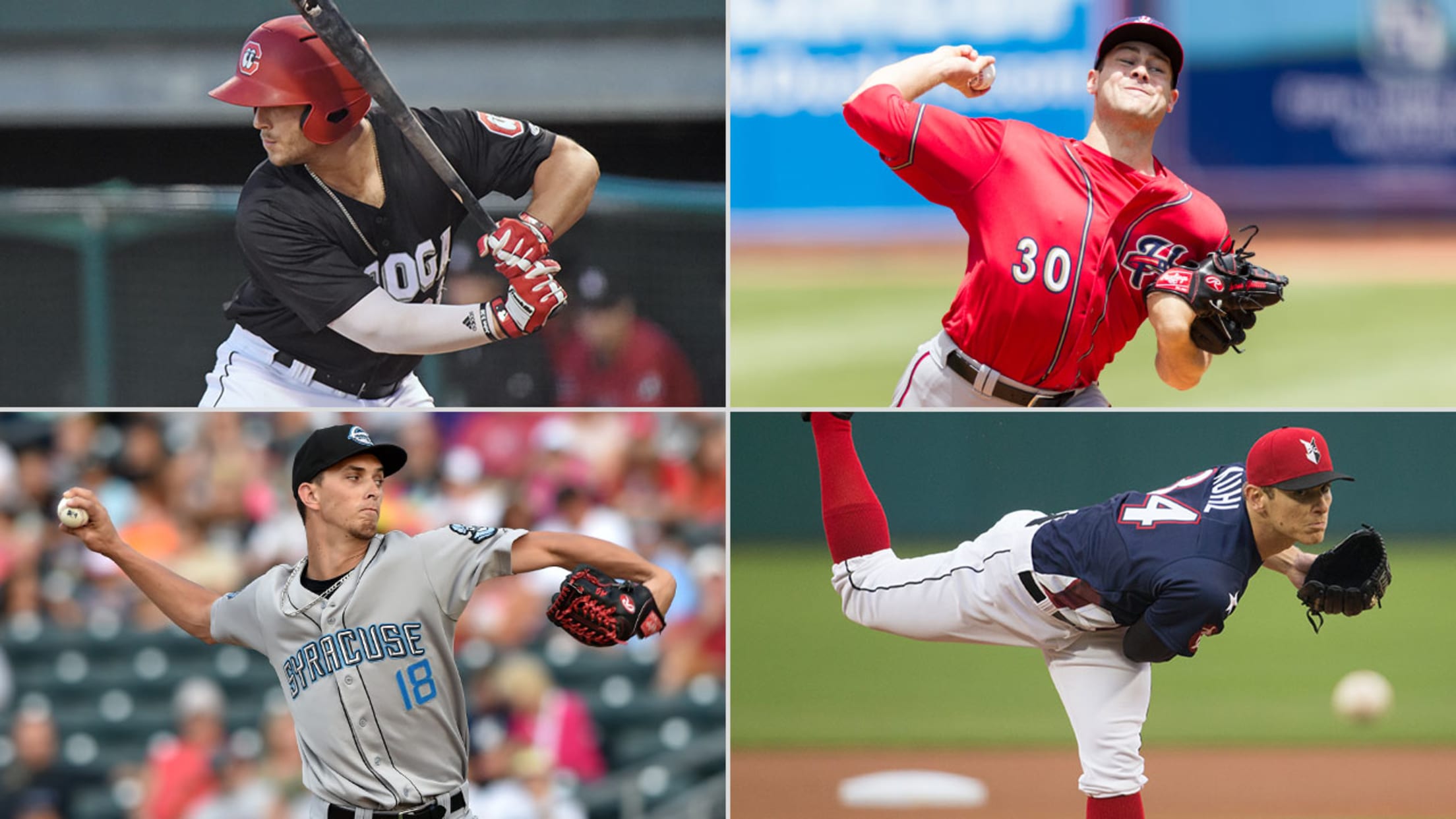 Here's a look at top prospects to watch Friday in Minor League action:Hitter to watch: Daniel Palka (Twins' No. 28) Chattanooga vs. Tennessee (7:05 p.m. ET on MiLB.TV)Palka may be well on his way toward establishing a new career high for homers. The Twins' prospect has made a habit of
Here's a look at top prospects to watch Friday in Minor League action:
Hitter to watch: Daniel Palka (Twins' No. 28)
Chattanooga vs. Tennessee (7:05 p.m. ET on MiLB.TV)
Palka may be well on his way toward establishing a new career high for homers. The Twins' prospect has made a habit of jogging around the bases recently, as he has three multi-homer games this month, including Thursday's contest in which he went 2-for-3 with two homers and four RBIs.
After hitting a career-high 29 long balls in 2015, Palka was sent from the D-backs to the Twins in an offseason trade, and clearly his power carried over to the new organization. Through 56 games, Palka is hitting .270 with 14 homers and 47 RBIs.
Pitcher to watch: Lucas Giolito (Nationals' No. 1)
Harrisburg vs. Akron (7:00 p.m. ET on MiLB.TV)
Baseball's top prospect has shown he is deserving of the honor in each of his last three starts. Over that span, Giolito have given up three earned runs over 19 innings with 20 strikeouts.
Giolito is 4-2 with a 2.98 ERA this season, a number that he's reduced in six straight outings. The 21-year old struck out a season-high eight in his last start, but more importantly, he threw 66 of his 88 pitches for strikes. Looking to string together a fourth straight quality start, Giolito takes the hill against Akron on MiLB.TV.
Duel of the day: A.J. Cole (Nationals' No. 7) vs. Chad Kuhl (Pirates' No. 16)
Syracuse vs. Indianapolis (7:15 p.m. ET on MiLB.TV)
After a pair of average outings, Cole is looking for a strong start against Indianapolis. The Nationals' prospect has given up three runs in each of his last two outings. However, he has not lost a start since May 8.
Kuhl gave up a pair of homers in his last start and was yanked after 3 2/3 innings, his shortest outing of 2016. Prior to that rough outing, Kuhl had gone at least five innings in nine straight starts, a number he will look to hit once again Friday. The 23-year-old is 5-1 with a 1.75 ERA this season.
Friday's Top 100 probables:
No. 1 Lucas Giolito (Nationals' No. 1) Harrisburg vs. Akron (AA)
No. 11 Alex Reyes (Cardinals' No. 1) Memphis vs. Colorado Springs (AAA)
No. 50 Jake Thompson (Phillies' No. 2) Lehigh Valley vs. Durham (AAA)
More top prospect probables:
Jon Moscot (Reds' No. 23) Louisville vs. Pawtucket (AAA)
Lucas Sims (Braves' 11) Gwinnett vs. Norfolk (AAA)
A.J. Cole (Nationals' No. 7) Syracuse vs. Indianapolis (AAA)
Chad Kuhl (Pirates' No. 16) Indianapolis vs. Syracuse (AAA)
Dillon Overton (Athletics' No. 10) Nashville vs. Oklahoma City (AAA)
Zach Lee (Dodgers' No. 21) Oklahoma City vs. Nashville (AAA)
Clayton Blackburn (Giants' No. 11) Sacramento vs. El Paso (AAA)
Zack Godley (D-backs' No. 24) Reno vs. Tacoma (AAA)
Kyle McGowin (Angels' No. 15) Salt Lake vs. Fresno (AAA)
Mitch Brown (Indians' No. 30) Akron vs. Harrisburg (AA)
Kyle Crick (Giants' No. 17) Richmond vs. Portland (AA)
Jason Garcia (Orioles' No. 9) Bowie vs. New Hampshire (AA)
Brad Markey (Cubs' No. 29) Tennessee vs. Chattanooga (AA)
Josh Turley (Tigers' No. 29) Erie vs. Trenton (AA)
Ryan Yarbrough (Mariners' No. 12) Jackson vs. Mississippi (AA)
Andrew Thurman (Braves' No. 17) Mississippi vs. Jackson (AA)
Yohander Mendez (Rangers' No. 13) Frisco vs. San Antonio (AA)
Dinelson Lamet (Padres' No. 10) San Antonio vs. Frisco (AA)
Anthony Banda (D-backs' No. 14) Mobile vs. Jacksonville (AA)
Chase De Jong (Dodgers' No. 17) Tulsa vs. Northwest Arkansas (AA)
Brandon Woodruff (Brewers' No. 30) Biloxi vs. Birmingham (AA)
Chance Adams (Yankees' No. 20) Tampa vs. Bradenton (A-Advanced)
Thomas Eshelman (Phillies' No. 15) Clearwater vs. Charlotte (A-Advanced)
Jordan Stephens (White Sox No. 13) Winston-Salem vs. Carolina (A-Advanced)
Austin Gomber (Cardinals' No. 17) Palm Beach vs. Daytona (A-Advanced)
Zack Erwin (Athletics' No. 22) Stockton vs. Bakersfield (A-Advanced)
Max Fried (Braves' No. 10) Rome vs. Greensboro (A)
Peter Lambert (Rockies' No. 13) Asheville vs. Charleston (A)
Domingo Acevedo (Yankees' No. 7) Charleston vs. Asheville (A)
Brian Gonzalez (Orioles' No. 23) Delmarva vs. Lakewood (A)