Pipeline preview: Meadows looking to stay hot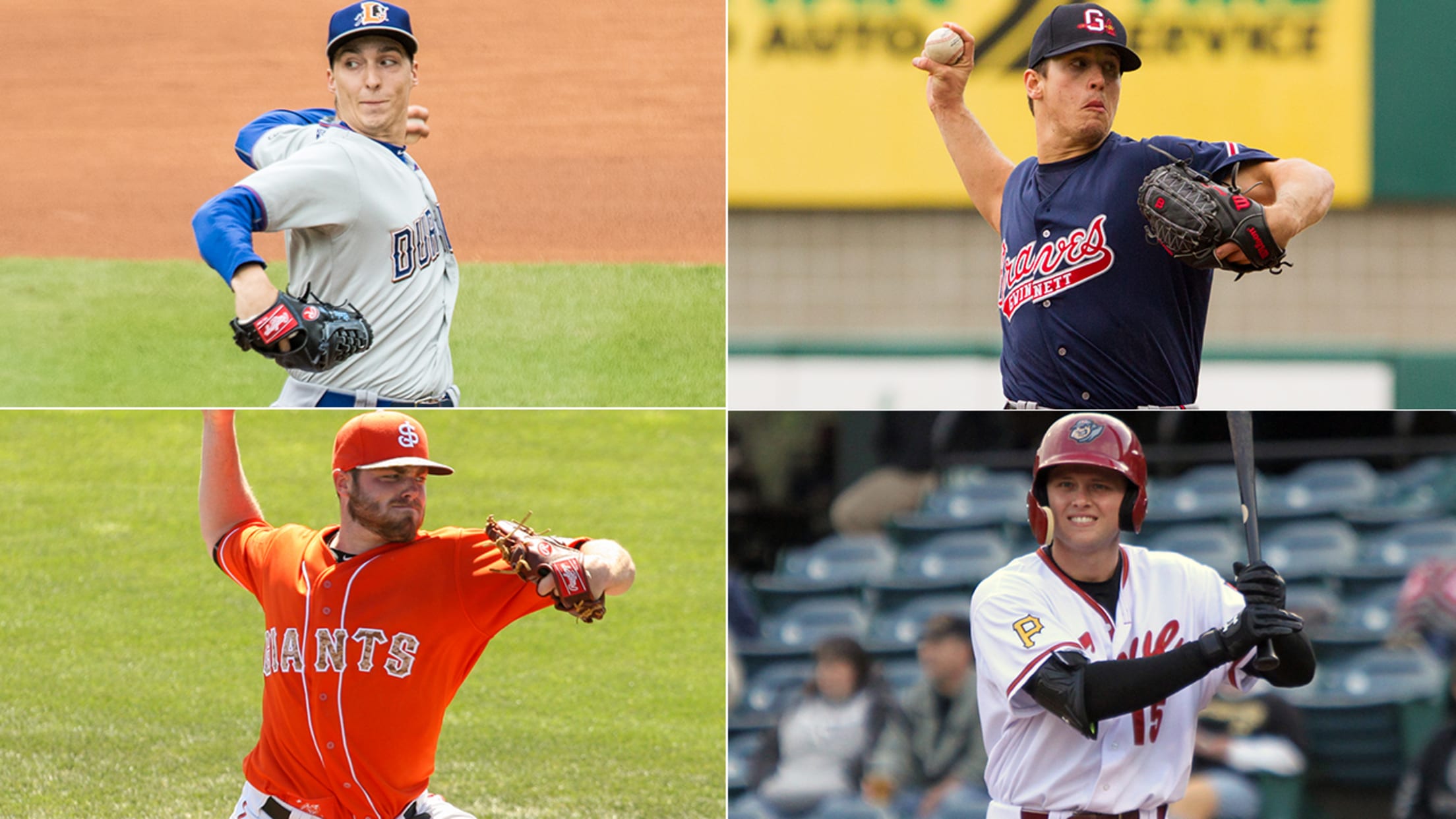 Here's a look at top prospects to watch in today's Minor League action:Hitter to watch: Austin Meadows (Pirates' No. 2)Meadows tripled for a fourth straight game for Double-A Altoona on Saturday to extend his hitting streak to 13 games. The No. 16 overall prospect has hit a robust .458 (22-for-48) thanks
Here's a look at top prospects to watch in today's Minor League action:
Hitter to watch: Austin Meadows (Pirates' No. 2)
Meadows tripled for a fourth straight game for Double-A Altoona on Saturday to extend his hitting streak to 13 games. The No. 16 overall prospect has hit a robust .458 (22-for-48) thanks to eight multi-hit games during his streak, and six of his Eastern League-leading eight triples have come in that span. Overall, the 21-year-old center fielder is hitting .298 with 17 extra-base hits through 34 games. Watch as Meadows attempts to extend his streak to 14 games when Altoona hosts Binghamton at 6:00 p.m. ET on MiLB.TV.
MILB Video - Title: Meadows smacks a triple - Url: http://www.milb.com/r/video?content_id=774750483
Pitcher to watch: Sam Coonrod (Giants' No. 6)
Coonrod enters the day having won five straight starts for Class-A Advanced San Jose. In his latest turn on May 30, the 2014 fifth-round Draft pick matched his season high with seven strikeouts and allowed just two hits in 6 2/3 scoreless innings. Coonrod is pacing the California League this season with a 1.45 ERA through 49 2/3 innings (nine starts), during which he's held opposing hitters to a .210 average without allowing a home run. He'll make his 10th start of the year when San Jose hosts Bakersfield at 4:00 p.m. ET on MiLB.TV.
MILB Video - Title: Coonrod's seventh K - Url: http://www.milb.com/r/video?content_id=757656483
Duel of the day: Blake Snell (Rays' No. 1) vs. Lucas Sims (Braves' No. 11), Durham vs. Gwinnett (5:05 p.m. ET on MiLB.TV)
After he allowed a season-worst five earned runs in his May 26 start, Snell, No. 12 on the Top 100, returned to form in his latest outing for Triple-A Durham by fanning five hitters in five scoreless innings. The 23-year-old left-hander has pitched well for the Bulls since returning to the Minor Leagues, posting a 3.89 ERA with 47 strikeouts in 37 innings across seven starts.
MILB Video - Title: Snell's ninth strikeout - Url: http://www.milb.com/r/video?content_id=718225383
Sims, meanwhile, has struggled to keep the ball in the park for Gwinnett, as he enters the day having allowed nine home runs in 38 2/3 innings since being promoted from Double- to Triple-A in late April. The 22-year-old righty has pitched to a 6.05 ERA in that span, giving him an overall 4.89 ERA in 53 1/3 innings between both levels.
MILB Video - Title: Sims' 10th K - Url: http://www.milb.com/r/video?content_id=597774383
Sunday's Top 100 prospect probables

No. 15 Jose Berrios (Twins' No. 1), Rochester at Louisville (2:05 p.m. ET on MiLB.TV)
No. 50 Jake Thompson (Phillies' No. 2), Lehigh Valley at Charlotte (2:05 p.m. ET on MiLB.TV)
No. 52 Jorge Lopez (Brewers' No. 3), Colorado Springs at New Orleans (2:00 p.m. ET on MiLB.TV)
No. 64 Amir Garrett (Reds' No. 4), Pensacola at Jackson (7:05 p.m. ET on MiLB.TV)
No. 67 Luis Ortiz (Rangers' No. 4), Frisco vs. Springfield (7:05 p.m. ET on MiLB.TV)
More top prospect probables

Alex Young (D-backs' No. 3) vs. Marcos Diplan (Brewers' No. 19), Kane County at Wisconsin (A)
Sean Reid-Foley (Blue Jays' No. 3), Lansing vs. Bowling Green (A)
Spencer Adams (White Sox No. 3), Winston-Salem vs. Wilmington (A-Advanced)
Victor Alcantara (Angels' No. 4), Arkansas vs. San Antonio (AA)
Andrew Suarez (Giants' No. 9) vs. Austen Williams (Nationals' No. 20), Richmond vs. Harrisburg (AA)
Tyler Danish (White Sox No. 11) vs. Anthony Banda (D-backs' No. 14), Birmingham vs. Mobile (AA)
Andrew Moore (Mariners' No. 10), Jackson vs. Pensacola (AA)
Dinelson Lamet (Padres' No. 10), Lake Elsinore vs. High Desert (A-Advanced)
Tyler Mahle (Reds' No. 11), Daytona at Fort Myers (A-Advanced)
Jake Woodford (Cardinals' No. 12), Peoria at Cedar Rapids (A)
Robert Gsellman (Mets' No. 12), Binghamton at Altoona (AA)
Daniel Mengden (A's No. 14), Nashville at Omaha (AAA)
Tom Eshelman (Phillies' No. 15) vs. Jeff Brigham (Marlins' No. 27), Clearwater vs. Jupiter (A-Advanced)
Chad Kuhl (Pirates' No. 16), Indianapolis at Toledo (AAA)
Ryan Castellani (Rockies' No. 16), Modesto at Lancaster (A-Advanced)
Andrew Thurman (Braves' No. 17), Mississippi vs. Tennessee (AA)
Chase De Jong (Dodgers' No. 17), Tulsa at Midland (AA)
Sandy Baez (Tigers' No. 20), West Michigan at South Bend (A)
Zach Lee (Dodgers' No. 21), Oklahoma City at Round Rock (AAA)
Seth Lugo (Mets' No. 23), Las Vegas vs. Tacoma (AAA)
Zack Godley (D-backs' No. 24), Reno vs. Salt Lake (AAA)
Ryan Merritt (Indians' No. 27), Columbus at Scranton/Wilkes-Barre (AAA)
Brandon Woodruff (Brewers' No. 30), Biloxi at Montgomery (AA)
Tanner Rainey (Reds' No. 30), Dayton at Fort Wayne (A)