Pipeline preview: Palka ready to start a hot streak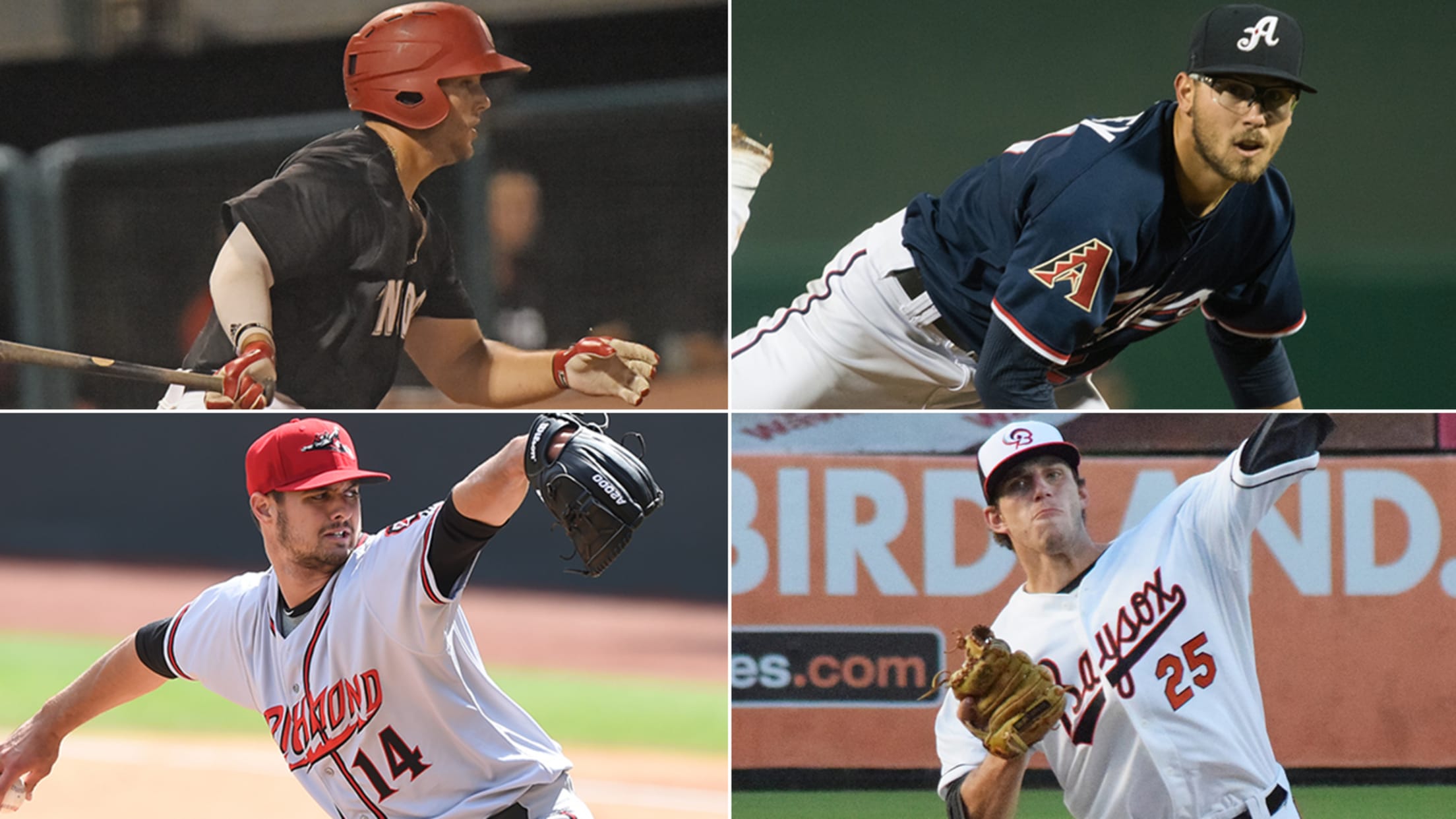 Here's a look at top prospects to watch Thursday in Minor League action:Hitter to watch: Daniel Palka (Twins' No. 28) Chattanooga vs. Birmingham 8:05 p.m. ET on MiLB.TV After hitting a pair of homers in Wednesday's win, Palka will be looking to provide more offensive fireworks Thursday night. In Palka's
Here's a look at top prospects to watch Thursday in Minor League action:
Hitter to watch: Daniel Palka (Twins' No. 28)
Chattanooga vs. Birmingham 8:05 p.m. ET on MiLB.TV

After hitting a pair of homers in Wednesday's win, Palka will be looking to provide more offensive fireworks Thursday night. In Palka's first season with the Twins - he was acquired in a trade with the D-backs during the offseason -- and at the Double-A Level, Palka is hitting .268 with nine homers and 34 RBIs in 48 games. Wednesday's two homer game may be a sign that Palka is about to get hot at the plate, but a big offensive performance won't come easy Thursday as he is set to face Carson Fulmer, the No. 33 overall prospect.
Pitcher to watch: Braden Shipley (D-backs' No. 1)
Reno vs. Las Vegas 7:05 p.m. on MiLB.TV

Shipley is 3-3 with a 3.18 ERA through 10 starts this season and is coming off his longest start of the year as he pitched eight innings. The D-backs' top prospect was victimized by the home run ball in his last outing -- he gave up a trio of blasts -- but has only given up a total of four homers in 62 1/3 innings this season so it's reasonable to expect he will do a better job of keeping the ball in the yard Thursday.
MILB Video - Title: Shipley finishes six scoreless - Url: http://www.milb.com/r/video?content_id=730852783
Duel of the day: John Means (Orioles' No. 28) vs. Tyler Beede (Giants' No. 2)
Bowie vs. Richmond 6:35 p.m. ET on MiLB.TV

Up until his last start, it was hard to find any flaw in Means' 2016 campaign. The Orioles' prospect has pitched exceptionally well and despite giving up four earned runs in 5 1/3 in his last outing, he is 5-1 with a 2.28 ERA through 10 starts. It will be interesting to see how he responds to the first adversity he's faced in 2016.
Beede, the Giants' first-round selection in 2014, has thrown seven innings in each of his last two starts and has been very consistent for Richmond. Beede has a 3.53 ERA through nine starts, but has lost his last two decisions and hasn't recorded a win since May 3.
MILB Video - Title: Beede records a K - Url: http://www.milb.com/r/video?content_id=146902783
Thursday's Top 100 probables:
No. 17 Sean Newcomb (Braves' No. 2) Mississippi vs. Biloxi (AA)
No. 33 Carson Fulmer (White Sox No. 1) Birmingham vs. Chattanooga (AA)
No. 47 Jeff Hoffman (Rockies' No. 4) Albuquerque vs. Fresno (AAA)
No. 62 Braden Shipley (D-backs' No. 1) Reno vs. Las Vegas (AAA)
No. 98 Justus Sheffield (Indians' No. 5) Lynchburg vs. Wilmington (A-Advanced)
More top prospect probables:
Trevor Williams (Pirates' No. 24) Indianapolis vs. Rochester (AAA)
Gabriel Ynoa (Mets' No. 13) Las Vegas vs. Reno (AAA)
Nick Pivetta (Phillies No. 18) Reading vs. Portland (AA)
Kyle Freeland (Rockies' No. 7) Hartford vs. Trenton (AA)
Alec Mills (Royals' No. 14) Northwest Arkansas vs. San Antonio (AA)
Clay Holmes (Pirates' No. 15) Altoona vs. Akron (AA)
John Means (Orioles' No. 28) Bowie vs. Richmond (AA)
Tyler Beede (Giants' No. 2) Richmond vs. Bowie (AA)
Yoan Lopez (D-backs' No. 6) Mobile vs. Pensacola (AA)
Austin Brice (Marlins' No. 23) Jacksonville vs. Montgomery (AA)
Jacob Faria (Rays' No. 9) Montgomery vs. Jacksonville (AA)
Trey Nielsen (Cardinals' No. 22) Springfield vs. Midland (AA)
Raul Alcantara (Athletics' No. 16) Midland vs. Springfield (AA)
Sam Wolff (Rangers' No. 25) Frisco vs. Tulsa (AA)
David Paulino (Astros' No. 7) Corpus Christi vs. Arkansas (AA)
Tyler Alexander (Tigers' No. 14) Lakeland vs. Brevard County (A-Advanced)
Austin Gomber (Cardinals' No. 17) Palm Beach vs. Bradenton (A-Advanced)
Josh Staumont (Royals' No. 18) Wilmington vs. Lynchburg (A-Advanced)
Max Povse (Braves' No. 25) Carolina vs. Winston-Salem (A-Advanced)
Felix Jorge (Twins' No. 25) Fort Myers vs. St. Lucia (A-Advanced)
Cody Reed (Diamondbacks' No. 13) Visalia vs. San Jose (A-Advanced)
Jeremy Rhoades (Angels' No. 17) Inland Empire vs. Lancaster (A-Advanced)
Ofelky Peralta (Orioles' No. 14) Delmarva vs. Greensboro (A)
Jon Harris (Blue Jays' No. 4) Lansing vs. Dayton (A)
Franklyn Kilome (Phillies' No. 8) Lakewood vs. Hickory (A)
Patrick Weigel (Braves' No. 30) Rome vs. Lexington (A)
Scott Blewett (Royals' No. 6) Lexington vs. Rome (A)
Logan Allen (Padres' No. 7) Fort Wayne vs. South Bend (A)
Joe Gatto (Angels' No. 6) Burlington vs. Kane County (A)
Devin Williams (Brewers' No. 9) Wisconsin vs. Peoria (A)