Pirates crucial fabric of life for one family
93-year-old Hildegarde Eastland passes away after Harrison's historic walk-off home run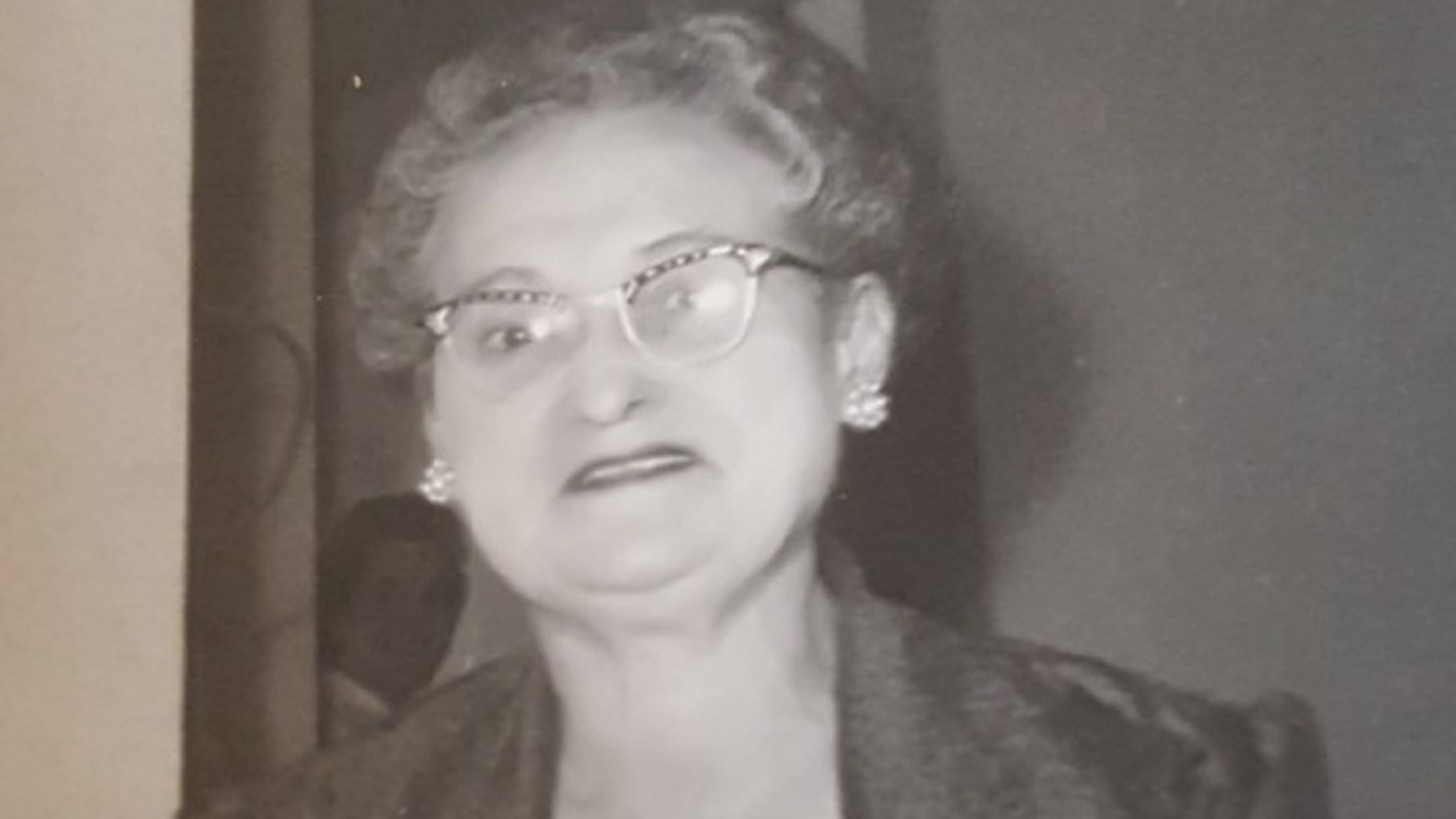 Nel Barleman started a family tradition of Pirates baseball when she became a season-ticket holder in the early 1920s. (Courtesy of the Grantham family )
ATLANTA -- So, there I was, cycling like crazy during my weekly spin class Thursday at a fitness club in Atlanta, and the instructor mentioned to everybody in the room that she would miss Monday's class since she was heading back to her hometown of Pittsburgh for a few days.Her
ATLANTA -- So, there I was, cycling like crazy during my weekly spin class Thursday at a fitness club in Atlanta, and the instructor mentioned to everybody in the room that she would miss Monday's class since she was heading back to her hometown of Pittsburgh for a few days.
Her name is Tricia Grantham, but that's secondary to the reason she gave for her trip this weekend to western Pennsylvania.
Wow.
You won't believe what you're about to hear, and get this: As legendary Pirates announcer Bob Prince would say, I nearly missed one of the greatest stories of all-time "by a gnat's eyelash" since I usually tune out everything during these cycling sessions that doesn't involve the beat of the music.
Let's return to Rich Hill's Wednesday night on the pitcher's mound for the Dodgers in Pittsburgh, where he went from a perfect game for eight innings to a no-hitter into the 10th to one of the most excruciating losses in Major League Baseball history, but only if you're not a Pirates fan. In the bottom of the 10th, Josh Harrison provided the first and the last hit of the night off Hill by smashing a fastball beyond the left-field wall at PNC Park for a Pirates victory that actually was more dramatic than that.
We're back to Tricia, the cycling instructor, and it seems her 93-year-old grandmother named Hildegarde Eastland was surrounded by a bunch of relatives as she watched that pitchers' duel between the Pirates and the Dodgers from her bed under hospice care at the Pittsburgh-area home of Tricia's Aunt Barb Makohus. While those around Grandmom Eastland played Scattergories between glances at the 0-0 thriller on the big screen, the family matriarch stayed focused on the game, which wasn't difficult. She did so as a youth in the stands at Forbes Field before she carried her allegiance to everything black and gold to Three Rivers Stadium and then to the new place.
"Then Harrison hits the home run Wednesday night, and they all freak out in the room around my grandmother, you know, because of the way the Pirates won the game, and after that, they all looked over at her, and she wasn't breathing anymore," Tricia said, softly, relaying the details she heard from others who were present.

I eventually got an eyewitness report from Aunt Barb, Grandma Eastland's daughter, who spent recent weeks thrilling her bed-ridden mother by giving her the starting lineups of both teams before every Pirates game, along with whatever updates on the team she wished to know. One of Grandma Eastland's nephews used to perform that role for years, but when he died a few months ago, Aunt Barb took over those duties.
The last such time for Aunt Barb was Wednesday.
"Yeah, we'd just finished with our board game, and Josh Harrison came to bat, and we're all like, 'OK. We need this. We need a walk-off home run,' and we're all saying that," Aunt Barb recalled, easing into a laugh. "Sure enough, he got up there, hit the home run, and we're all like, 'Yeah, YEAH!' We looked over, and my mom had passed away. Very peacefully. It was so emotional. It was like, 'Oh, wow.' So, I'm sure thankful the Pirates won."

No question there, because to hear Tricia and Aunt Barb tell it, the only person in the history of the earth who pulled for the Pirates more than Grandma Eastland was Nel Barleman, Grandma Eastland's mother and Tricia's great-grandmother. All you need to know is that Tricia's great-grandmother became so annoyed by her husband's love affair with the opera during the early 1920s that she let him enjoy the tenors and the sopranos while she studied the catchers and the outfielders at Forbes Field. She became a regular season-ticket holder, and she evolved into a familiar sight for generations of Bucs players.
Tricia's great-grandmother was part of a long tradition of that side of her family living in the Mount Washington area of Pittsburgh that sits above downtown. They took "the incline" railroad from those hilly neighborhoods to the flatter lands of Forbes Field. After Tricia's great-grandmother's relatively short trip to the ballpark, she headed to her seat near the dugout on the first-base side, where she witnessed those powerhouse Pirates teams of Pie Traynor before the Great Depression, the rough years of the 1940s and the 1950s, and Bill Mazeroski's game-winner over the Yankees in the 1960 World Series.
Tricia's great-grandmother died in the latter 1960s, but not before she collected a slew of autographed balls, including a couple from Roberto Clemente, her favorite player not named Bob Friend, while keeping a meticulous scrapbook filled with memories from various Pirates teams.
"She just loved her Pirates, and so did my mom," Aunt Barb said, referring to Grandma Eastland, who joined Tricia's great-grandmother as a disciple of listening to Prince on the radio, even to the point of turning down the sound of the TV announcers. "It seems like this love of the Pirates has gone down through the years through the women, because I have two brothers, and neither of them could care less about them. So, I guess you could say the women are carrying on the tradition of our family with baseball and the Pirates."
Take Tricia, for instance. Even though her husband, Greg, grew up a long way from Pirates country in Northern Virginia as an Orioles fan, he didn't cringe after he discovered 15 years ago that he was marrying somebody who would require that their two sons wear Pirates paraphernalia as babies and beyond.

The Granthams are a huge baseball family. Jacob, 13, and Lucas, 11, have excelled so much with their Little League teams through the years in the Atlanta area that their parents live at the ballpark each summer.
"Our goal is that next year, we win the state and get a chance to make it to the Little League World Series," Tricia said. "Our kids already are training. They're really serious about making that trip to the Little League World Series happen. We had practice last night, and they'll have more practices this weekend."
Tricia's boys won't be there. They're off with their parents to Pittsburgh for Grandma Eastland's funeral on Monday.
"When I told the kids that we were going to Pittsburgh, do you know what they asked us before anything else?" Tricia said, before suggesting that Grandma Eastland was somewhere Up There preparing to share a laugh with Roberto, Prince and others over the following: "The kids asked us, 'Are the Pirates in town?'"
Terence Moore has covered a variety of sports for more than three decades and contributes columns to MLB.com.