Inbox: What's Pittsburgh's solution at shortstop?
Beat reporter Adam Berry answers questions from fans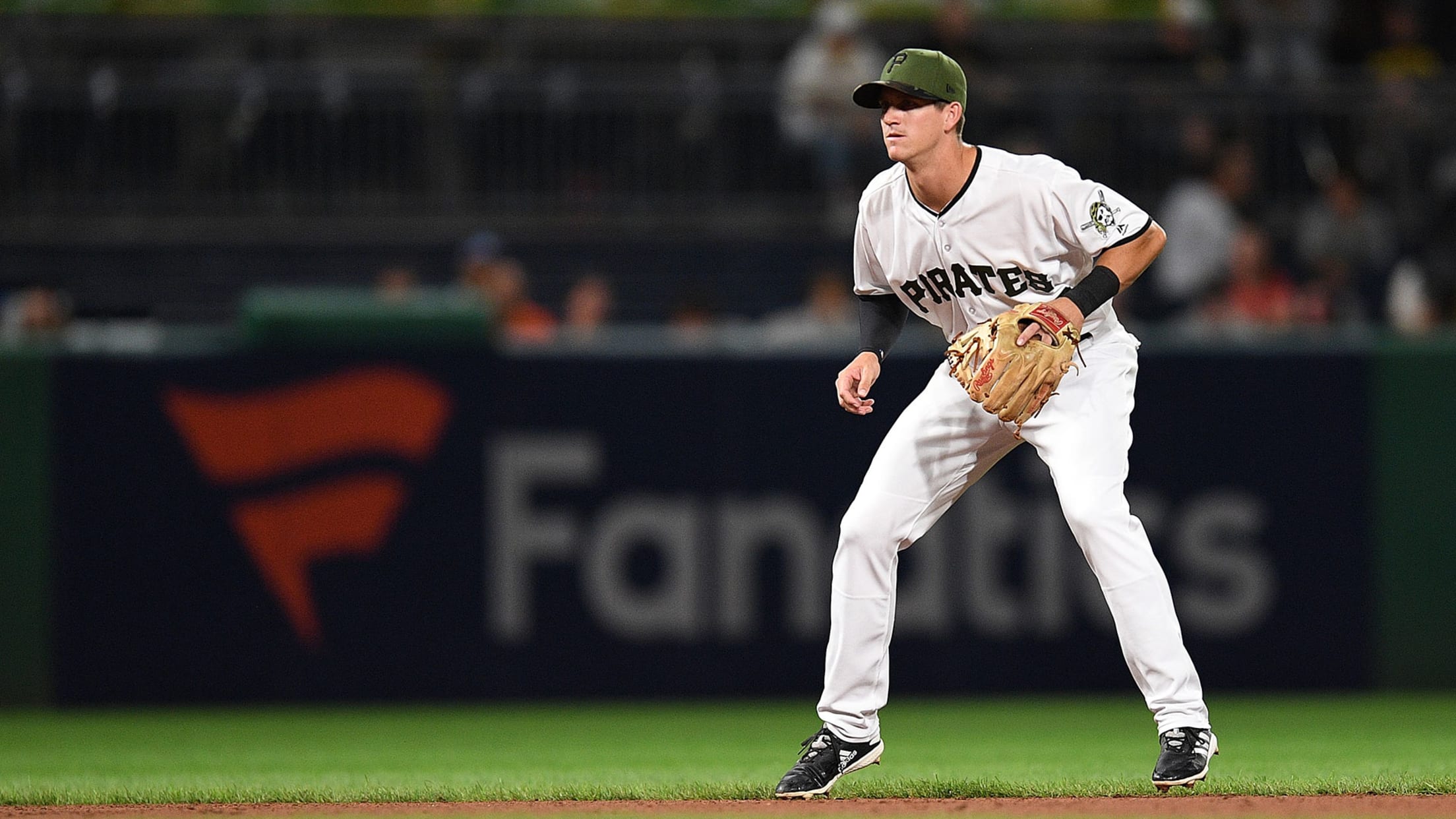 The rotation and bullpen look solid. The outfield and two-headed monster behind the plate are top three in the NL. If Josh Bell and Colin Moran, both young and learning, can make reasonable growth with power, we're set there. Adam Frazier has got second base, and Jungho Kang is your
The rotation and bullpen look solid. The outfield and two-headed monster behind the plate are top three in the NL. If Josh Bell and Colin Moran, both young and learning, can make reasonable growth with power, we're set there. Adam Frazier has got second base, and Jungho Kang is your veteran infielder. That leaves shortstop as the only variable, and therein lies my question. What to do? -- Jeff F., Erie, Pa.
I wouldn't say shortstop is the Pirates' only question mark in that scenario. Gregory Polanco's recovery is critical to their outfield composition and offensive upside, and you're betting a lot on Bell and Moran. It's nearly impossible to make definitive statements this early in the offseason, but let's take a look at some possibilities at shortstop.
:: Submit a question to the Pirates Inbox ::
1) Give Kevin Newman the job. I don't see him being the primary shortstop on Opening Day, but I think he'll play a part, perhaps as a utility infielder. The Pirates drafted him in the first round in 2015 and pushed him through the system, believing in his contact-oriented approach, speed and steady defense. But he struggled in his debut, batting .209 with a .478 OPS and four errors in the field. He could play his way into a bigger role, and fellow shortstop prospect Cole Tucker may not be far behind.
2) Sign a free agent. Take a look at the list of shortstops expected to be available, and you won't find a game-changing player beyond Manny Machado, who will inspire a big-market bidding war. Jose Iglesias, Freddy Galvis and Adeiny Hechavarria would upgrade Pittsburgh's infield defense, though, and a strong glove should be the priority at shortstop.
3) Explore the trade market. It's hard to say in October who will or won't move this offseason, so we're left to speculate. If the D-backs rebuild, for instance, perhaps slick-fielding Nick Ahmed would be available. Would the Orioles consider flipping base-stealing threat Jonathan Villar? What would it take to pry former top prospect Jurickson Profar from the Rangers?
4) Re-sign Jordy Mercer. There's something to be said for the safe route. Mercer is a known quantity on the field and a veteran leader in the clubhouse, but he's earned the right to see what other opportunities are out there as a free agent. Interestingly, GM Neal Huntington said the Pirates believe Mercer, whether he's in Pittsburgh or elsewhere, can unlock more power later in his career by learning from the adjustments made this year by veterans like David Freese and Francisco Cervelli.
With the subtractions of their biggest contracts like Andrew McCutchen, Gerrit Cole, Josh Harrison, Mercer and a few select others that freed them up a couple million, do the Pirates have enough money to go after a significant free agent this offseason? If so, who would be the best fit if the price was right? -- Cody W., Pittsburgh
The Pirates' Opening Day payroll was down this year after trading McCutchen and Cole. They dealt Freese in August, and they'll be clear next season of their obligations to Mercer and Sean Rodriguez. They will create additional space if they decline Harrison's option.
However, they added to their future commitments by acquiring Corey Dickerson, projected by MLB Trade Rumors to earn $8.4 million in arbitration next year; Chris Archer, who is due $7.5 million (plus one-sixth of his $1 million signing bonus) through the extension he signed with the Rays; and Keone Kela, projected to make $3.2 million in 2019.
On top of that, the guaranteed contracts of Starling Marte, Cervelli, Polanco and Felipe Vazquez call for modest raises. By my back-of-the-notebook math, their estimated 2019 payroll at this moment projects to be about $75 million.
Pittsburgh began this season with an Opening Day payroll of $84,585,833, according to USA Today, but spent closer to $90 million on the Major League roster by the end of the season. We don't know what the budget is heading into next season, and it's worth noting attendance at PNC Park dropped for the third straight year. But let's use those numbers as a guidepost.
If the Pirates begin 2019 in roughly the same place they finished '18, without subtracting any significant salaries, they'll have about $15 million to address their needs. They'll consider bringing back Kang, for one. Picking up his option would bump their projected payroll to around $80 million, or they could try to negotiate a new deal.
We covered their need for a shortstop above, and they'll likely need a replacement right fielder while Polanco heals. Could they pursue good players at those positions? Sure, and I suspect they will. Are they going to be involved at the top of the market? Don't bet on it.
As ever, they must make smart acquisitions, be creative and get the most out of what they have in order to succeed.
Why couldn't they use Bell in right until Polanco comes back and put Cervelli at first? That would free up space on the roster for Jacob Stallings. -- Jason G., Munhall, Pa.
Bell played some right field in 2016 but hasn't worked there on a consistent basis since the '14 season. If they were going to move him, it would have made a lot more sense to do so when they were scrambling to find three outfielders following Marte's suspension in 2017. They didn't, because they wanted him to focus on improving at first base. The same holds true now.