Pirates welcome off-day after rough stretch
Pittsburgh has lost 12 of last 16 to finish 31-day run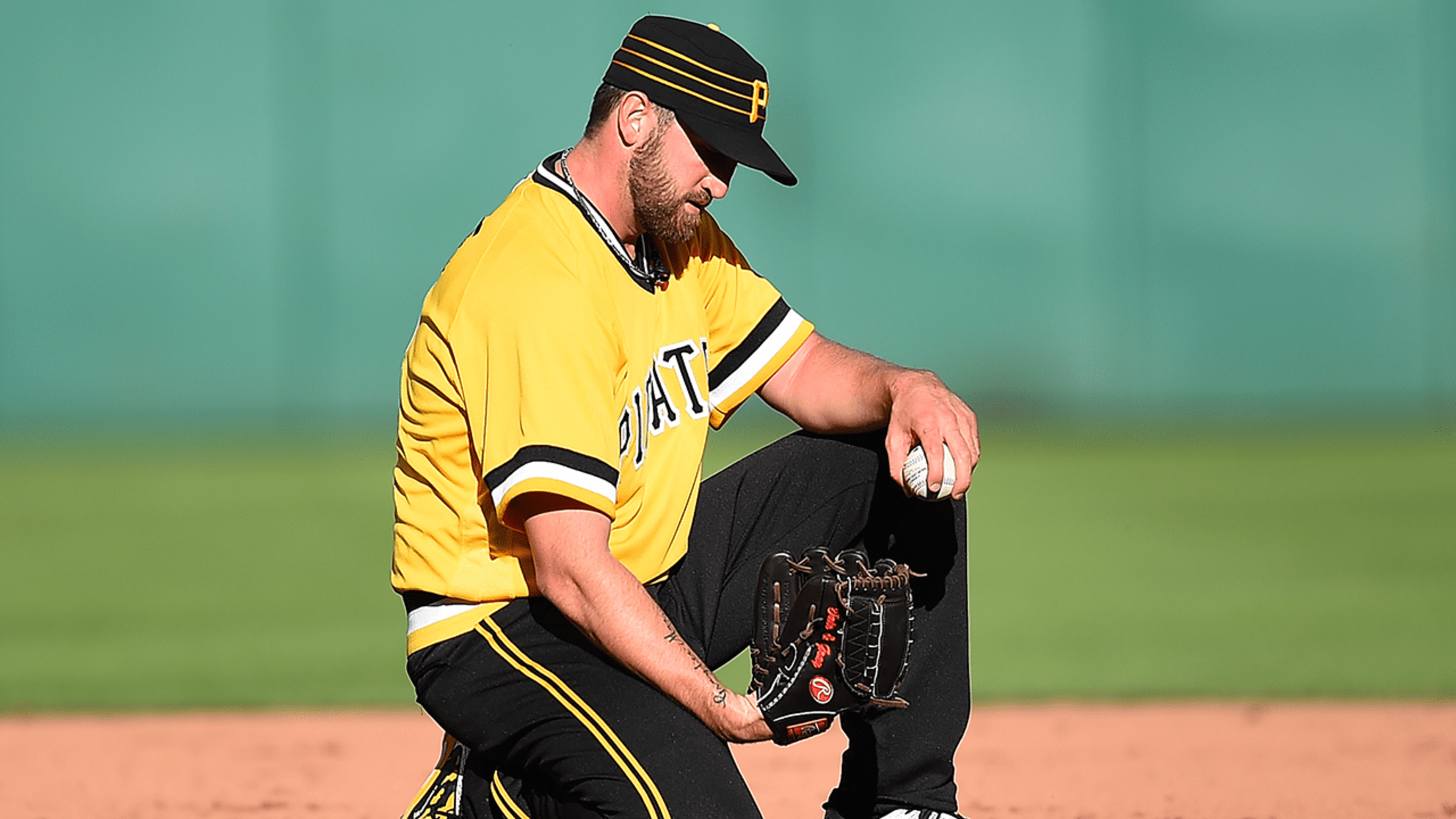 Jonathon Niese reacts after bobbling a ball hit by Jhonny Peralta in the sixth inning of Sunday's 8-3 loss. (Getty)
PITTSBURGH -- Playing 31 games in 31 days did not go well for the Pirates.After getting swept by St. Louis, Pittsburgh has lost a season-high five straight games and dropped 12 of its last 16. Monday will be the Pirates' first off-day in a month, and it's welcomed."I think it
PITTSBURGH -- Playing 31 games in 31 days did not go well for the Pirates.
After getting swept by St. Louis, Pittsburgh has lost a season-high five straight games and dropped 12 of its last 16. Monday will be the Pirates' first off-day in a month, and it's welcomed.
"I think it would be against the law to play any more in a row," manager Clint Hurdle said. "So yeah, good timing."
It's hard not to notice the Pirates' drop-off during their long stretch of games. In June, Pirates pitchers have a 5.19 ERA, the sixth-highest in the Majors. They've allowed 114 hits in 112 2/3 innings and lead MLB with 49 walks.
In Sunday's 8-3 loss to the Cardinals, starter Jonathon Niese gave up four runs in the sixth and was pulled after 5 1/3 innings.
More consistency from the starting rotation would help the bullpen, so relievers inherit less frantic situations, according to general manager Neal Huntington. Pittsburgh's bullpen has a 4.13 ERA this season but led the Majors with a 2.67 ERA last season.
"We like the talent that we have, and we think we can get some guys back on track. … The big part of it is getting Clint back to the ability to use the relievers when he wants to and not because he has to," Huntington said. "We have not been able to do that for much longer than a five, six, seven-game stretch all year."
That situation was made even more difficult when catcher Francisco Cervelli was placed on the 15-day disabled list after having surgery to repair a broken hamate bone, and ace Gerrit Cole went on the disabled list with right triceps tightness.
"You take it one step at a time," Hurdle said. "Guys continue to work. These guys are pros, they expect a lot of themselves ... we'll just find ways to continue to work, roll up our sleeves and get a little bit better. That's what we've got to do individually, and across the board."
The team has also struggled at the plate in June and hasn't provided the rotation with much support. In the Cardinals series, the Pirates were outscored, 22-7.
This month, Pittsburgh's .225 batting average is 26th in the Majors, and its .658 OPS ranks 24th. At the end of April, the Pirates led the Majors with a .293 batting average, and their .826 OPS ranked No. 3, as did their 128 runs in 24 games.
Even in the midst of a slump, center fielder Andrew McCutchen, who's hitting .241 with nine home runs, isn't ready to push the panic button yet.
"I'm pushing the reset button after every day," McCutchen said. "The off-day's great. We haven't had one in a long time. It's good that we'll be able to have one. Definitely take advantage of it, wash it away, do what you need to do, relax, get a massage, go out to eat, whatever it is and get ready for Tuesday."
Sarah K. Spencer is a reporter for MLB.com based in Pittsburgh.