Prospect Calhoun has Dodgers' attention now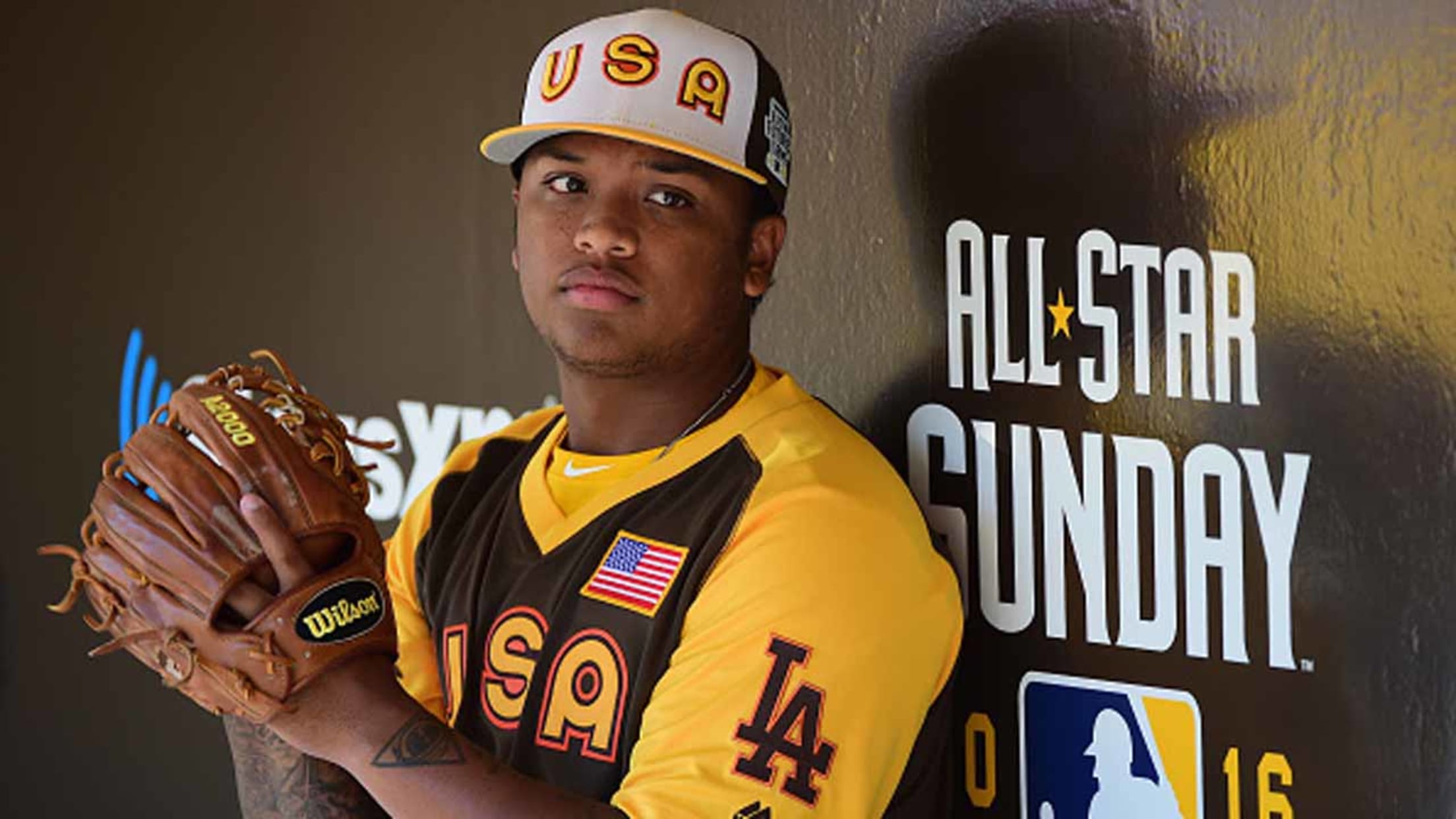 Dodgers second base prospect Willie Calhoun got the attention of team president Andrew Friedman with a promise of "a laser show" at a pre-draft tryout in 2015, and on Sunday he represented L.A. at the SiriusXM All-Star Futures Game in San Diego. (Photo by Harry How/Getty Images) (Harry How/Getty Images)
SAN DIEGO -- It was the spring of 2015, and Willie Calhoun really had only one chance at this. The Dodgers had invited him to their pre-Draft workout in Los Angeles, 378 miles south of his hometown of Benicia, Calif. And Calhoun, generously listed at 5-foot-8, was the shortest of
SAN DIEGO -- It was the spring of 2015, and Willie Calhoun really had only one chance at this. The Dodgers had invited him to their pre-Draft workout in Los Angeles, 378 miles south of his hometown of Benicia, Calif. And Calhoun, generously listed at 5-foot-8, was the shortest of the bunch.
Somehow, he needed the Dodgers to remember him. So, just before his round of batting practice, Calhoun found Andrew Friedman, the president of baseball operations, and said: "I'm going to put on a laser show."
Friedman laughed.
Weeks later, he drafted Calhoun in the fourth round. And about a year after that, he made the 21-year-old second baseman one of two Dodgers representatives for the SiriusXM All-Star Futures Game, along with Jharel Cotton, the winning pitcher in the World team's 11-3 win over the U.S. on Sunday afternoon.
Cotton -- born and raised in the U.S. Virgin Islands, living at his coach's grandparents' house in Newport News, Va., by age 16 and drafted in the 20th round out of East Carolina University four years later -- recorded the final out of the seventh inning.
"This was a great experience," Cotton said, a big smile on his face. "It worked out in my favor."
Calhoun went 0-for-2 with a line drive- - or, as he would say, a laser -- into the glove of World team right fielder Eloy Jimenez.
Moments before the game, he talked about where that comment to Friedman came from.
"I feel like I have to prove myself, over and over and over again, to really get my name set in stone," Calhoun said. "I play with a chip on my shoulder. It's something I've done my whole life."
Calhoun batted .316/.390/.519 while zipping past three levels of the Dodgers' system in 2015 and has batted .260/.326/.482 for Double-A Tulsa this summer. He made most of his progress on defense, because he's still getting used to second base after playing outfield for most of college. And everywhere he goes, Calhoun still gets asked about promising Friedman that "laser show" he seemingly delivered on.
He smiled at that from Petco Park's home clubhouse.
"I'm a really confident guy," Calhoun said. "I play with a chip on my shoulder; I like a challenge. I'm not the guy that's shy and will sit in the corner. I like to go and approach people. And I felt like if I wanted to prove myself, that was the time to do it. That was the time to do it, and I did it."