Dyson keeps same approach despite new status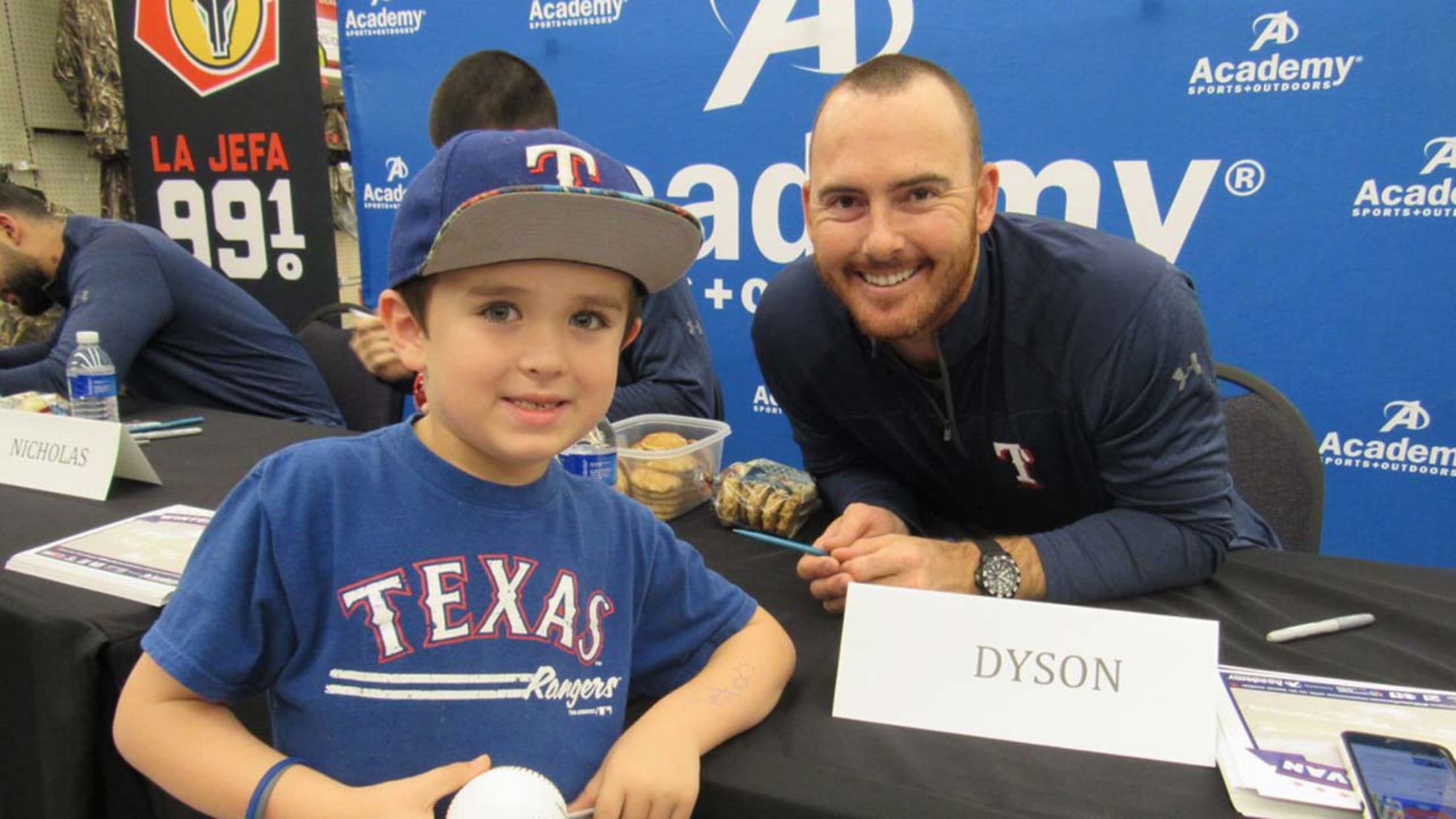 Sam Dyson poses for a photo with a young Rangers fan on Thursday. (Rangers)
ARLINGTON -- The resume Rangers right-hander Sam Dyson brings into the 2017 season is a lot different than the one he had a year ago at this time.The demeanor?:: 2017 World Baseball Classic ::That hasn't changed at all. Despite a breakout season that included 38 saves and a recent invitation
ARLINGTON -- The resume Rangers right-hander Sam Dyson brings into the 2017 season is a lot different than the one he had a year ago at this time.
The demeanor?
:: 2017 World Baseball Classic ::
That hasn't changed at all. Despite a breakout season that included 38 saves and a recent invitation to play in the World Baseball Classic for Team USA, Dyson is the same quiet, quirky reliever he was when he started '16 as one of several setup men in the Texas bullpen.
That's not changing either.
"I just keep working, show up and try to do your job," Dyson said during the club's caravan stop in Arlington on Thursday. "I don't overthink stuff. I try to be as simple as possible. I work as hard as I can, get my stuff done, try to improve on some things and stay healthy."
It'll be tough for Dyson to improve on last year. Early late-inning struggles for then-closer Shawn Tolleson opened the door for Dyson to get a chance in the ninth inning. He earned his first save on May 11 and wound up finishing seventh in the Majors in saves, with his mark also the third highest in the American League. He wrapped up the season with a 2.43 ERA in 70 1/3 innings.
"I'm just trying to piece it together," Dyson said. "There's no playbook. There's no right or wrong answer, as long as you get the job done. I have to stick with the same routine. Preparation is the key. I have to stay really structured. Don't vary too much. Every pitcher has to go out there and grind whether they feel good or they feel terrible. Whatever happens happens."
While Dyson talked about routine and structure, his will be a little different this spring because of his WBC 2017 invite.
It was one he didn't expect.
"It's great," Dyson said. "I'm really excited. Honestly, I thought it was a joke. I was wondering who was texting me."
The text Dyson received about a month ago came from Joe Torre, Major League Baseball's chief baseball officer. Dyson said he didn't know the number because he hadn't heard from Torre since he was fined following the 2015 American League Division Series against Toronto.
Dyson spoke to Rangers general manager Jon Daniels and pitching coach Doug Brocail before accepting the offer.
"I tried to map everything out to prepare and see if I could go," said Dyson, who will be joined by teammate Jonathan Lucroy on the U.S. squad. "I actually thought it was going to be later on in February rather than in early March, so it's not anything different than what I normally have to do to prepare."
Dyson has already started throwing and running some to try to get himself ready. He's been throwing from 150 feet for the last two weeks, and he will start throwing off a mound in early February.
Anthony Andro is a contributor for MLB.com based in Arlington.