Darvish on track to get Opening Day nod
Rangers haven't announced who will start April 3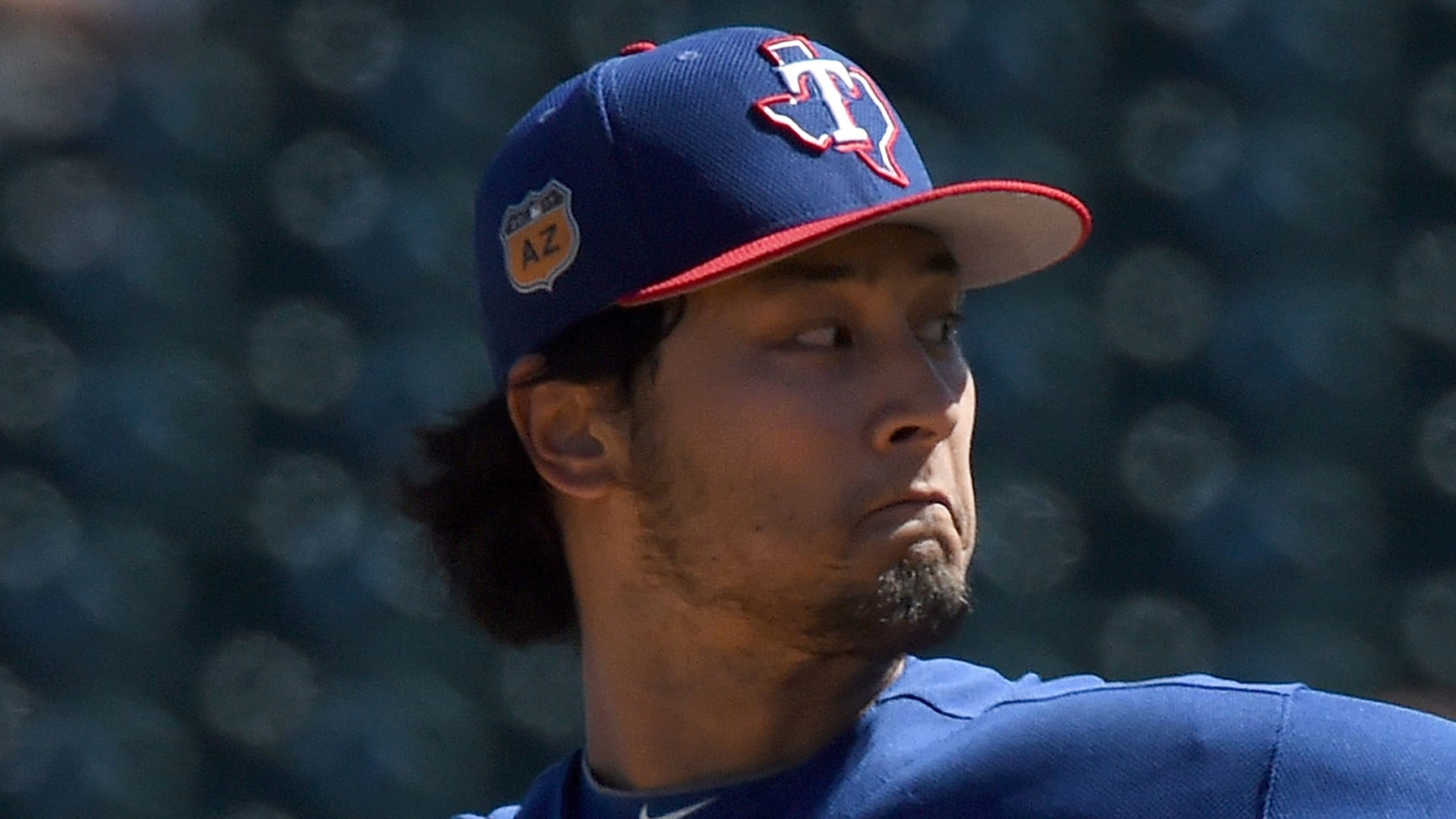 Yu Darvish allowed one earned run over 4 2/3 innings in a tie with the Reds on Saturday. (Getty) (Lisa Blumenfeld/Getty Images)
SURPRISE, Ariz. -- Rangers pitcher Yu Darvish was coy when asked about starting on Opening Day against the Indians."I'm fine with that," Darvish said. "I think Cole Hamels could do the job, too."The Rangers haven't announced who the Opening Day starter will be on April 3 at Globe Life Park
SURPRISE, Ariz. -- Rangers pitcher Yu Darvish was coy when asked about starting on Opening Day against the Indians.
"I'm fine with that," Darvish said. "I think Cole Hamels could do the job, too."
The Rangers haven't announced who the Opening Day starter will be on April 3 at Globe Life Park in Arlington. All that is known is that Darvish's remaining schedule is currently set up better to pitch on Opening Day than Hamels'.
But next on Darvish's immediate schedule is a return to Dallas, where his wife, Seiko, is getting ready to give birth to a son. Darvish said he is still hoping to stay on his regular pitching schedule, but nothing will be definite until he gets back to camp.
"Absolutely," manager Jeff Banister said. "Get through that. ... Once we get everybody back in camp and going regularly, we'll let everybody know how they are going to line up. They are both going to be in the rotation."
Also unknown is the status of a potential contract extension for Darvish. The Rangers are trying to keep that possibility quiet as the end of camp approaches.
Darvish and catcher Jonathan Lucroy are both extension candidates because they can be free agents after the season. The Rangers have expressed a desire to keep both, but any negotiations remain shrouded in mystery.
The Rangers certainly have reason to want to see how Darvish would get through the spring. Friday was the second anniversary of his Tommy John surgery, and health is always paramount when discussing a long-term deal with a pitcher.
So far, all has gone well this spring and Darvish was able to get up to 77 pitches over 4 2/3 innings against the Reds on Saturday. He allowed two runs (one earned) on just two hits and struck out six. There were two leadoff walks and both scored but Darvish also held the Reds to 0-for-7 with runners in scoring position. He escaped one jam by striking out two with runners at second and third, and another by getting Ryan Raburn to ground into an inning-ending double play.
"Obviously, you don't like to see the walks, but he had the ability to pitch out of jams," Banister said. "You like to see him clean up his own messes. There will be situations where he gives up walks, but he has the ability to pitch through it."
Darvish should have two starts left before the end of Spring Training. He said he wants to stay on schedule of pitching every fifth day, so that would be March 23 against the Dodgers and March 28 against the D-backs. A Minor League game is always a possibility on either date.
If he does stay on that schedule, his next turn would fall on Opening Day. If Hamels pitches every fifth day to the end of Spring Training, his turn would fall on Game 2.
Most important is Darvish is progressing nicely toward the regular season no matter when he pitches.
"I think I'm pretty close," Darvish said. "Today my changeup, cutter and sinker were pretty good. I think I'm getting close."