Rangers' ninth-inning woes continue in Chicago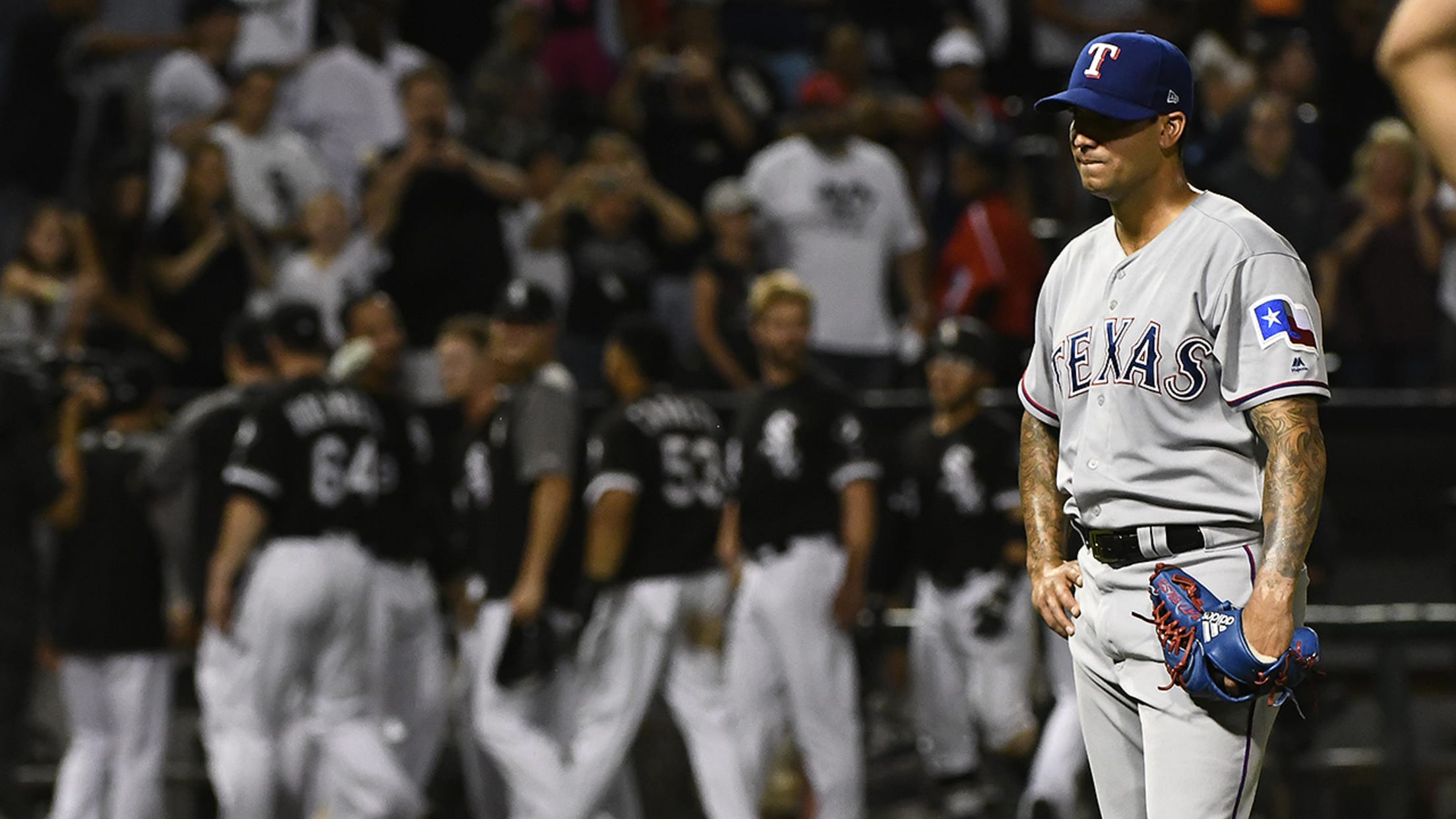 Rangers closer Matt Bush blew his fourth save Friday night in eight opportunities. (AP)
CHICAGO -- Manager Jeff Banister went right to the point after the Rangers had a two-run lead get away from them in the bottom of the ninth inning in an 8-7 loss to the White Sox."Absolutely a tough way to lose this one," Banister said. "We've got to find a
CHICAGO -- Manager Jeff Banister went right to the point after the Rangers had a two-run lead get away from them in the bottom of the ninth inning in an 8-7 loss to the White Sox.
"Absolutely a tough way to lose this one," Banister said. "We've got to find a way to close baseball games out. We've got to be better in the ninth."
Matt Bush suffered his fourth save in his last eight opportunities. He had been successful on his previous two but gave up four hits to five batters Friday, and the Rangers lost for the fifth time this season when leading after eight innings.
"It stinks, it's terrible, I hate it," Bush said. "It's frustrating giving up hits, it's frustrating putting guys on base."
The Rangers have 16 blown saves this season, the most in the Majors. They had 17 all of last season.
"It takes a toll because it's a loss and how we lost it," Banister said. "They've got resilience. We'll come back out tomorrow and continue to play. The problem is this has been a situation for us pretty much all year long."
The Rangers have been desperately seeking bullpen help, but right now Banister doesn't have many options for the ninth besides Bush. Keone Kela has the ability, but his shoulder has been troublesome for more than a month and he was not available Friday night.
Left-hander Alex Claudio and rookie right-hander Jose Leclerc have been the Rangers' most effective setup relievers but have no experience in the ninth. Jeremy Jeffress and Tony Barnette have experience as closers but are on the disabled list. Ernesto Frieri was a closer, but that was four years ago. Tanner Scheppers was once considered to have the ability to close, but his main goal right now is to show he is healthy.
Banister is not in an easy spot, and his frustration bubbled over Friday night.
"When you've got the lead going into the ninth, you expect your guys to make some pitches and close a game out," Banister said. "You can have a few games that you miss, but not at the rate we've been going."
Bush gave up a leadoff single to Adam Engel to start the inning. He retired Omar Narvaez on a fly to center but singles by Willy Garcia and Alen Hanson made it a one-run game.
"I couldn't throw my fastball where I wanted," Bush said. "I couldn't locate my heater up in the zone. I just struggled throwing my fastball to put guys away."
Melky Cabrera followed with a double down the right-field line to bring home both runners. The Rangers challenged the play on the possibility that the ball was foul, but the call was confirmed after a review.